Six Star Pro Nutrition
N.O. Fury Caplets
Elite Series!
Formulated To Support Increased Muscle Hardness & Fullness!*
Product Overview
Pre-workout
N.O. FURY PILL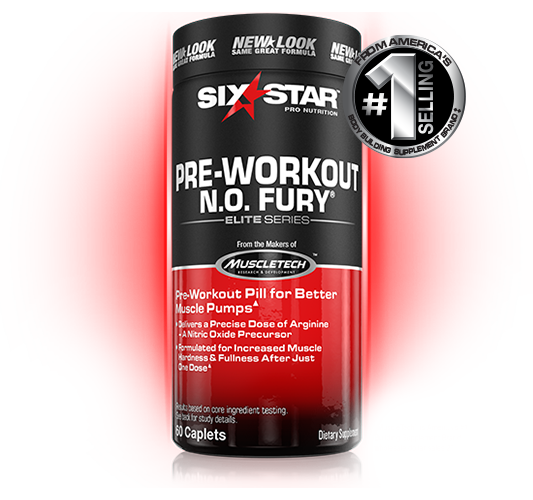 Pre-Workout Pill for Better Muscle Pumps*
Delivers a Precise Dose of Arginine – A Nitric Oxide Precursor*
Formulated for Increased Muscle Hardness & Fullness*
MASSIVE MUSCLE PUMPS
Six Star® N.O. Fury® is a scientifically advanced pre-workout supplement that harnesses the power of nitric oxide to get you incredibly pumped and help you experience the best workouts of your life!*
3,000mg Nitric Oxide Matrix
Nitric oxide is widely known as a forceful vasodilator. Vasodilation is the expansion of blood vessels. Six Star N.O. Fury caplets supply a mega-dosed 3,000mg blend of powerful nitric oxide boosting ingredients for massive muscle pumps and extreme muscle hardness and fullness after your very first dose!*
Engineered to Ignite Massive Muscle Pumps
Six Star N.O. Fury caplets flood your system with ingredients designed to enhance nitric oxide levels.* Added to your intense weight-training program, Six Star N.O. Fury caplets are formulated to deliver rapid vascular expansion and muscle pumps you'll see and feel.
Ratings & Reviews
By clicking the button above, you agree to entering the Bodybuilding.com Reviews section. Products in the Store are not intended to diagnose, treat, cure, or prevent any disease.
So this is my second time around using this and for me a definite PUMP HAPPENS! larger pills but coated so they are very easy to swallow! No stomach issues at all, and for my screwed up digestive system thats great!!
Keeps muscle fullness & vascular great price
Fine product, lots of expansion, good income. Good price.

Cheap nitric oxide that works. Better to spend less for this than more for something well known brand. This works!
no caffeine, but will definitly help you workout longer and harder... great price , great effects... i have actually reduce the dosage after 3 months since my body did not need 4 pills after a while ... i m now using 2 pills before my workout and it works

I weaved this product in with my normal pre-workout supps and it's a very welcome addition! The pump and vascularity was a very noticeable increase, as well as muscle hardness. Simple to take and cheap to add into your normal flow of supps. I'd recommend to anyone!
I recently stacked this product with my stimulant pre-workout to try to chase that extra pump. I used it on chest day and arms day and I was noticeably more vascular. It definitely made my arms look fuller even if just for an hour or so. By using it only on certain days and with its fairly cheap price, it's a pretty good addition to your stack.
Pills were a bit big but overall kept me focused and doing my thing

Definitely different from a regular pre-workout drink. I felt my muscles bigger and fuller because of the amount of blood going through my veins. Definitely a strong dosage of Nitric Oxide! Will be taking it from now on!

I stacked this product with Grit preworkout. For me, I found that I was able to push a little harder at the gym as muscle fatigue took longer to kick in. I really noticed the benefits during shoulder day. The reason I stacked with additional preworkout is I need the caffeine and stimulants to be awake and ready to workout by 5 am. If not needing the stimulants, additional supplementation my not be needed.
† This price is the retail price for this product found at one or more retail websites in the last 30 days. The price may not include shipping cost, tax, sale or promotional prices, or discounts such as member pricing. Prices may change. Bodybuilding.com verifies this price every 30 days.
60 Caplets
20 Servings | $0.50 Per Serving
What's in Six Star Pro Nutrition N.O. Fury Caplets
60 Caplets

Serving Size: 3 Caplets

Servings Per Container:

20

Amount Per Serving

% Daily Value

Nitric Oxide Matrix

3,000 mg

†

L-arginine

†

L-arginine alpha-ketoglutarate

†

L-arginine HCl

†

L-citrulline

†

† Daily Value not established.

Other Ingredients:

Microcrystalline Cellulose

, Hydroxypropylcellulose

, Coating (Polyethylene Glycol

, FD&C Red No. 40

, Talc

, Titanium Dioxide)

, Stearic Acid

, Croscarmellose Sodium

, Crospovidone

, Silica

, Magnesium Stearate

, Acesulfame-Potassium.
Directions For N.O. Fury Caplets:
Take 1 serving of Six Star® Pre-Workout N.O. Fury® caplets with a glass of water once a day. On days of your workout, take your serving 30 to 45 minutes before your workout. On days that you don't work out, take your serving in the morning. Beginners should start with 3 caplets per serving. Advanced and intermediate athletes should follow the dosing protocol below. Consume 10 glasses of water daily for general good health. Read the entire label before use and follow directions provided.
Intermediate and Advanced Athletes' Dosage Protocol
Up to 200 Pounds: Take 4 Caplets per Serving
Over 200 Pounds: Take 5 Caplets per Serving
Warnings: Do not use if pregnant or nursing. Do not use if you have had a myocardial infarction (heart attack). Consult a medical doctor before starting any diet or exercise program. KEEP OUT OF REACH OF CHILDREN. Do not use if packaging has been tampered with. Store in a cool, dry place (60°F to 80°F)
* These statements have not been evaluated by the Food and Drug Administration. This product is not intended to diagnose, treat, cure, or prevent any disease.
---