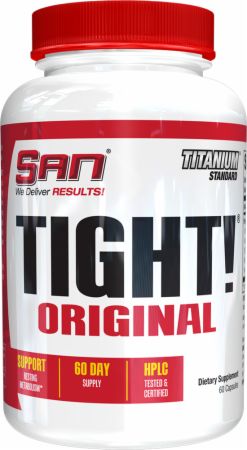 Click here to enlarge
Tight
Support Healthy Body Composition*
Thermogenic*
Supported Goal:
Lose Fat
Main Ingredient:
Caffeine
25,000,000+
Orders Shipped
Fastest
Shipping
Lowest
Prices

24/7/365
Live Support

Largest
Selection
Product Overview
Tight Original

Burn fat in & out of the gym*
Support resting metabolism*
Promote fat loss*
Support Thyroid health*
Support mood and stamina*
Supreme Fat Loss Requires More Than Just Working Out

Achieving a truly lean physique requires intense dedication, hard work and proper nutrition. Unfortunately, reaching a plateau is almost inevitable, whether that means a lack of progress, reduced energy, or just insufficient motivation to push yourself. Extended periods of strenuous exercise and dieting often require something extra to push your drive and determination over the wall.
Raising Your Resting Metabolic Rates Amplifies Fat Burning

Extreme fat loss requires the right nutrition and exercise. SAN is the creator of the first supreme fat loss catalyst, and that same proprietary blend of fat-burning elements are still available in the original TIGHT! formula.*

TIGHT! keeps your metabolism working hard even at rest with tested metabolic boosters like synephrine, sclareolide and guggelsterones E & Z. The combination of these ingredients also promote the breakdown of bodyfat and support healthy thyroid function.* The yohimbine in TIGHT! not only helps with increased blood flow, but it can also elevate your mood to keep you determined and focused.*

The combination of caffeine and green tea extract with 60% EGCG give TIGHT! a powerful thermogenic agent, plus the added benefit of increased alertness and focus.* Bioperine enhances the absorption of all the elements in TIGHT! to maximize all of the benefits.*

If you're looking to support fat loss and an increased metabolism even at rest, TIGHT! is the original supreme fat loss catalyst.*

Product Recap:
Support resting metabolism*
Promote fat loss*
Support Thyroid health*
Support mood and stamina*
Ratings & Reviews
By clicking the button above, you agree to entering the Bodybuilding.com Reviews section. Products in the Store are not intended to diagnose, treat, cure, or prevent any disease.