MASS EFFECT REVOLUTION
Ultra-Pure Muscle Mass Gainer!*
32,000,000+
Orders Shipped
Fastest
Shipping
Lowest
Prices
24/7/365
Live Support
Largest
Selection
Product Overview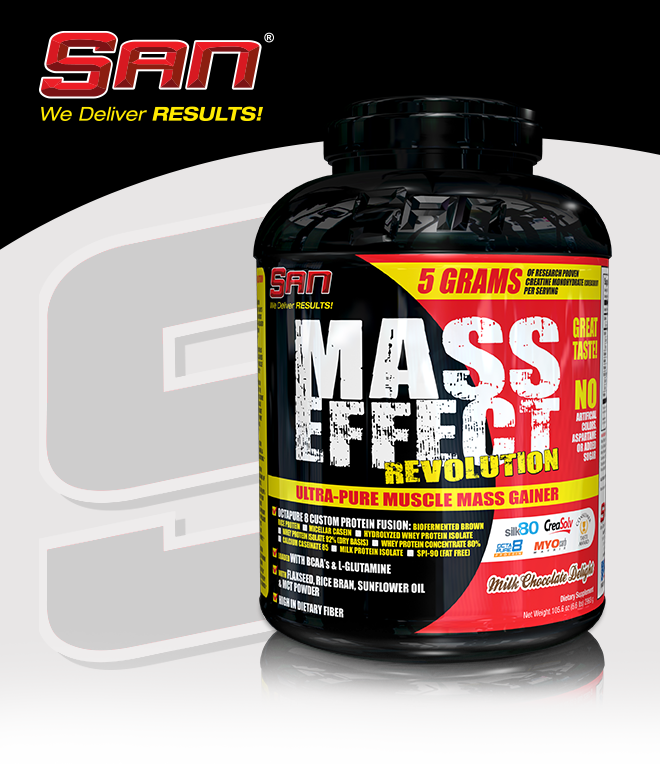 Mass effect Revolution

Getting enough muscle-building calories takes effort
50 grams of protein per serving
Only 9 grams of sugar per serving
Balanced anabolic & anti-catabolic protein
High fibrous carbohydrates
Contains whey, milk & casein protein
1,105 calories per serving
5 grams of creasolv brand creatine per serving
Getting Enough Muscle-Building Calories Takes Effort

Building quality muscle requires quality calories, and it requires a lot of them—if you're striving to put on serious mass. A high-calorie diet can be easy if you're not worried about the quality of food you're eating, but keeping it healthy isn't so easy, and doing it without breaking the bank is almost impossible.

On top of the costs, there's also time and convenience to consider. Not everyone can carry around a cooler full of homemade meals, let alone the time it takes to warm everything up and force feed yourself on a time crunch.
In order to ensure anabolic and anti-catabolic qualities, a variety of high-quality protein sources are needed. That's why MASS EFFECT REVOLUTION was designed with Mass Effect OctaPure8 Protein Fusion for full spectrum protein balance.*

Quick-digesting hydrolyzed whey protein isolate, whey protein isolate, whey protein concentrate and SPI-90 help to immediately begin the post-workout repair of damaged muscle tissue, giving MASS EFFECT REVOLUTION highly anti-catabolic properties. Micellar casein, milk protein isolate and calcium caseinate are digested more slowly, assuring a trickle-feed anabolic effect.*

The goal of MASS EFFECT REVOLUTION is to build high-quality lean muscle mass, so MyoCarb Matrix guarantees crucial muscle-feeding complex carbohydrates from sprouted rice bran and grains, which makes it almost sugar-free.*

Another big part of increasing muscle mass is stimulating muscle volume, and that's why MASS EFFECT REVOLUTION contains at least 5 grams of creatine monohydrate and additional L-glutamine in every serving.*

MASS EFFECT REVOLUTION is your key to building the most quality muscle mass in the shortest time possible.*

Product Recap:
50 grams of protein per serving
Only 9 grams of sugar per serving
Balanced anabolic & anti-catabolic protein
High fibrous carbohydrates
Contains whey, milk & casein protein
1,105 calories per serving
5 grams of creasolv brand creatine per serving
Ratings & Reviews
By clicking the button above, you agree to entering the Bodybuilding.com Reviews section. Products in the Store are not intended to diagnose, treat, cure, or prevent any disease.
Mixes very well, tastes great. packed full of great ingredients.

I just want to know how to serve the protein after gym or before gym which is best I have buy mass effect revolution so how to drink it

I'm vry tin n I've started useing mass effect revolution.... I need 2 go tat 'll tis work Fr me 2 gain my weight.... N using alcohol n tobacco like cigarettes n beer 'll work out o nt.... plzzz guide me

Thank you SAN - no maltodextrin in gainer. For me this is great, it means that it is not too sweet, and no problems with digestion - which i usually have with maltodextrin. Taste is normal, there is no priblem to drink it with water. Half portion only, do not try to mix 8 scoops - you will have pudding )) 4 scoops only - about 500 cal with no fast acting carbs, not bad i am sure.
very good 3*1 whey + creatine + amino
I am bulking with this gainer and still i stay lean with abs, so i can say its good lean bulking gainer as it says. As always a good product from SAN. But don't try adding the full serving you can not drink it.. :)
† This price is the retail price for this product found at one or more retail websites in the last 30 days. The price may not include shipping cost, tax, sale or promotional prices, or discounts such as member pricing. Prices may change. Bodybuilding.com verifies this price every 30 days.