Protein ready-to
-drink shakes
Protein Ready-To-Drink Shakes Guide
Introduction To Ready-To-Drink Shakes
Watch this quick video to get the scoop on ready-to-drink shakes!
Protein At The Ready
NO MIXING, SHAKING, OR PREPARATION
If you want to see the best results from your diet, you need to be getting enough protein. Failing to get your protein requirements each day can stunt your progress, because protein is such a vital nutrient for proper muscle growth.
Meeting your protein needs daily is no easy task. Unless you have a professional chef on hand to cook your meals for you or have the luxury of staying at home all day, you can easily fall short of your protein requirements.
That's where our ready-to-drink (RTD) protein shakes can come in handy. They're ready to go when you are - no mixing, shaking, or preparation. If you thought protein powder was convenient, then get ready, because RTD protein shakes take this one step further. All you do is open and drink. The protein is already mixed up with a liquid so zero prep work is required.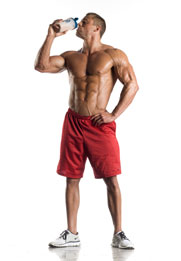 In Case Of A Nutrition Emergency
BREAK OUT A READY-TO-DRINK SHAKE
You may not always have access to a blender or cold water to mix your usual protein powder, so be prepared with convenient and quality RTD protein shakes. Or, if you're out and about running errands and need a quick protein boost, grab a RTD protein shake and have that quick protein at the ready in your car or bag. Eliminate hassle and stay true to your fitness routine with RTD protein shakes! Some of advantages of using ready-to-drink protein shakes include:
Great taste and tons of flavors for anytime of the day

Small serving size bottles that can easily fit into any bag or purse

Convenient and quick source for muscle recovery post-workout

Healthy and convenient carbs, calories, and protein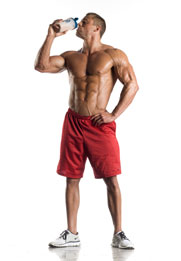 Even Handy For The Vegetarian
CONVENIENT RECOVERY ON THE GO*
Anyone concerned about their protein intake can benefit from using a ready-to-drink protein shake. Protein powders are also convenient, but because RTD protein shakes are the ultimate in quality convenience, there's no excuse for not getting your protein intake for the day.
Vegetarians can also find use for RTD protein shakes, whether they consist of whey, soy, or plant protein. Vegetarians often struggle with getting enough protein through their normal diet, so have a RTD protein shake on hand and put your mind at ease.
If you're one of the many people juggling their fitness along with chores, employment, family, and bills, then keep up the good work by using a convenient and tasty RTD protein shake and never miss a beat!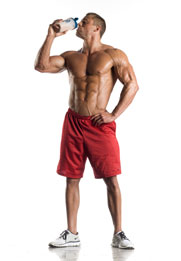 Hunting Down Your RTD
FIGHT FAT OR BUILD MUSCLE*
When hunting down a ready-to-drink protein shake for yourself, take into account the amount of protein and calories it contains. You'll want to find one that fits in with your overall dietary intake and satisfies your taste preferences at the same time. RTD protein shakes are available for those looking to gain mass and those looking to trim up, so find the one for you!
In terms of how much to take, it depends on your goal. Typically, one should consume 1 gram of protein per pound of body weight per day in their entire diet to maintain itself. So, if you are looking to gain mass, aim for 1-2 grams per pound of body weight a day, or aim right around 1 gram if you are trying to trim up or maintain.
RTD protein shakes are a convenient option for any goal, so equip yourself and get to work!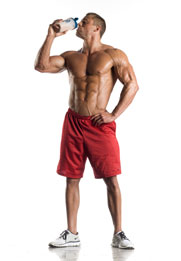 1-20 of

43

Results
---
Sort By:
---
Show:
* These statements have not been evaluated by the Food and Drug Administration. This product is not intended to diagnose, treat, cure, or prevent any disease.
1-20 of

43

Results
---
Sort By:
---
Show:
Categories Index