TASTE THE DIFFERENCE
COMING FROM EUROPE !
QNT INTERNATIONAL
QNT International Guide
The QNT Difference
Fabien Debecq, the owner of QNT, is a former bodybuilding champion in Europe, that has a passion for the sport that has continued until today! Even from an early age, Fabien has been passionate about the research and development of safe and effective sports supplementation for the bodybuilding enthusiast and other athletes, a passion that still thrives today more than ever.
During the past two decades, Fabien has built a brand from nothing to one of the companies most recognized sports supplements on the market in several countries in Europe and Asia. Now continues its successful business by being the first European brand to successfully enter the U.S. market to offer a wide range of products developed merging the absolute best of European and American technologies.
"If I do not use it, I'm not going to build."
Fabien Debecq, Founder and Executive Director
The QNT Difference
Founded in Europe (Belgium) in 1988, the organization is on track to become one of the most recognized sports supplementation companies in the world.
For over 20 years, QNT's dedicated team has developed scientifically backed products that support superior size, strength, and higher performance in athletes and bodybuilders worldwide. QNT has cultivated relationships with top researchers and athletes from around the world in order to create effective products based on the best of European and American science.
We are dedicated to go beyond our competition using only the purest ingredients and highest quality. Our ingredients are selected by our cutting-edge laboratory at our new manufacturing facility which is one of the first few nutritional supplement manufacturers to receive the Natural Products Association (NPA) GMP Seal of Approval.
AIDA ARAGON
Former IFBB Pro Figure
Thank you, QNT, for developing products that fit my lifestyle. QNT's Hydravol is a part of my daily pre-workout routine. Not only does it mix well, it tastes refreshing without too much sweetness that will upset your stomach during your high intensity workouts.
HUGO RIVERA
International Best Selling Fitness Author
What I like about these products, besides the fact that they work, is that they are unique formulas as opposed to carbon copies from other brands.
Visit Hugo's BodySpace
Hyper-Hydrating Muscle Pump Activator!*
Hydravol™ represents the latest in muscle hyper-hydration, with the "Hydravol Muscle Volume & Strength Amplifier," which promotes an optimal environment for activating anabolic signaling pathways in muscle and enhancing neuromuscular function.*
Ultimate Testosterone Booster!*
Testek is the ultimate testosterone booster that supports a healthy estrogen balance.* An anabolic growth optimizer, it's an extreme triple-threat for building a superior muscular body.* Testek contains all-natural ingredients that work with the body's natural hormonal pathways to optimize the muscle building and fat burning effects of testosterone and growth factors.*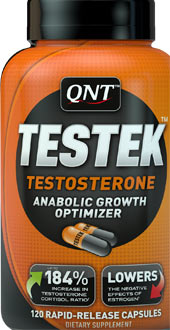 Order & Save 20%! Order and automatically receive a 20% discount at checkout on QNT International Hydravol, 1.8 Lbs. in the flavor of your choice!

View applied savings in cart
Ultimate Testosterone Support!*
The Ultimate Testosterone Amplifier!*
Servings: 30
Price Per Serving: $1.07
47% Off
$59.99
$31.97
In Stock
With Capsimax!
Target The Breakdown Of Fat Cells!*
21% Off
$45.99
$36.56
In Stock
Order & Save 20%!
Hyper-Hydrating Muscle Pump Activator!*
Promotes Strength, Muscle Vasodilation & Pumped, Fatigue Resistant Muscle!*
Servings: 40
Price Per Serving: $0.90
40% Off
$59.99
$35.98
In Stock
* These statements have not been evaluated by the Food and Drug Administration. This product is not intended to diagnose, treat, cure, or prevent any disease.