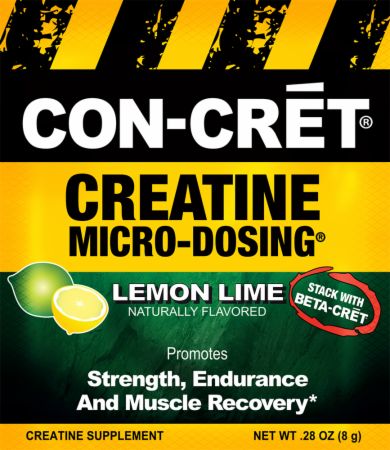 Click here to enlarge
CON-CRET
Creatine Powder or Capsule for Building Muscle*
Creatine for Increased Power, Fuller Muscles, and Improved Strength*
Supported Goal:
Build Muscle
Main Ingredient:
Creatine HCl
25,000,000+
Orders Shipped
Fastest
Shipping
Lowest
Prices
24/7/365
Live Support

Largest
Selection
Product Overview
CON-CRèT® is the original, highly pure creatine hydrochloride (HCl). This unique, revolutionary product is the Future of Creatine. Because of its superior solubility, you only need to take small Micro Doses based on your body weight and the intensity level of your workout.*
Who USES
CON-CRèT

?

CON-CRèT is for men and women looking to enhance workout performance. CON-CRèT helps promote muscle growth, build lean muscle, improve endurance, and accelerate muscle recovery.
Product Highlights
CON-CRèT

And Solubility

Most people believe more is better. Contrary to popular belief, with CON-CRèT less is better. Because of CON-CRèT's superior solubility, it digests more easily resulting in greater absorption and uptake into the muscles. There is no need for heaping portions that typically sit in your gut and cause negative side effects. Smaller Micro Doses based on body weight and workout intensity is the only way to go!*
Why Solubility Matters
Ratings & Reviews
By clicking the button above, you agree to entering the Bodybuilding.com Reviews section. Products in the Store are not intended to diagnose, treat, cure, or prevent any disease.

I love this creatine! No bloat, tastes great, and gives a great pump!
8 Pineapple
9 Lemon Lime
7 Snake Fruit - Exclusive!
Seriously the best creatine on the market. No bloating, no water retention and tastes amazing. ProMera has great tasting supplements! I have used ProMera for a long time and I always go back to them. Solid supplements without a lot of fillers backed by a solid company and great team of reps on bb.com. Always impressed with everything I've tried from their line.

Great product. I love the Blue Raspberry flavor. Works very well. Quickly I noticed strength gains. Will keep taking!
Tastes great and does exactly what its supposed to! I dont get any bloating from this as well!
Blue Raz Taste- 10. Taste is awesome just loved it and will be trying other flavors Mixability - 10 was instant. No particles left, never felt or tasted residue Strength -9 was great I used it pre and post and always felt a solid good pump and seemed to increase recovery speaking of Recovery -10 definitely Overall product -10 one thing I noticed was not only no bloat but I flushed water it seems faster after using this ) This is a Product I will continue using as I have seen many positive results while using Concret
I use this post workout and stack it with glutamine. I never thought that I could get defined muscles, but these supplement proved me wrong. I've been lifting since the winter and have some significant results.