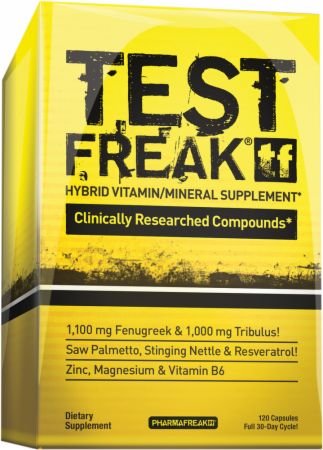 Click here to enlarge
25,000,000+
Orders Shipped
Fastest
Shipping
Lowest
Prices

24/7/365
Live Support

Largest
Selection
Product Overview
TEST FREAK®
PRO-TESTOSTERONE
STIMULATOR!*
Helps Support Free Testosterone*
Helps Promote Total Testosterone*
Promotes Sexual Health*
Full 30-Day Supply*
TEST FREAK® ADVANTAGE*
TEST FREAK is a cutting-edge pro-testosterone stimulator!*
WHAT MAKES TEST FREAK® UNIQUE?
Provides clinically-researched testosterone-boosting ingredients!
Supplies 700 mg of TESTOFEN® per serving!
Provides TRIGOTEST™- a cutting-edge Fenugreek extract!
Every serving supplies a massive 1000 mg dose of Tribulus Terrestris!*
Provides a clinically-researched dose of Zinc in every serving!*
Provides a clinically-researched dose of 2 Anti-DHT compounds*
3 clinically-tested compounds to support aromatase balance*


HOW DO YOU USE TEST FREAK®?
Take 4 capsules every day before bed, with 8 ounces of water. Take on an empty stomach, at least 30 minutes after your last meal. Use continuously for up to 8 weeks, followed by a 2-week off period.
CAN TEST FREAK BE STACKED WITH OTHER SUPPLEMENTS?
Yes. TEST FREAK can be stacked with other supplements. Many are now stacking the powerful fat burner RIPPED FREAK® with TEST FREAK for a potent fat-burning/muscle-building stack! Stack or cycle TEST FREAK with PHARMAFREAK's DAA test-boosting formula, ANABOLIC FREAK®, for the ultimate testosterone-boosting combo!*
DOES TEST FREAK CONTAIN ANTI-DHT INGREDIENTS AND SUPPORT HEALTHY ESTROGEN BALANCE?*
Yes! Each serving of TEST FREAK provides the clinically-surmised dosage of two key ingredients that may help control DHT, and also supplies a powerful combination of 3 ingredients that help support a healthy estrogen to testosterone balance, and are exclusive to its formula.*
WILL YOU MAINTAIN THE MUSCLE AND STRENGTH GAINS YOU MAKE ONCE YOU GO OFF TEST FREAK?
Yes.* After you go off TEST FREAK® you may still maintain the muscle and strength gains you made while you were on it as long as you continue to train hard and follow a good nutrition plan.*
Ratings & Reviews
By clicking the button above, you agree to entering the Bodybuilding.com Reviews section. Products in the Store are not intended to diagnose, treat, cure, or prevent any disease.