PharmaFreak Guide
PHARMAFREAK
Founded in 2008 by Alex Savva and Don Gauvreau, PharmaFreak™ has quickly become recognized as an industry leader on account of its commitment to scientific research and its ability to deliver the most potent and effective sports supplements available!
Alex Savva is a certified kinesiologist with a Bachelor of Physical and Health Education degree. He's also an accomplished competitive bodybuilder and one of the industry's leading authorities on strength and conditioning. Don Gauvreau has a Kinesiology degree and Master of Science degree and is the industry's top product formulator and researcher. He has also stepped on the competitive bodybuilding stage.
Unsatisfied with the quality and potency of supplements available, they founded PharmaFreak and began creating supplements they would actually want to use themselves. PharmaFreak™ is dedicated to researching, developing and creating the world's strongest supplements that are made with novel, clinically-proven ingredients and the highest level GMP quality control standards.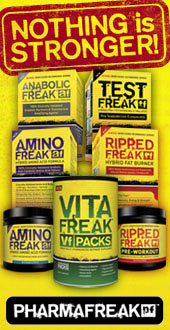 * These statements have not been evaluated by the Food and Drug Administration. This product is not intended to diagnose, treat, cure, or prevent any disease.