24/7 Customer Service 1-866-236-8417
Optimum Nutrition:

Opti-Performance Pack
Comprehensive Multivitamin Packets!
Provides Support For Meeting Your Performance Goals!*
Supported Goal: Health & Wellness
Main Ingredient: Multivitamins
Optimum Nutrition Opti-Performance Pack Product Guide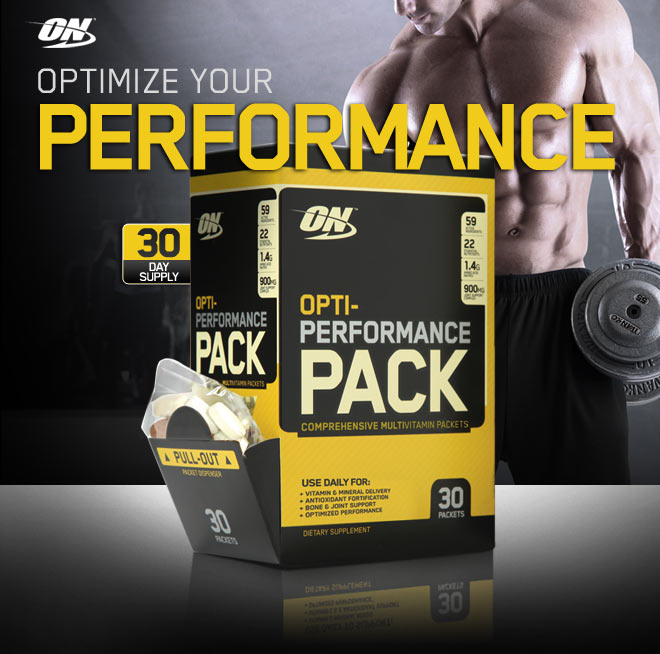 WHAT IS OPTI-PERFORMANCE PACK?
Your body is fueled not just by the macronutrients protein, carbohydrates and fat, but by micronutrients in the form of vitamins, minerals and complementary components. Although much smaller amounts are required, neglecting any aspect of nutrition can hold you back in the gym and on the field of play. That's why Opti-Performance Pack contains powerful amounts of 59 active ingredients designed to provide support for meeting your performance goals.*
Optimum Nutrition Opti-Performance Pack Purchase Information
Order today using our 100% secure server and get it at the lowest prices in the world with our fast, inexpensive 2-3 day shipping! NOBODY beats our overall price!
30 Packets

$64.99

$34.97

In Stock
Recommended For You

More Info
Optimum Nutrition Presents:
Ideal for Between Meals and Before Bed to Feed Muscles and Fuel Recovery*
More Info
Cellucor Presents:
Advanced Pre-Workout for Increased Energy and Focus*
Do You Use This Product?
Optimum Nutrition:
Opti-Performance Pack
30 Packets

$64.99

$34.97

In Stock
Manufacturer information:
This works well with:
What's in Optimum Nutrition Opti-Performance Pack?
30 Packets

Supplement Facts

Serving Size

1

Pack

(5 capsules/1 tablet/1 softgel)

Servings Per Container

30

Amount Per Serving

Vitamin A (As Vitamin A Acetate, Beta Carotene)

5000

IU

100%

Vitamin C (As Ascorbic Acid)

150

mg

250%

Vitamin D (As Cholecalciferol)

2150

IU

538%

Vitamin E (As D-Alpha Tocopheryl Succinate)

100

IU

333%

Thiamin (As Thiamin Mononitrate)

37.5

mg

2500%

Riboflavin

37.5

mg

2206%

Niacin (As Niacinamide)

37.5

mg

188%

Vitamin B6 (As Pyridoxine Hydrochloride)

3.75

mg

190%

Folic Acid

200

mcg

50%

Vitamin B12 (As Cyanocobalamin)

37.5

mcg

625%

Biotin

37.5

mcg

13%

Pantothenic Acid (As D-Calcium Pantothenate)

37.5

mg

375%

Calcium (As Calcium Carbonate, Calcium Citrate, Calcium Phosphate)

500

mg

50%

Iron (As Ferrous Fumarate)

4.5

mg

25%

Iodine (As Potassium Iodide, Kelp Powder)

150

mcg

100%

Magnesium (As Magnesium Oxide, Magnesium Citrate)

250

mg

63%

Zinc (As Zinc A.A. Chelate, Zinc Oxide, Zinc Gluconate)

20

mg

133%

Selenium (As Selenomethionine)

17.5

mcg

25%

Copper (As Copper A.A. Chelate, Copper Gluconate)

2.5

mg

125%

Manganese (As Manganese A.A. Chelate, Manganese Sulfate)

2.5

mg

125%

Chromium (As Chromium GTF)

30

mcg

25%

Molybdenum (As Sodium Molybdate)

12.5

mcg

17%

Amino Acid Blend

1.4

g

†

CarnoSyn® Beta-Alanine, L-Citrulline, CFM Nitro® P Whey Protein Components (Peptides, Fractions)

Joint Blend

900

mg

†

Glucosamine (As Glucosamine Sulfate Potassium), Chondroitin (As Chondroitin Sulfate)

Enzyme Blend

750

mg

†

Enzyme Complex (Beetroot Fiber, Amylase, Protease, Cellulase, Lactase, Lipase)

Performance Blend

166

mg

†

Inositol, PABA, N-Acetyl L-Cysteine, Choline Bitartrate, Ginkgo Biloba Extract (Ginkgo Biloba L.)(Leaf)(Standardized To 24% Flavone Glycosides, 6% Terpene Lactones), Ginseng Powder (Root), Rutin, Citrus Bioflavonoid Powder, Hesperidin Complex, Astaxanthin, Boron (As Boron Citrate), Lycopene, Lutein, Tocotrienols, Alpha Carotene, Cryptoxanthin, Zeaxanthin

† Daily Value not established
Other Ingredients:

Gelatin

, Hydroxypropyl Methylcellulose

, Magnesium Stearate

, Silica

, Microcrystalline Cellulose

, Stearic Acid

, Croscarmellose Sodium (Disintegrant)

, Potassium Chloride

, Soybean Oil

, Pharmaceutical Glaze

, Glycerin

, Corn Oil.

Allergen Information: Milk, Shellfish (Crab, Shrimp), Soy
Directions For Opti-Performance Pack: Take all tablets, capsules and sofgels, one at a time, with water, milk, juice or a protein shake. Timing consumption with your morning meal can help prime your body with nutrients for meeting the demands of your busy lifestyle.
TIP: Certain vitamins are better absorbed when digested with food, so take the tabs, caps, and softgels in Opti-Performance Pack at mealtime.
* These statements have not been evaluated by the Food and Drug Administration. This product is not intended to diagnose, treat, cure, or prevent any disease.