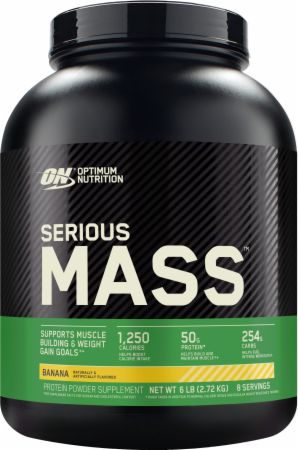 Click here to enlarge
Serious Mass
Protein Powder Weight Gainer*
Loaded with 1,250 Calories, 250g of Carbs, & 25 Vitamins and Minerals to Pack on Pounds*
Supported Goal:
Build Muscle
Main Ingredient:
Whey Protein
25,000,000+
Orders Shipped
Fastest
Shipping
Lowest
Prices

24/7/365
Live Support

Largest
Selection
Product Overview
What is serious mass?
Serious Mass is the ultimate weight gain formula.* With 1,250 calories per serving and 50 grams of protein for muscle recovery, this instantized powder makes a sizable post-workout and between meals shake.* Serious Mass gives you the tools you need to pack on pounds and - when coupled with serious weight training - develop your physique to the fullest.*
BEYOND THE BASICS:
Adding Calories Has Never Been This Easy or Tasted So Good
1,250 Calories
50 Grams of Blended Protein
Over 250 Grams of Carbohydrates with No Added Sugar
Enhanced with Creatine, Glutamine, and Glutamic Acid
25 Vitamins and Essential Minerals
How is it different from other gainers?
CONTAINS:
• WHEY CONCENTRATE
• WHEY ISOLATES
• CASEIN PROTEIN
• EGG PROTEIN
• CREATINE
• GLUTAMINE
CONTAINS:
• WHEY ISOLATES
• WHEY CONCENTRATE
• CASEIN PROTEIN
• EGG PROTEIN
• HYDROLIZED WHEY PEPTIDES
Ratings & Reviews
By clicking the button above, you agree to entering the Bodybuilding.com Reviews section. Products in the Store are not intended to diagnose, treat, cure, or prevent any disease.