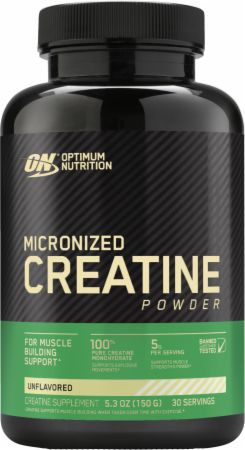 Click here to enlarge
Micronized Creatine Powder
99.9% Pure Creatine for Building Muscle*
Unflavored Creatine with No Fillers or Additives to Support Strength and Power*
Supported Goal:
Build Muscle
Main Ingredient:
Creatine Monohydrate
25,000,000+
Orders Shipped
Fastest
Shipping
Lowest
Prices

24/7/365
Live Support

Largest
Selection
Product Overview
Each serving supplies a full 5 grams (5000 mg) of 99.9% pure CreaPure™ brand Creatine Monohydrate. The patented production method used to produce this creatine yields a tasteless, odorless powder that mixes easily into water or juice, and does not readily settle to the bottom. As a result, the gritty taste or texture you may have experienced with other creatine powders is not associated with this product.
Beyond The Basics
Made with CreaPure™ Creatine
Micronized to Stay Suspended in Solution Longer
Unflavored
No Fillers or Additives
Wide Variety of Sizes Available
Supports Strength & Power*
Ratings & Reviews
By clicking the button above, you agree to entering the Bodybuilding.com Reviews section. Products in the Store are not intended to diagnose, treat, cure, or prevent any disease.