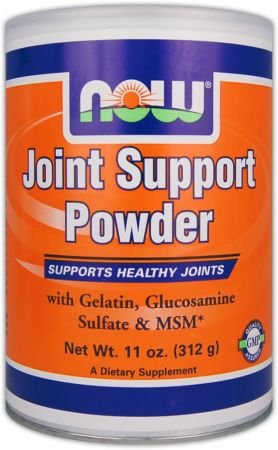 Click here to enlarge
Joint Support Powder
Supports Healthy Joints!*
Superior Formula With Gelatin, Glucosamine Sulfate And MSM!
Supported Goal:
Joint Support
Main Ingredient:
Glucosamine
25,000,000+
Orders Shipped
Fastest
Shipping
Lowest
Prices

24/7/365
Live Support

Largest
Selection
Product Overview
Joint Support Powder is a combination of dietary supplements that have been surmised to nutritionally support healthy joint function.* Hydrolyzed Beef Gelatin is 86% protein, high in collagen and has been enzymatically predigested to enhance absorption.* Glucosamine is an amino sugar derived from the chitin of shellfish. It is utilized by the body to support healthy joint structures.* Sulfate is the preferred form of Glucosamine and is a natural source of potassium and sulfur. MSM (Methylsulphonylmethane) is a biologically active form of organic sulfur found in all living organisms. It is naturally found in varying amounts in raw unprocessed milk, meat, fish, fruits and vegetables.
Ratings & Reviews
By clicking the button above, you agree to entering the Bodybuilding.com Reviews section. Products in the Store are not intended to diagnose, treat, cure, or prevent any disease.