Click here to enlarge
Growth Factor-9
May Help Promote HGH Levels*
Clinically Tested Human Growth Hormone Support*
Supported Goal:
Build Muscle
25,000,000+
Orders Shipped
Fastest
Shipping
Lowest
Prices

24/7/365
Live Support

Largest
Selection
Product Overview
Now Even Better.
Just Sayin'
NOW EVEN BETTER. Novex Biotech's Growth Factor-9 is the only US patented, tested by human clinical trial, scientifically-backed product suggested to support mean, serum (blood) growth hormone levels.* It promotes your natural HGH levels.*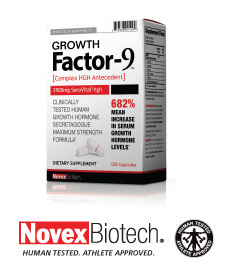 Growth Factor-9
The HGH
Revolution
has begun!
Always Keep Your Best Weapons Secret
Why HGH?
Human Growth Hormone is a naturally occurring part of our body's chemistry. Manufactured by the pituitary gland, it plays a critical role in many important metabolic functions. Unfortunately, the body's production of HGH peaks in adolescence, then takes a rapid nosedive after that.
The Growth Factor-9 Revolution
Growth Factor-9 changes everything. The result of three decades of research, GF-9 is a novel, patent-pending dietary supplement that promotes pituitary health to encourage your body to produce optimal levels of its own, natural growth hormone.*
Methods: This cross-over, placebo-controlled, double-blind study involved healthy subjects [males and females; mean age=32±14 years; body mass index=26.4±5.0 ranging from 19.1 to 36.8kg/m2] (Study ID Number: PBRC10043). Each subject reported to the Inpatient Unit on two occasions one week apart. After an overnight fast, subjects had an IV line placed and baseline blood samples were drawn at -30, -15, and 0 minutes. Subjects were then asked to swallow the capsules of Growth Factor-9 supplement or an identical-looking placebo. Blood was drawn at 15, 30, 60, 90 and 120 minutes for assay.
Results: After 120 minutes, mean GH levels had increased from baseline (0.17 to 1.33ng/ml) and were significantly higher than placebo (P=0.01). In addition, a significantly higher mean AUC was observed after taking the supplement [20.4 (95% CI: 19.9-21.0ng/ml) vs. 19.7 (95% CI: 18.7-20.6ng/ml); P=0.04].*
Clinically Tested:
In a double-blind, placebo-controlled clinical trial of men and women ages 18-70, GF-9 was suggested to support bioactive, serum (blood) growth hormone levels.* Results indicated that GF-9 is effective on both males and females, across an appropriately wide age range. The study's findings have been reviewed by The Obesity Society and were accepted for public presentation at the Obesity Society's prestigious 30th Annual Scientific Meeting.
Unleash Your Total Performance...
and potential with Growth Factor-9, our first – and only –supplement suggested to support the natural production of HGH in both male and female, young and old.* Get Growth Factor-9 today – and join the HGH revolution.
Ratings & Reviews
By clicking the button above, you agree to entering the Bodybuilding.com Reviews section. Products in the Store are not intended to diagnose, treat, cure, or prevent any disease.