MuscleTech
NITRO-TECH
Whey Isolate Lean Musclebuilder!*
Ultra Pure Whey Isolate Enhanced With Creatine & Aminos!
Product Overview
Whey isolate & peptides as primary source*

Builds 70% more lean muscle than regular whey*1
Superior to other whey protein Formulas*1

Amplifies recovery, performance & strength*
1In a six-week, double-blind study involving 36 test subjects who have at least three years of weight-training experience divided into three groups, subjects who have combined the core ingredients in Nitro-Tech® with a weight-training program gained 70% more lean muscle than subjects using regular whey protein (8.8 lbs. vs. 5.1 lbs.) and increased their bench press more than subjects using regular whey protein (34 lbs. vs. 14 lbs.).*
WHICH NITRO-TECH PROTEIN IS FOR YOU?
NITRO-TECH FUELS THE PROS
Very few proteins completely change the game, and for years bodybuilders were given very few options for protein sources that were scientifically formulated to help build more muscle. As a result, for years you could basically change protein brands every month and see no difference in gains at all.
This changed with the launch of Nitro-Tech®. MuscleTech® researchers invested countless hours working to create a protein formula that packs on more muscle and builds more strength than regular whey protein. With the powerful Nitro-Tech® formula, they succeeded and now bodybuilders and other athletes have an advanced whey protein supplement that actually delivers superior musclebuilding results!*
5.3g
Glutamine & Precursor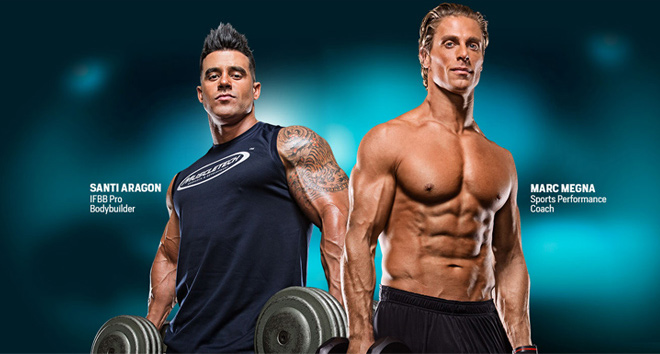 THE SCIENCE BEHIND NITRO-TECH
The Most Powerful Protein Formula Ever Developed!
Nitro-Tech is a scientifically engineered, enhanced whey protein formula designed for all athletes who are looking for more muscle, more strength and better performance. Nitro-Tech contains protein sourced primarily from whey protein isolate and whey peptides – two of the cleanest and purest protein sources available. Other whey protein supplements might have only a few grams of these highly bioavailable and easily digested proteins. Nitro-Tech® is also enhanced with the most studied form of creatine for even better gains in muscle and strength.*
Multi-Phase Filtration Technology
Each scoop of Nitro-Tech® contains 30 grams of protein, primarily from whey protein isolate and whey peptides. These have several advantages over other forms of protein.*
For starters, they are rapid absorbing, and with the highest biological value, your body can easily assimilate the amino acids from the protein to build some seriously impressive muscle. This makes Nitro-Tech® an ideal choice as a post-workout protein and for igniting muscle protein synthesis any time throughout the day.*
The whey protein in Nitro-Tech® has been filtered using multi-phase filtration technology for less fat, lactose and impurities than cheaper protein sources. Furthermore, Nitro-Tech® is manufactured according to cGMP standards, as is required for all dietary supplements to ensure quality and integrity.*
How Nitro-Tech Works
Delivers Ultraclean Whey Isolate and Peptides
Supplying 30 full grams of the most quickly absorbable and highest biological value proteins available. These are two of the cleanest sources of protein available to athletes.*
Contains a Clinically Proven Dose of Pure Creatine Monohydrate
Each scoop supplies a full 3-gram dose of the most researched form of creatine available – creatine monohydrate. Creatine in combination with whey protein has been clinically suggested by a published study to be more effective for building muscle than whey protein on its own.*
Provides All Essential Amino Acids
The protein in Nitro-Tech® provides a complete amino acid profile, which means that every serving of Nitro-Tech® provides you with all the essential amino acids, including the 6.9 grams of BCAAs critical for building muscle. Plus you get the conditionally essential and dispensable amino acids, including 5.3 grams of glutamine and it's precursor.*
Build More Strength Than With Regular Whey Protein
Nitro-Tech® contains a research-proven 3-gram dose of creatine monohydrate, which combined with whey protein, helps to build more strength than regular whey protein. In a breakthrough study, subjects using the core ingredient combination in Nitro-Tech® increased their one-rep max bench press by 34 lbs., compared to only 14lbs. for subjects using regular whey protein.*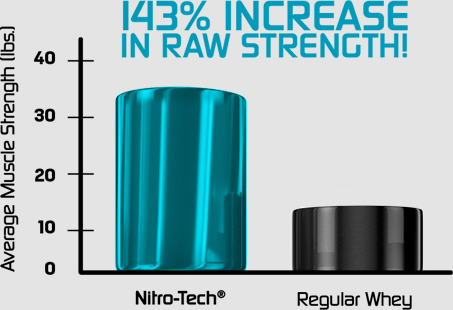 which nitro-tech product is right for you?
best-in-class formula, taste and value
Superior whey protein peptides for better musclebuilding

100% whey – no added active ingredients

Limited-time bonus sizes
BUY NOW
bcaa, test & growth complexes for raw power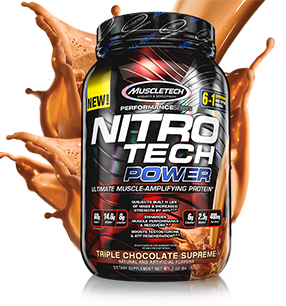 Subjects built 11 lbs. of mass & increased strength by 40%*

Enhances muscle performance & recovery*

Superior to other whey protein formulas1*

Boosts testosterone & ATP regeneration*
BUY NOW
ultimate protein + weight loss formula
Superior whey protein peptides for lean musclebuilding*

Enhanced with a scientifically tested weight loss complex1*

Advanced formula featuring L-carnitine & CLA Rose Hips & more*
BUY NOW
1Average weight loss with C. canephora robusta was 10.95 lbs. in 60 days a with low-calorie diet, and 3.7 lbs. in 8 weeks with a calorie-reduced diet and moderate exercise.
fuel your muscles while you sleep*
Powered by 100% Micellar Whey*

Designed to release amino acids as you sleep1*

35% better biological value than casein*

Superior leucine & BCAA content than casein*
BUY NOW
Ratings & Reviews
By clicking the button above, you agree to entering the Bodybuilding.com Reviews section. Products in the Store are not intended to diagnose, treat, cure, or prevent any disease.
I bought 3 tubs, Mocha Cappuccino Swirl, Vanilla Birthday Cake and Strawberry. All 3 flavors taste great but I liked Mocha the most. It dissolves quickly and the texture is very smooth. F
10Mocha Cappuccino Swirl
10Strawberry
9Vanilla Birthday Cake
The BEST is cookie and cream waaaaouh I can't wait to order more!! I also ordered Smore (good), milk chocolat (good) and I don't really like the taste of cheesecake chocolate. The taste is good, I don't really know about the product quantity because for me a whey is a whey I don't know if I've increased my performance because I hear a lot of bad stuff of protein powder which mix with other supplement in order to add less whey (as it is very expensive) but right now I am happy with it !

MuscleTech has one of the best and smoothest tasting proteins that I have tried. I would definitely buy again but maybe one of the different flavors because I am not much of a vanilla person. Definitely recommend to anyone looking for a quality protein.

This is a great protein Switched to NitroTech a few months back No regrets. 30 grams of protein plus the bcaas I noticed the difference the first week. Flavor is outstanding. Mixes great.

I have used a lot of different proteins but this seems to work the best! I feel like I have gained a lot of muscle and stayed lean! Will continue to use this!

This is one of the best flavors been on the flavor for a week now taste great and mixes well I would recommend to anybody go buy this flavor taste is great it doesn't clump up in your shaker cup mixes very well
This was my first time trying out MuscleTech's protein and I have to say it's pretty good. I wasn't sure about the flavor at first, but I'm glad I tried. Really good quality and the taste was great.
I have been using Nitro-Tech protein for about a week now and so far its excellent! I have been looking for a high protein, low calorie powder and I think I may have found the one. It is only 160 calories and has 30g of protein! I mix it in a shaker bottle with water and it mixes very easily. I got cookies and cream flavor and most of the time the protein doesn't taste very good mixed with water so I was very surprised when this one actually tasted really good! Most proteins don't fill me at all but this one surprisingly does so I don't feel like I have to rush home after I work out to eat something. I will definitely buy again:)
I bought 3 tubs, Mocha Cappuccino Swirl, Vanilla Birthday Cake and Strawberry. All 3 flavors taste great but I liked Mocha the most. It dissolves quickly and the texture is very smooth. F
10Mocha Cappuccino Swirl
10Strawberry
9Vanilla Birthday Cake

I've been using NitroTech protein for about a week now and so far I'm pretty impressed. 30 grams of protein per scoop along with creatine, BCAA's, leucine, and Glutamine. I usually use it as a post workout shake. It tastes great and feels like it's really been speeding up muscle recovery.
† This price is the retail price for this product found at one or more retail websites in the last 30 days. The price may not include shipping cost, tax, sale or promotional prices, or discounts such as member pricing. Prices may change. Bodybuilding.com verifies this price every 30 days.
What's in MuscleTech NITRO-TECH
Serving Size: 1 Scoop (44g)

Servings Per Container Approx.

10

Amount Per Serving

% Daily Value

Calories

160

Calories From Fat

20

Total Fat

2.5 g

4%*

Saturated Fat

1.5 g

8%*

Cholesterol

70 mg

23%

Total Carbohydrate

4 g

1%*

Sugars

1 g

†

Protein

30 g

60%*

Calcium

400 mg

40%

Sodium

140 mg

6%

Nitro-Amino Matrix

L-Leucine

3.2

g

†

(as Whey Protein, L-Leucine)

L-Isoleucine

1.9

g

†

(as Whey Protein, L-Isoeucine)

L-Valine

1.8

g

†

(as Whey Protein, L-Valine)

Scientifically Studied Musclebuilder

Creatine Monohydrate

3 g

†

* Percent Daily Values are based on a 2,000 calorie diet

† Daily Value not established

Other Ingredients:

Isolate Protein & Peptide Blend (Whey Protein Isolate

, Whey Peptides

, Whey Protein Isolate 97%)

, Whey Protein Concentrate

, Maltodextrin

, Calcium Carbonate

, Natural And Artificial Flavors

, Gum Blend (Cellulose

, Xanthan

, Carrageenan)

, Enzyplex (Papain

, Amylase)

, Salt

, Sucralose

, Acesulfame-Potassium

, Soy or Sunflower Lecithin.

Contains milk and soy ingredients. Processed in a facility that processes wheat, egg, tree nut, peanut, fish and shellfish ingredients.
Directions For NITRO-TECH: Mix 1 serving (1 scoop) in 6 oz. or 2 servings (2 scoops) in 12 oz. of cold water or skim milk in a glass or shaker cup. Use between major meals and after exercise. Drink 8 to 10 glasses of water daily. For maximum results, consume 4 scoops of NITRO-TECH® daily for a minimum of six weeks.
Warnings: Not intended for use by persons under 18. Do not use if pregnant or nursing. Consult a medical doctor before starting any diet or exercise program or if you have a medical condition. Do not use if packaging has been tampered with. KEEP OUT OF REACH OF CHILDREN.
* These statements have not been evaluated by the Food and Drug Administration. This product is not intended to diagnose, treat, cure, or prevent any disease.
---