Click here to enlarge
Thyro-Slim
Patented Weight Loss System!*
AM/PM System To Help Boost Metabolism And Control Appetite!*
Supported Goal:
Weight Loss
Main Ingredient:
Caffeine
25,000,000+
Orders Shipped
Fastest
Shipping
Lowest
Prices

24/7/365
Live Support

Largest
Selection
Product Overview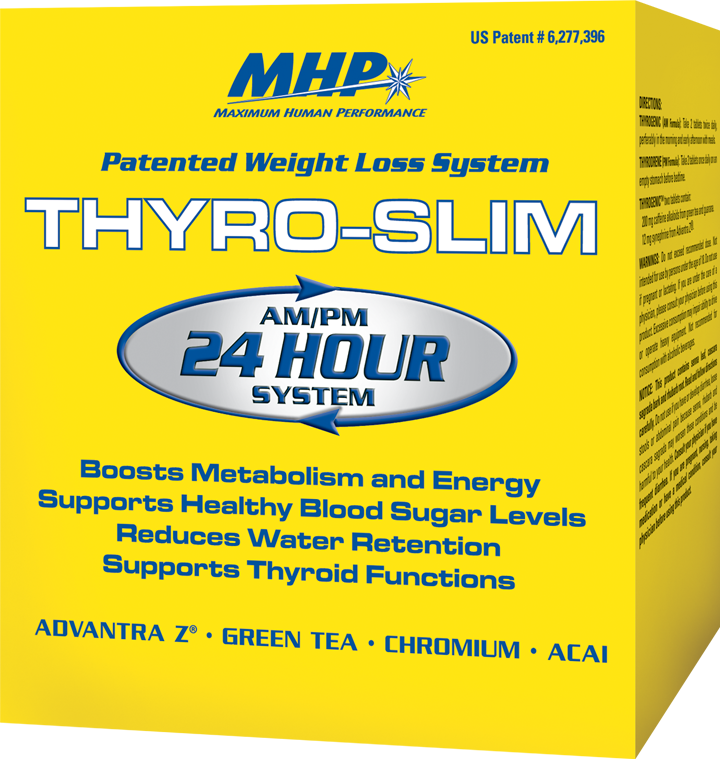 THYRO-SLIM A.M./P.M. is an advanced "24 hour rapid weight loss formula". This unique dual fat burning formula is designed to promote weight loss ALL DAY LONG.* The patented, time-released A.M. formula helps provide sustained thermogenic fat burning, metabolism support and appetite control, for up to 12 hours.* The stimulant-free P.M. formula is designed to continue boosting your metabolism while supporting your adrenals, controlling water retention and supporting healthy sleep.* THYRO-SLIM A.M./P.M. is scientifically formulated to help you achieve maximum weight loss…FAST!*
Support Your Metabolism*
Promote Fat Burning 24/7*
Support Your Energy Levels*
Promote Healthy Appetite Levels*
Diminish Annoying, Bloat-Inducing Water Retention*
Support Healthy Sleep*
New Patented Formula Attacks Weight Loss from All Angles to Help Burn Fat 24 Hours a Day!*

Thyro-Slim AM/PM is a major breakthrough in natural weight loss supplementation. Patented by the U.S. government (patent # 6,277,396), Thyro-Slim AM/PM addresses the metabolic functions that influence the storage of body fat and also helps support the body's ability to burn off calories to help reduce body fat.*

The ingredients in Thyro-Slim's all natural formula are backed by strong scientific research. One of the thermogenic herbs in this formula, citrus aurantium, is considered by many in the scientific community to have fat burning properties.* Thyro-Slim also contains adrenal compounds, which have been suggested to promote thermogenic fat burning even more!* Thyro-Slim AM/PM is the ONLY weight loss product available with the patented combination of a thermogenic and adrenal support!*

Easy-to-Follow Weight Loss System Gets to the Core of the Problem.

While most weight loss formulas only address half of the typical person's weight management issues, Thyro-Slim's natural, science-based formula attacks the problem from ALL angles! It's Thyrogenic T-3 complex supports your BMR (basal metabolic rate) allowing you to burn more calories.* Other Ingredients in Thyro-Slim AM/PM help to further support your metabolism, promote healthy appetite levels, and help support thyroid functions.* Thyro-Slim's AM Formula not only boosts your metabolism, it also helps support healthy appetite levels.* It may also help you to shed unwanted water weight.*

Burn Fat 24/7 with Thyro-Slim AM/PM!

Thyro-Slim's PM Formula contains no stimulants whatsoever and actually has natural herbs to help support healthy sleep.* The best part is that the PM Formula containing select ingredients that can promote fat burning even while your sleep!*
What does it do?

Burns fat, boosts metabolism, controls appetite, eliminates excess water, boosts energy, supports thyroid function, promotes healthy blood sugar levels already in normal range, supports healthy adrenal function, promotes sleep and detoxifies your system.*

How does it work?

Thyrogenic™ (AM Formula) Active Ingredients:
250 mg of Thyrogenic T-3 Complex, 175 mg of L-Tyrosine: Supports the thyroid to promote weight loss, thermogenisis, energy and mental focus.*
500 mg of Garcinia Cambogia (HCA): Helps to block the conversion of carbohydrates to fat.*
200 mg of Green Orange fruit extract (6.5% Synephrine): Has a powerful thermogenic property to help maximize your body's ability to burn fat and increase energy without negatively affecting the central nervous system.*
455 mg of Guarana extract, 100 mg of White Willow: A powerful thermogenic blend that promotes your body's ability to burn fat and increase energy.*
100 mcg of Chromium, 10 mg of Gymnema: Helps to promote healthy appetite levels by stabilizing blood sugar levels already in normal range.*
Thyrodrene™ (PM Formula) Active Ingredients:
250 mg of Thyrogenic T-3 Complex: Supports the thyroid to support weight loss, thermogenesis, energy and mental focus.*
250 mg Water Balance Blend: Helps eliminate excess water.*
250 mg Cleansing Blend: helps detox and cleanse your system.*
200 mg Restoration and Adrenal Support Blend: Supports your adrenal glands to optimize everyday energy and also promotes the fat burning process.*
100 mcg of Chromium: Helps to curb appetite by supporting healthy blood sugar levels already in normal range.*
Who should take it?

Anyone the age of 18 or over who is looking to: Burn fat, boost metabolism, control appetite, eliminate excess water, boost energy, support thyroid function, regulate blood sugar levels already in normal range, promote adrenal function, support sleep and detoxify your system.*

How should I take it?

Thyrogenic™ (AM Formula): Take 2 capsules twice daily, preferably in the morning and early afternoon.

Thyrodrene™ (PM Formula): Take 2 capsules once daily on an empty stomach before bedtime.
"This product is excellent! It helped keep my hunger at bay.* The supplement also kept my energy up without giving me the jitters that I've experienced with other products, also has a diuretic component.*"

"The PM pill is great for settling down at night and getting a restful snooze.* I sometimes save the pm pills for nights when I'm not actively dieting/ using supplements, to help promote healthy sleep.*"

"At $21, you are basically paying a dollar a day. Relatively inexpensive for a high quality product."

"No jitters, headaches, etc., which is what I sometimes get with fat burners.*"

"Doesn't have a weird or bitter taste."
Ratings & Reviews
By clicking the button above, you agree to entering the Bodybuilding.com Reviews section. Products in the Store are not intended to diagnose, treat, cure, or prevent any disease.