Low Carb Protein Guide
Introduction To Low Carb Protein
Watch this quick video to get the scoop on low carb protein!
Maximum Protein, Minimum Carbs=Fast Results
LOW CARB PROTEIN SUPPLEMENTS WORK FOR YOUR FITNESS GOAL
Protein is one of three major macronutrients that all people, both average and active individuals, should get in their daily diet. Low carb protein options are a convenient way to support your protein intake while you're dieting or trying to eat fewer carbs. Low carb protein supplements may help you:
Promote healthy, lean muscle growth*

Satisfy your appetite*

Support your fat loss goal*

Workout harder and recover fast*
Make sure you've got a stable exercise program and a well-balanced diet in place, and with low carb protein supplements you can sculpt your dream body!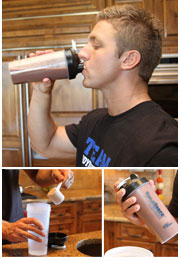 1-20 of

241

Results
---
Sort By:
---
Show:
* These statements have not been evaluated by the Food and Drug Administration. This product is not intended to diagnose, treat, cure, or prevent any disease.
1-20 of

241

Results
---
Sort By:
---
Show:
Categories Index