Click here to enlarge
Pro V60
Multi-Purpose Protein Blend!
60g Protein Per Serving!
Supported Goal:
Build Muscle
Main Ingredient:
Whey Protein
25,000,000+
Orders Shipped
Fastest
Shipping
Lowest
Prices

24/7/365
Live Support

Largest
Selection
Product Overview
ProV60®
Maximum Strength Protein Blend
ProV60® is a precision blend of 5 proteins that provide optimal anabolic amino acid ratios for increased lean muscle growth and strength!*
60g Protein Per Serving
Low in Carbs and Sugar
Excellent Time-Release Formula
TELL ME MORE
You may be resting at night, but your muscles aren't.
They're in repair-mode from your vigorous workouts, and shouldn't be ignored. Just as you make it a routine to consume adequate amounts of protein every couple hours during the day, your body needs a steady supply of protein at night. That's where ProV 60® comes it. By taking ProV 60® before bed, you can ensure your muscles are never left on empty during the night. As you sleep, they'll get a slow, steady stream of superior protein blends so you can start the next day right where you left off – building muscle!
Of course, ProV 60® is just as powerful during the day.
Its unique protein matrix never fails to provide nutritional support to your hard-working muscles. Because it's low in sugar, you can still maintain your low-carb diet in a quest for more definition. ProV 60® mixes instantly without a blender, and delivers amazing taste that's hard to beat.
BUILD LEAN • MUSCLE GET STRONG
60g PROTEIN
11g BCAAs
0g
TRANS-FAT
WHAT'S IN IT?
ProV60® contains precise combinations of slow, intermediate, and fast digesting proteins for maximum quality and all day muscle protein synthesis, reducing muscle protein breakdown, and helping speed recovery time after a workout.*
ProV60® contains an advanced, precision blend of micro-ultrafiltered whey protein isolate, ion exchanged whey protein isolate, micro-ultrafiltered whey protein concentrate, agglomerated egg albumin, and long acting casein.

ProV60's

amino acid profile is unsurpassed for building lean muscle and is high in critical branch-chain amino acids and glutamine.*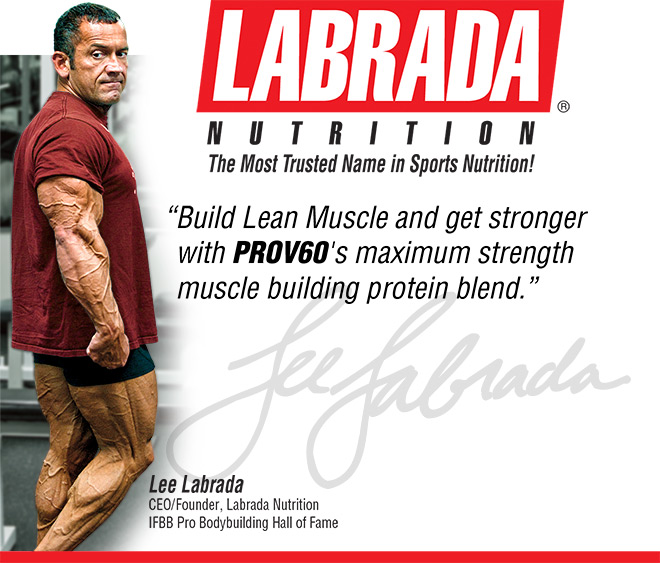 Ratings & Reviews
By clicking the button above, you agree to entering the Bodybuilding.com Reviews section. Products in the Store are not intended to diagnose, treat, cure, or prevent any disease.