Click here to enlarge
EFA Lean Gold
With Tonalin CLA
Essential Fatty Acid Blend to Help Reduce Body Fat and Support Muscle Tone!
Supported Goal:
Health & Wellness
Main Ingredient:
CLA
25,000,000+
Orders Shipped
Fastest
Shipping
Lowest
Prices

24/7/365
Live Support

Largest
Selection
Product Overview
EFA Lean™ Gold
Essential Fatty Acid
Softgel Caps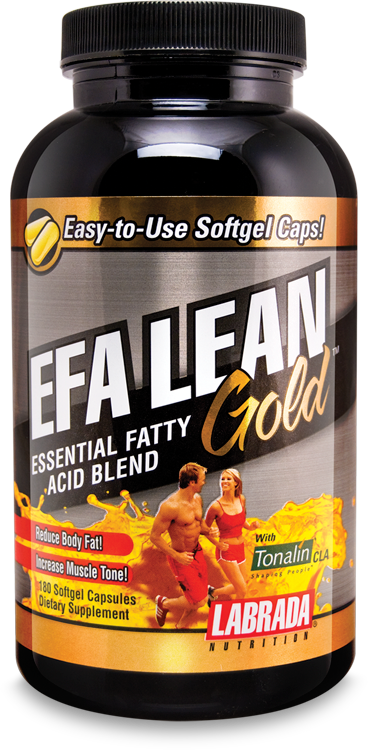 Tell me about it
LABRADA®'s EFA Lean™ Gold Essential Fatty Acid Blend is designed specifically for dieters, and comes in easy-to-use softgel capsules. It's a daily dose of the Essential Fatty Acids (EFAs) your body uses as nutritional support for getting lean.* You get optimal quantities of three fatty acid groups: Omega-3, 6, and 9 – as well as Vitamin E and other essential oils, including Tonalin® CLA, which studies suggest promotes lean muscle while burning fat.*

In short, LABRADA®'s EFA Lean™ Gold Essential Fatty Acid Blend supplies a precise blend of fatty acids that support fat-burning, while also boosting energy, supporting lean muscle, and optimizing health.*
Tell me more!
EFA Lean™ Gold provides essential fatty acids that may help support metabolic rate, muscle tissue repair, cardiovascular health, skin health, supple tissues, cholesterol metabolism, hormone metabolism, immune function, recovery from fatigue, hemoglobin production, cell membranes and functions, and oxygen transfer.*
Conjugated Linoleic Acid (CLA) – studies suggest Tonalin® CLA promote fat-loss support.
What's in it?
Omega-3 Fatty Acid (925mg)

– important for normal metabolism.*

Omega-6 Fatty Acid (715mg)

– helps with normal exercise-induced inflammation.*

Omega-9 Fatty Acid (550mg)

– helps to support metabolism and positive mood.*

Tonalin CLA

– conjugated linoleic acid, which is suggested to play a role in reducing body fat and supporting muscle tone.*

Other Ingredients:

Flax Seed Oil, Sesame Seed Oil, Safflower Oil, Borage Oil, and Sunflower Oil
Ratings & Reviews
By clicking the button above, you agree to entering the Bodybuilding.com Reviews section. Products in the Store are not intended to diagnose, treat, cure, or prevent any disease.