24/7 Customer Service 1-877-991-3411
FUSION BODYBUILDING:

SUB-Q
Beyond Ripped!*
The Subcutaneous Fat Incinerator!*
Supported Goal: Lose Fat
Main Ingredient: Raspberry Ketones
FUSION BODYBUILDING SUB-Q Product Guide
CRAIG & JULIE BONNETT
WBFF PROS
SUB•Q® – GET BEYOND RIPPED*
SUB•Q completely redefines what you should expect from a fat burner. Our revolutionary supplement combines breakthrough ingredients with diet and training information, on our VIP website, that will help incinerate the fat that keeps you from looking shredded. SUB•Q is used by competitive bodybuilders around the world and has proven to be a tried and true way to achieve a standout physique. SUB•Q will give you the powerful and explosive results you need to get beyond ripped.*
THE SCIENCE BEHIND SUB•Q
SUB•Q is designed to retain your hard-earned muscle while incinerating body fat, including subcutaneous fat – making your skin paper-thin. To do this, SUB•Q stimulates cellular energy production1 and norepinephrine release,2 and this increases your metabolic rate and the number of calories that you burn from fat. By increasing your metabolic rate, you incinerate existing body and subcutaneous fat, and continuing to take SUB•Q helps you keep it off for good. By maintaining a positive nitrogen balance, promoting muscle sparing3 and promoting muscle growth,4,5 SUB•Q keeps your metabolism high, accelerates your recovery time and allows you to exercise with increased frequency. This all amounts to more calorie burning and the incineration of fat. Also, to really thin your skin, SUB•Q contains strong diuretic properties that eliminates excess water from underneath your skin.6 This is a bodybuilding must and will really make your muscles "pop."*
The diagram above illustrates the difference in subcutaneous fat levels before and after the SUB•Q cycle.*
BULLET CAPLET TECHNOLOGY®*
To ensure your results are explosive, SUB•Q's powerful formula is transported with Bullet Caplet Technology.*
BULLET CAPLET TECHNOLOGY - 3-Stage Disintegration Process
Bullet Caplet Technology is a proprietary innovation exclusive to FUSION BODYBUILDING. What makes this technology unique is its micro-channels. During the disintegration process, these micro-channels are created in the Bullet Caplet structure, and the ingredients in SUB•Q are released from the inside of the caplet to the outside, dissolving it from the center. This allows immediate and accurate dosing, making sure the ingredients work together as designed.*
SCIENTIFIC REFERENCES
Kimball, S. R., & Jefferson, L. S. (2001, January). Regulation of protein synthesis by branched chain amino acids. Curr Opin Clin Nutr Metab Care, 4(1), 39–43. Review.
Torigoe, K., Potter, P. E., & Katz D. P. (1999). Branched-chain amino acid-induced hippocampal norepinephrine release is antagonized by picrotoxin: Evidence for a central mode of action. Brain Res Bull, 49(4), 281–284. (31 ref.)
Combaret, L., et al. (2005, December). A leucine-supplemented diet restores the defective postprandial inhibition of proteasome-dependant proteolysis in aged rat skeletal muscle. J Physiol, 1(569[Pt 2]), 489–99.
Biolo, G., Tipton, K. D., Klein, S., & Wolfe, R. R. (1997, July). An abundant supply of amino acids enhances the metabolic effect of exercise on muscle protein. Am J Physiol, 273(1 Pt 1), E122–9.
Anthony, J. C., et al. (2002, May ). Contribution of insulin to the translational control of protein synthesis in skeletal muscle by leucine. Am J Physiol Endocrinol Metab, 282(5), E1092–101.
Racz-Kotilla, E., Racz, G., & Solomon, A. (1974). The action of Taraxacum officinale extracts on the body weight and diureses of laboratory animals. Planta Med, 26, 212–217.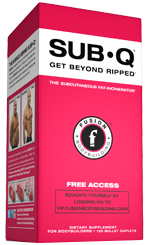 FREQUENTLY ASKED QUESTIONS
What is subcutaneous fat?
Subcutaneous fat is the layer of stubborn, milky-white fat that sits just underneath your skin. This fat layer contains fat cells called adipose cells that sit on top of your muscles and bones, attached to them by connective tissues. As subcutaneous fat increases in quantity, the true shape and definition of your muscles and body is obscured. For men, most subcutaneous fat is stored in the abdominal areas.*
On average, subcutaneous fat accounts for about 3 to 8% of your total body mass and accounts for more than 80% of all fat mass.1*
What is Bullet Caplet Technology®?
SUB•Q utilizes Bullet Caplet Technology to rapidly deliver its advanced ingredients.*
Bullet Caplet Technology is the advanced way to immediately activate the ingredients in SUB•Q by disintegrating the caplet, layer by layer. During the disintegration process, micro-channels are created in the caplet structure, and SUB•Q ingredients are released from the inside of the caplet to the outside, dissolving the caplet from the center.*
Bullet Caplet Technology is powerful and explosive because unlike traditional "slow-dissolve from the outside" caplets that release only the ingredient on the outermost layer, thereby delivering only one ingredient at a time, SUB•Q delivers a constant, steady, even stream of all its fast-acting ingredients at the same time.*
How will I feel on SUB•Q?
SUB•Q contains scientifically proven ingredients and caplet technology that deliver powerful and explosive results – fast! You should feel the results within minutes of your first dose.*
Can I use SUB•Q with other supplements and foods that contain caffeine?
No. We do not recommend that you take this product with anything that contains caffeine. Please read the entire SUB•Q label, including the warnings, and use only as directed.*
Who can use SUB•Q?
You can. SUB•Q goes to work right away and produces powerful, explosive and safe results – fast! Any healthy adult can use SUB•Q to get beyond ripped. As with any diet, exercise or supplement program you should consult a medical professional before you begin. Always read the entire label before using any supplement product, and follow all directions.*
SCIENTIFIC REFERENCES
Arner, P. (1997). Obesity and the adipocyte. regional adipocity in man. J Endocrinol, 155, 191–192.
FUSION BODYBUILDING SUB-Q Purchase Information
Order today using our 100% secure server and get it at the lowest prices in the world with our fast, inexpensive 2-3 day shipping! NOBODY beats our overall price!
120 Bullet Caplets

$59.99

$46.99

In Stock
Recommended For You

More Info
Optimum Presents:
Packed With Whey Protein Isolates For Ultra-Fast Absorption!*
Do You Use This Product?
FUSION BODYBUILDING:
SUB-Q
120 Bullet Caplets

$59.99

$46.99

In Stock
Manufacturer information:
This works well with:
What's in FUSION BODYBUILDING SUB-Q?
120 Bullet Caplets

Supplement Facts

Serving Size:

3

Bullet Caplets™

Servings Per Container:

40

Amount Per Serving

% Daily Value

Beyond Ripped™ Complex

924

mg

L-Leucine

(BCAA - 2:1:1)

360

mg

L-Isoleucine

(BCAA - 2:1:1)

180

mg

L-Valine

(BCAA - 2:1:1)

180

mg

Razberi-K®

99

mg

[4-(4-Hydroxyphenyl) Butan-2-One]

Taraxacum Officinale

(Dandelion)(Leaf)

105

mg

[Standardized For A 4:1 Extract]

Fat-Incinerator Complex

627

mg

Camellia Sinensis

(Green Tea)(Leaf)

201

mg

[Standardized For 90% Polyphenols, 40% Epilgallocatechin (EGCG), 70% Total Catechins, <5% Methylxanthines]

Caffeine Anhydrous

201

mg

Forslean®

(Coleus Forskohlii)

(Coleus)(Leaf)

75

mg

[Standardized For 10% Forskohlin]

N-Acetyl L-Tyrosine

75

mg

Salvia Sclarea

(Clary Sage)

(Leaf)(Powder)

75

mg

Absorption Initiator

3

mg

Bioperine®

(Piper Nigrum)(Black Pepper)(Fruit)

[Standardized To 95% Piperine]
Other Ingredients:

Microcrystalline Cellulose

, Glycerin

, Modified Cellulose Gum

, Carrageenan

, Silicon Dioxide

, Magnesium Stearate

, Color
Directions For SUB-Q: See Dosing below. Always take your first serving of SUB-Q Bullet Caplets before breakfast or morning training session, and take your second serving mid-afternoon. Do not take SUB-Q within 5 hours of sleep. Do not exceed 6 Bullet Caplets per day.
| | | |
| --- | --- | --- |
| Dosing Schedule | First Serving | Second Serving |
| Day 1 to 2 | 1 Bullet Caplet | 1 Bullet Caplet |
| Day 3 to 4 | 2 Bullet Caplets | 2 Bullet Caplets |
| Day 5 and Beyond | 3 Bullet Caplets | 3 Bullet Caplets |
Warnings: Keep out of reach of children. Do not use if you are pregnant or nursing or are allergic to chocolate. SUB-Q is not intended for use by persons under the age of 18. If you are under medical supervision, consult with your physician before use. Use SUB-Q only as directed. Do not exceed recommended serving, as improper use of this product does not enhance results.
* These statements have not been evaluated by the Food and Drug Administration. This product is not intended to diagnose, treat, cure, or prevent any disease.