Energy Shots Guide
Introduction To Energy Shots
Watch this quick video to get the scoop on energy shots!
1, 2, 3, Energy!
LIGHTNING-FAST BOOSTS WITH ENERGY SHOTS*
For those times when you hit a huge energy slump that just won't quit, our energy shot products will do just the trick to get you past it.*
These shots are designed to provide a sustained crash-free source of energy for you to train or get through the day with.* With ingredients to maximize energetic brain activity, you can make sure to keep your head in the game with an energy shot.*
Some of the common ingredients found in our energy shot products include vitamin B12, riboflavin, niacin, vitamin C, Chromium, Yerba Mate, as well as carbohydrates for fuel support.*
These energy shots also come in refreshing flavors that taste great, so you don't feel like you're slamming cough syrup. Take them right before a workout to charge up or during lunch for a mid-afternoon burst!*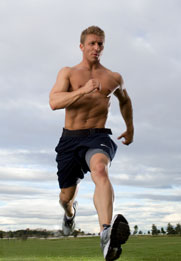 1-13 of

13

Results
---
Sort By:
---
Show:
* These statements have not been evaluated by the Food and Drug Administration. This product is not intended to diagnose, treat, cure, or prevent any disease.
1-13 of

13

Results
---
Sort By:
---
Show:
Categories Index