Click here to enlarge
Elite Casein
Night-time Protein Powder for Muscle Recovery*
Slow Release Casein to Feed Muscles Overnight and Recover from Intense Training*
Supported Goal:
Build Muscle
Main Ingredient:
Micellar Casein Protein
25,000,000+
Orders Shipped
Fastest
Shipping
Lowest
Prices
24/7/365
Live Support

Largest
Selection
Product Overview
25
GRAMS OF PROTEIN
---
100%
MICELLAR CASEIN
---
5
GRAMS OF BCAAs
---
2.3
GRAMS OF L-LEUCINE
---
5
GRAMS OF GLUTAMINE
---
2014 CASEIN SUPPLEMENT OF THE YEAR
PERFECT FOR NIGHT-TIME USE
Why Elite Casein?
Elite Casein was the 2014 Casein of the year. It is a premium slow absorbing protein designed to feed your muscles overnight and other extended periods of time without food, like in between meals. These are ideal times to make sure you are getting the protein and amino acids your body needs for muscle rebuilding and recovery. Casein is a unique protein derived from milk that provides a sustained release of muscle building amino acids to support muscle growth and recovery.*
Elite Casein contains 100% Micellar Casein, the slowest absorbing form of casein. Every serving of Elite Casein delivers 25g of 100% Micellar casein, 5 grams of BCAAs, and 2.3 grams of L-Leucine. Along with the protein and BCAAs you need, Elite Casein has multiple amazing flavors that mix easily for a smooth and delicious taste. When looking for a premium protein that will sustain and nourish your muscles at all hours of the day, look no further than the 2014 Bodybuilding.com award winner Elite Casein from Dymatize Nutrition!
25g of 100% Micellar Casein
5.5g of BCAAs
2.3g L-Leucine
Ideal for overnight sustained muscle growth & recovery
Great for in-between meals
*Nutrition information based on Vanilla Flavor
HOW DOES ELITE CASEIN COMPARE TO OTHER DYMATIZE PROTEINS
SLOW ABSORPTION*
SUSTAINED ABSORPTION*
ULTRA-FAST ABSORPTION*

25G


PROTEIN

23G


PROTEIN

25G


PROTEIN

130


CALORIES

170


CALORIES

110


CALORIES

2G


FAT

5G


FAT

0G


FAT

3G


CARBS

12G


CARBS

1G


CARBS

1G


SUGAR

1G


SUGAR

0G


SUGAR

0G


FIBER

5G


FIBER

0G


FIBER
WHEN TO TAKE
NIGHT TIME BETWEEN MEALS
ANYTIME
PRE & POST WORKOUT
Best-In-Class Mixability.
Have you ever finished a protein shake and looked into the shaker, only to realize that half of your protein powder is still stuck on the sides? That is why at Dymatize we pride ourselves on our Best-in-Class Mixability. You can be confident when mixing our protein powders that you will get every ounce of protein out of the cup, and into your body! Whether it is water, milk, or any other healthy beverage, our proteins are designed for easy mixing.
Best-in-Class Mixability also ensures that we can deliver the Best-in-Class flavor experience. Great mixability ensures your Dymatize protein shake has the right level of flavor, sweetness, and consistency. Check-out some of the amazing flavors of Elite Casein.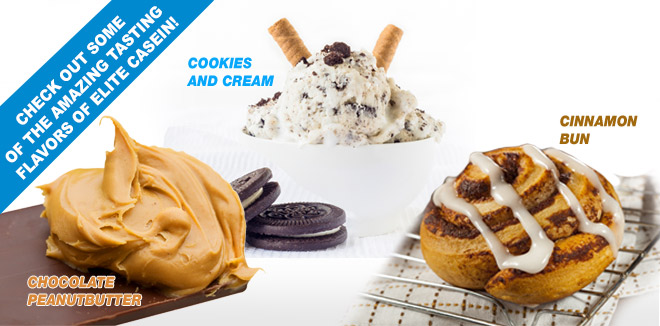 PERFECTING ATHLETIC NUTRITION™
At Dymatize we are committed to bringing you cutting edge products that are built on science. Formulated to help maximize your hard work and get you the results you want, our products are strategically designed and rigorously tested to improve performance in and out of the gym, regardless of your personal fitness goals. We know sports nutrition has to drive performance, that's why enhancing performance is our number one objective, with science and quality as our foundation!
PRODUCTS TESTED AND PROVEN FOR PERFORMANCE
Dymatize has been a worldwide leader in sports nutrition for more than 20 years and has built a reputation for bringing you revolutionary products that can help take your performance to the next level.
The Dymatize Scientific Advisory Board consists of many of the world's leading University sports nutrition researchers. These scientists perform independent studies using Dymatize products and ingredients to drive the highest level of product performance.
Each year we invest millions of dollars in product testing and research to ensure our products are safe and effective. Our supplements are formulated by some of the top sports nutrition scientists in the world.
At Dymatize, we pride ourselves on putting our scientifically proven products to the test with elite athletes at world class training facilities. Dymatize is the sports nutrition supplement brand of choice for both IMG Academy and Chip Smith Performance Systems. Two training centers where the best athletes go to get better!
Dymatize is committed to bringing you the most innovative and effective sports nutrition products available anywhere. Real Science has been and will remain the foundation of our product development.
Our team of scientists, led by Dr. Rob Wildman, have over 50 years of experience developing revolutionary Sports Nutrition products based on real science. The Dymatize Science Team works with researchers and scientists from around the world to ensure our formulations deliver maximum results without compromising your safety.
REAL SCIENCE – REAL RESEARCH
REAL SCIENCE

– Dymatize applies science that is researched and proven. Our ingredients are carefully analyzed to develop the most effective formulas. Only formulations that pass rigorous safety and performance testing move forward to manufacturing. These formulas are then manufactured under the strictest of quality standards. Dymatize utilizes this process with every product to ensure you get only the highest quality and most effective products available.

REAL RESEARCH

– Dymatize is a leader in developing innovative products designed to deliver real results. Countless hours of research and testing are performed to ensure your safety and validate superior product performance. Our labels contain only substantiated claims based on real research and safety testing.
At Dymatize, we go above and beyond industry quality and safety standards to make sure you can feel confident using our products. Our products are manufactured in a NSF GMP (Good Manufacturing Practices) for Sport certified facilities to ensure only the highest quality ingredients are used. We proudly stand by our commitment to quality and safety!
Every raw material that is in our products is tested for quality and purity before it is included in our formulations.
We rigorously test every product, and verify levels of proteins, vitamins, and other nutritional components on the label. What you see on the label is what you get on the bottle.
Our products are Informed-Choice Certified providing assurance that they are free of banned substances.
No amino spiking, contaminants, or questionable ingredients. Period!
Ratings & Reviews
By clicking the button above, you agree to entering the Bodybuilding.com Reviews section. Products in the Store are not intended to diagnose, treat, cure, or prevent any disease.

This is my favorite line of protein powders. I, personally, am a chocolate fan. But it does not clump, and the flavor is not chalky. All the flavors a pretty good...

Hands down the best casein protein I've taken. I've used Muscle Pharm's, Muscle Tech's Platinum and ON's gold standard, none of them comes close. I've seen great results since using Dymatize. It's the best mixing casein hands down. No big chucks of unmixed powder. The taste is great!!! My favorite is the cinnamon bun but the rich chocolate is very good as well. HIGHLY RECOMMEND!!!
9 Rich Chocolate
10 Cinnamon Bun
8 Smooth Vanilla
Cinnamon bun used to be my favorite flavor but over the years, the taste and texture has been inconsistent. The cinnamon bun I have right now has wayyyy too much cinnamon. Not as bad as the famous "cinnamon challenge" but it's up there. Smooth vanilla is legit. To me you can't go wrong with vanilla.
8 Cinnamon Bun
10 Smooth Vanilla
There is no need to type out a long review of this product. It's DELICIOUS which is probably why it's out of stock - BIG FAT BOO!!
If you do you research on casein protein, this will be one of the few you find that actually meets all of the standards of what you're looking for in a casein protein. However, I recommend looking up those standards and getting knowledge on protein instead of buying it based off of reviews. That being said, I believe this is a great product. My muscles would feel more replenished and ready to go the following day after taking this. Also, the taste is amazing. It can be a bit thick, so I usually put an extra 2 ounces of milk in this when mixing.

This is the only brand of casein that I will use.
Im a busy guy and sometimes dont have time to cook, especially at night. I like to have a slower digesting protein before bed and for me I choose Elite Casein. I love the flavor and know that its backed with science.
Great price per serving! However, I wish I chose a different flavor as the Cinnamon Bun was okay. It didn't taste like a cinnamon bun or remotely close to it. But it got the job done. I look forward to trying their Chocolate or Cookies and Cream flavor which I'm confident will be a winner.
A great Casein product! This is one the best Vanilla flavours I've ever had. Mixes thick like a sexy Vanilla shake in water, and in milk/almond falvoured milk tastes just like a real Vanilla shake; just Delicious! I wish to try more flavours from Dymatize, hope that they make more flavours available in India.

This is my favorite line of protein powders. I, personally, am a chocolate fan. But it does not clump, and the flavor is not chalky. All the flavors a pretty good...