Click here to enlarge
Muscle Milk Gainer
High Protein Gainer!
Helps Close The Nutrition Gap So Even The Hardest Gainer Can Make Progress!
Supported Goal:
Build Muscle
Main Ingredient:
Whey Protein
25,000,000+
Orders Shipped
Fastest
Shipping
Lowest
Prices

24/7/365
Live Support

Largest
Selection
Product Overview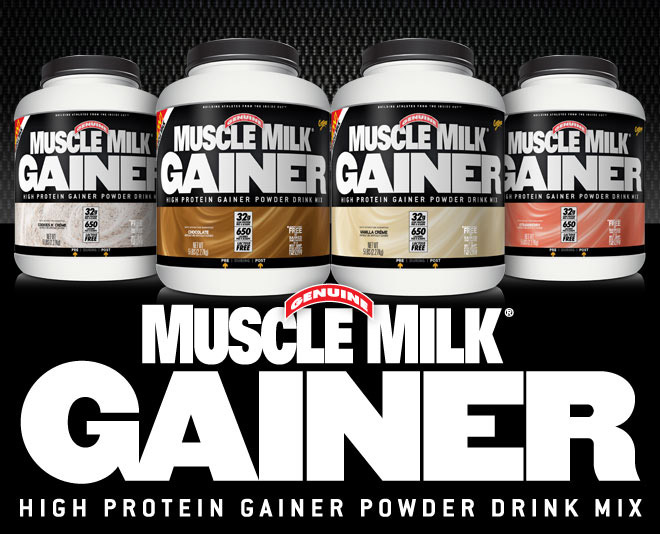 PRODUCT HIGHLIGHTS
PREMIUM, MULTI-SOURCE PROTEIN
32 GRAMS OF LEAN PROTEIN PER 4 SCOOPS
650 CALORIES PER 4 SCOOPS
20 ESSENTIAL VITAMINS & MINERALS
LACTOSE FREE
SIGNATURE MUSCLE MILK TASTE!
*Our products are tested for athletic banned substances in compliance with the NSF International Certified for Sport® program, which includes semi-annual facility audits verifying that no NSF 306-Certification Guideline Annex A List banned substances exist in our facility.
CYTOSPORT™ PRODUCTS COMPLEMENT A SMART EATING AND HYDRATION PLAN THAT WHEN COMBINED WITH A BALANCED EXERCISE OR RESISTANCE TRAINING PROGRAM, MAY CONTRIBUTE TO WEIGHT MANAGEMENT AND RECOVERY FROM EXERCISE.* ©2013 CYTOSPORT, INC.
Ratings & Reviews
By clicking the button above, you agree to entering the Bodybuilding.com Reviews section. Products in the Store are not intended to diagnose, treat, cure, or prevent any disease.