24/7 Customer Service 1-866-236-8417
BSN Thermonex Product Guide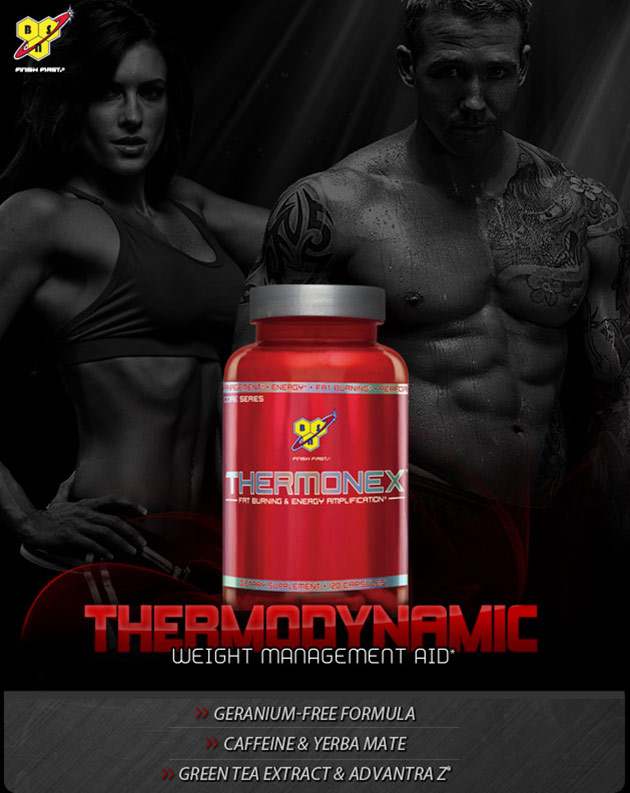 BSN® led the way early on in the field of energy and weight management support with the introduction of THERMONEX™.* A time-tested supplement that fits into any diet and exercise regimen, THERMONEX™ is designed to support: *
Metabolism*
Weight Management*
Energy and Focus*
Physical Performance*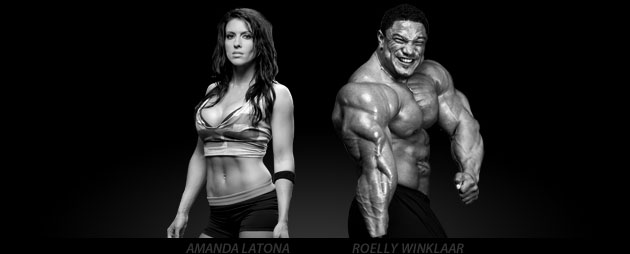 THERMONEX™ is an energy and weight management dietary aid whose time-tested formula works to support fat metabolism while also promoting mental alertness and performance.* It boasts a combination of caffeine and other methylxanthines along with other bio-active ingredients that work synergistically to support energy levels and physical performance as well as promoting thermogenesis.* This formula provides optimal metabolic support to achieve long-term weight management success, while also functioning as a perfect pre-training energy boost to really fire up a workout.*
Also of note is the fact that the THERMONEX™ formula is designed to avoid the signature energy drop that usually comes with stimulant-based supplements.* Users of THERMONEX™ are able to support their fat-burning potential and promote overall daily performance while side-stepping many of the usual pitfalls.*
Anyone looking to give their fat-shedding or body-sculpting efforts a boost need look no further than THERMONEX™.* Whether you're just beginning your journey toward a leaner, healthier body, or you're a fitness veteran trying to maintain a toned, muscular physique, THERMONEX™ can be the metabolism-supporting tool you need to succeed.* For anyone looking to gain an edge in their training, dieting, or daily performance, THERMONEX™ offers the ideal formula for achieving clear, satisfying results.*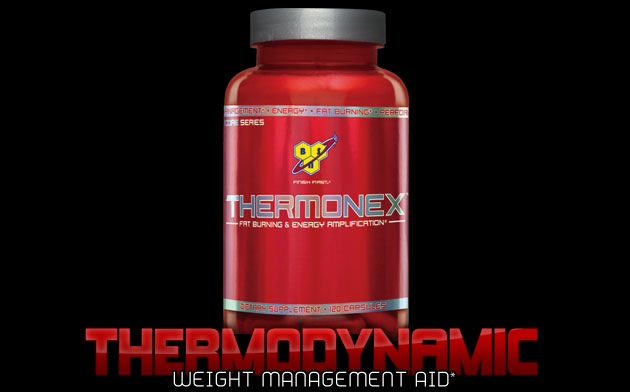 BSN Thermonex Purchase Information
Order today using our 100% secure server and get it at the lowest prices in the world with our fast, inexpensive 2-3 day shipping! NOBODY beats our overall price!
120 Capsules

$42.99

$27.48

In Stock
Recommended For You
Do You Use This Product?

120 Capsules

$42.99

$27.48

In Stock
Manufacturer information:
This works well with:
What's in BSN Thermonex?
120 Capsules

Supplement Facts

Serving Size

3

Capsules

Servings Per Container

40

Amount Per Serving

% DV

Caffeine Anhydrous

250

mg

**

Green Tea Extract (Catechins 243mg/EGCG 112mg)

375

mg

**

Octopamine HCL

200

mg

**

Evodia Rutaecarpa (Evodiamine 98%)

40

mg

**

Yerba Mate (Xanthines 25%)

200

mg

**

Advantra Z® (Citrus Aurantium 10% Synephrine)

20

mg

**

Naringin

50

mg

**

L-Tyrosine

300

mg

**

Diiodotyrosine

100

mcg

**

Iodotyrosine

100

mcg

**

** (DV) Daily Value not established
Other Ingredients
Magnesium Stearate
, Gelatin
Directions For Thermonex: Take 3 capsules 2 to 3 times daily, 30 minutes before meals and/or exercise. Begin using half the recommended dose (2 capsules 2 or 3 times daily) to access your tolerance. To avoid sleeplessness, do not take within 4 hours of bedtime. Drink at least 8-10 glasses of water a day. Do not exceed 12 capsules within a 24 hour period.
Warnings: Before using product, seek advice from a health care practitioner if you are unaware of your current health condition or have any pre-existing medical condition including but not limited to: high or low blood pressure, cardiac arrhythmia, stroke, heart, liver or thyroid disease, anxiety, depression, seizure disorder, psychiatric disease, diabetes, pernicious anemia, difficulty urinating due to prostate enlargement or if you are taking an MAO inhibitor or any other medication. Do not use if you are pregnant, nursing, prone to dehydration or exposed to excessive heat. Reduce or discontinue use if sleeplessness, tremors, dizziness, nervousness, headaches, or heart palpitations occur. This product is only intended to be consumed by healthy adults 18-50 years of age.
* These statements have not been evaluated by the Food and Drug Administration. This product is not intended to diagnose, treat, cure, or prevent any disease.