Syntha-6
Ultra-Premium Protein Matrix*
32,000,000+
Orders Shipped
Fastest
Shipping
Lowest
Prices
24/7/365
Live Support
Largest
Selection
Product Overview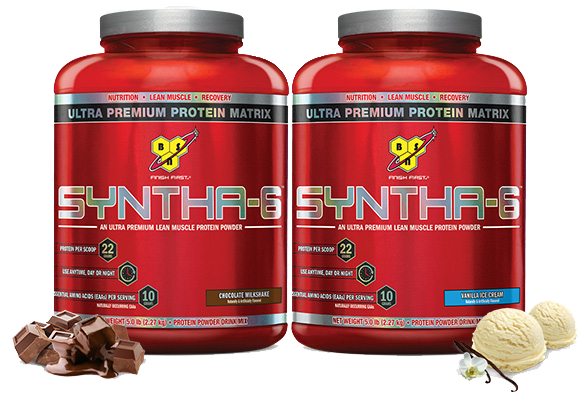 Ultra-Premium Lean Muscle

Protein Powder
Supports Muscle Growth*
Supports Muscle Protein Synthesis*
Helps Kick-start The Recovery
Process*
Milkshake-Like Taste Ridiculously
Delicious
Push your performance past previous barriers.
PROTEIN PER SCOOP
USE ANYTIME, DAY OR NIGHT
ESSENTIAL AMINO ACIDS (EAAs) PER SERVING
Ultra-Premium Lean Muscle Protein Powder
SYNTHA-6® is an ultra-premium protein powder with 22g protein per serving and is BSN®'s best-tasting protein on the market. SYNTHA-6® not only includes essential amino acids and essential fatty acids, but is also an excellent source of fiber, which makes it a nutritious and multi-functional protein supplement. SYNTHA-6® is the go-to protein for any nutrition or exercise regimen because it is designed to suit a variety of active lifestyles and diet plans. And with SYNTHA-6®, the high standard of quality protein comes with taste to match, thanks to BSN®'s exclusive flavor technology.
Ridiculously Delicious
BSN® broke through the whey protein flavor barrier once and for all with the introduction of SYNTHA-6®. Available in over 10 decadent flavors, SYNTHA-6® mixes like a delicious milkshake and is designed for any individual who wants to supplement daily protein intake to help reach their nutritional and physique goals.
BSN Supplementation
At BSN®, we have designed our products to complement one another. When used together, they can help enhance the overall benefits of your supplementation and workout regimen.
Transform your athletic potential with these suggested products

N.O.-XPLODE
Pre-Workout Igniter

SYNTHA-6
Ultra Premium Protein Powder

SYNTHA-6 ISOLATE
100% Isolate Protein Matrix

ISOBURN
Fat Burning Protein Powder Matrix

AMINO X
Effervescent Endurance & Recovery Agent
Protein Powder
✓
✓
✓
100% Protein Isolate
✓
✓
Fat Burning Support
✓
Pre-Workout Supplement
✓
✓
Intra-Workout Supplement
✓
Post-Workout Supplement/
Recovery Agent
✓
✓
✓
✓
Muscle Support
✓
✓
✓
✓
✓
No Caffeine; Use Anytime, Day or Night
✓
✓
✓
✓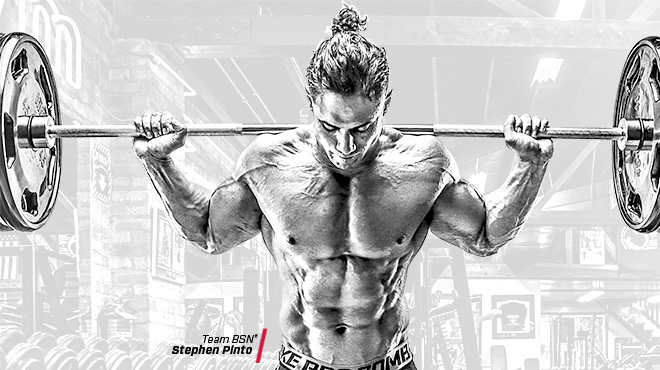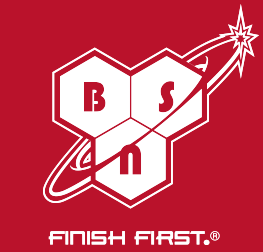 You May Also Like
Ultra-Premium Lean Muscle Protein Beverage!*
Ultra-Premium Protein Isolate Matrix!*
Ratings & Reviews
By clicking the button above, you agree to entering the Bodybuilding.com Reviews section. Products in the Store are not intended to diagnose, treat, cure, or prevent any disease.

This is by far my favorite Protein taste wise. It misses well and is very smooth. Love at first sight.

I usually hate the taste of protein powders, but the Cinnamon Bun protein powder taste AMAZING I love it so much I want to drink it just for fun!!! This is the best protein powder I have ever tasted. I highly recommend this product, it's delicious and if you love cinnamon buns like I do you have to purchase this!
10Cinnamon Bun - Exclusive!

Used many different proteins and this is my favorite by far.
The best vanilla protein I've ever tried. and I have tried 7 brands


Flavor is the only thing this product has slightly going for it. As others have said, it's mostly fillers and does not have a respectable amount of protein for the price. Although it tasted better than most powders/shakes it does feel like a ripoff once you read the label closely. After doing some more research, I even found that this product was ranked last out of more than 80 different proteins on Labdoor. Guess you gotta do your homework:(
Please! Please! Do your homework when purchasing your Protien! This protien rates in the top 5 for poor Protien Content! Divide the number of Protien Grams per serving by the number of grams per serving and this protien is only 46% Protien. Complete ripoff. Forget how it taste, forget how easy it mixes. Your buying protien for one reasen. PROTIEN! This product contains more fillers than protien. All quality Protiens contain between 75 to 90% protien. Anything under 70% your getting ripped off. I really hate to bash a product but this shouldn't be allowed to be called protien!

Product isn't to great but the flavor is amazing. I saw no results.

This is by far my favorite Protein taste wise. It misses well and is very smooth. Love at first sight.

† This price is the retail price for this product found at one or more retail websites in the last 30 days. The price may not include shipping cost, tax, sale or promotional prices, or discounts such as member pricing. Prices may change. Bodybuilding.com verifies this price every 30 days.