1.M.R
Concentrated Pre-Workout Powder for Focus and Energy*
Intense Ingredients to Increase Energy and Stamina During Workouts*
Supported Goal:
Improve Workout
Main Ingredient:
Caffeine

25,000,000+
Orders Shipped
Fastest
Shipping
Lowest
Prices
24/7/365
Live Support
Largest
Selection
Product Overview
THE MOST POWERFUL PRE-WORKOUT IS BACK!*
May Experience:
POWERFUL & INTENSE ENERGY*
EXTREME FOCUS & CLARITY*
IMPROVE PERFORMANCE*
IMPROVED ENERGY & ENDURANCE*
---
EXTRA

STRENGTH,

EXTRA

ENERGY!*

The latest all-in-one, extremely intense, powerful BPI Sports pre-workout formula will raise your energy and stamina through the roof.* Think balls-to-the-wall, all-out, full-steam-ahead type of mass building training every time you lift weights.* 1.M.R™ features an energy-boosting blend of caffeine, yohimbe and theobromine, so there's just no turning back after taking it.* Just think of how you can amplify your workouts, crush every single exercise and dominate the gym floor like never before.*
MORE

REPS,

MORE

PUMPS!*

1.M.R is designed to power you through rep after exhaustive rep, no matter what exercise you're performing.* The newest BPI Sports pre-workout ultra concentrated formula will push you to go past your own limits, taking you to that next level where real transformations happen.* You'll be flying around the gym, jumping from set to set, exercise to exercise. So get ready to have your muscles pumped to the max, be mentally focused and dialed in, maximizing every single effort you make to lift heavier, work out longer and train harder.*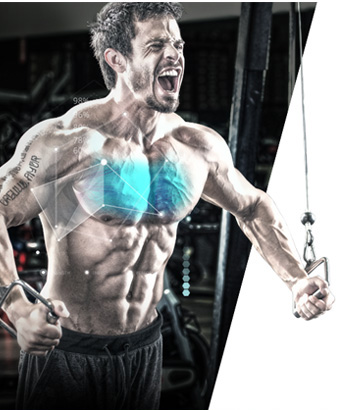 BETTER

MIND-MUSCLE CONNECTION.*

BETTER

FOCUS.*

Gone are the days where you were just going through the motions of exercising. With the 1.M.R pre-workout supplement, you can expect to work out with purpose and direction. Paired with key-performance ingredients and a powerful blend of nootropics including CDP-Choline and GABA to help you block distractions, 1.M.R connects your body and mind boosting mental clarity for next-level results.* Dubbed as the most powerful pre-workout on the planet, 1.M.R will have you eager to train with every scoop you take.*
LIFT
HEAVIER,

EXERCISE HARDER,
TRAIN

LONGER.*
WHAT'S IN 1.M.R?
GABA (GAMMA-AMINOBUTYRIC ACID)
GABA provides its user with feelings of well-being and supports brain health. GABA is produced naturally in the brain in smaller quantities. However, supplementing with GABA has the potential to relieve stress and promote healthy patterns.*
L-CARNITINE TARTRATE
Is primarily known for transporting long-chain fatty acids into the mitochondrial matrix of the cell for fat oxidation.* It has recently been studied that L-carnitine may play an important role in recovery from exercise.*
COCOA SEED EXTRACT
Cocoa seed extract has been shown to have beneficial effects on digestive enzymes that may play an important role in body weight management.*
YOHIMBE
This popular ingredient is well-known for its alpha-2 antagonist and CNS properties. It has been studied that using yohimbe before exercise may promote fat loss.*
CDP-CHOLINE
Choline is a compound that is formed endogenously in the process of synthesizing phosphatidylcholine from choline. CDP-Choline is known to support cerebral energy and increase levels of several neurotransmitters.*
GBB-EEC
Gamma-butyrobetaine ethyl ester chloride, also known as GBB-EEC, is the precursor for L-carnitine. GBB-EEC has the ability to not only increase the body's production of L-carnitine which helps the body turn fat into energy, it may also support athletic performance.*
---
FLAVOR UP YOUR SPORTS SUPPLEMENTS
My Commitment
To You
My name is James Grage and I am no stranger to adversity. After surviving a car accident that ejected me 95 feet from my demolished car, I was told by doctors that my body would never be the same again. Taking that challenge head on, I made it my mission to get back in the gym, build myself back up, and improve the quality of my life. I started with eating the right foods and taking the right nutritional supplements. With all the hard work, sweat, and tears that I was putting in, I needed to know, without a shadow of a doubt, that the supplements I was taking were working as hard as I was. That the ingredients I was putting into my body were clean, pure and effective. Unfortunately I always doubted that I was getting the quality that I desired.
That's why I co-founded BPI Sports. We aren't just about sports nutrition over here. We're a health and fitness company committed to excellence. We believe that the BEST Ingredients make the BEST Products. We are committed to helping you achieve your fitness goals with those high standards at heart. That's what drives us beyond all limitations and expectations. This is what drives me, and drives the values of BPI Sports. We are committed to making sure that we deliver the absolute best nutritional products to you.
James Grage
BPI Sports Co-Founder
Ratings & Reviews
By clicking the button above, you agree to entering the Bodybuilding.com Reviews section. Products in the Store are not intended to diagnose, treat, cure, or prevent any disease.

I believe the Niacin might have caused my body to react negatively from this. There were other factors that could have attributed to me almost throwing up that day, but this may have been the main offender. Will try again in the future as I still have 29 servings left...

Great product. Sometimes a half scoop is plenty. I never got that bad nervous feeling.

Thank You for the reviews on 1.M.R Vortex, made it easy for me to move on, I am a user of the old 1.M.R and that was Seriously Good Stuff as far as how my body reacted to it, the Vortex one I can see is seriously lacking from the old ingredience concentration, not worth my time, not worth my money. Still using Redline Extreme but something seems to be a touch different about that one now too, maybe it is just me, now to give another a shot to see if it has what it takes to move me.
WOW! this pre-workout definitely isn't for the supplement novice. its formula is super effective, great focus and energy through out my whole workout. The flavor is honestly one of the best flavors I've ever tried. Not sure about the other flavors. I would strongly recommend that if you are sensitive to stimulants that you start off with a half of scoop, this stuff is strong! Bpi did good with this one.
So today was my first time using the new formula 1MR. Kicked in 40 minutes in. I had alread drank a bunch of water the day before and continued to do so but oddly enough my vision became very blurry. I was unable to see the friggen clock on the wall. Mouth was very water the whole workout so I was spitting while breathing heavy lol about a couple hours after workout which was 5 hours after I took it I was sweating like I was still on the Battleropesropes. My body was very hot and I was sweating through my undershirt and work cloths. It was a very uncomfortable experience so I returned it after work and got me some Stimul8.
I feel like I wasted my money. Chalky, didn't mix well with water, residue in cup and didn't feel any benefits whatsoever

I believe the Niacin might have caused my body to react negatively from this. There were other factors that could have attributed to me almost throwing up that day, but this may have been the main offender. Will try again in the future as I still have 29 servings left...