Click here to enlarge
Best BCAA
Amino Acid Powder for Workout Recovery*
Promotes Lowered Body Fat Levels, Increased Strength, & Improves Muscle Repair*
Supported Goal:
Build Muscle
Main Ingredient:
BCAAs
25,000,000+
Orders Shipped
Fastest
Shipping
Lowest
Prices

24/7/365
Live Support

Largest
Selection
Product Overview
THE OLIGOPEPTIDE MULTI-CHAIN LINKED BCAA MODEL.
SUPPORTS MUSCLE PROTEIN SYNTHESIS*
DECREASES PROTEIN CATABOLISM*
PROMOTES INSULIN SENSITIVITY*
ENHANCES RECOVERY*
---
WHAT IS BEST BCAA?
BEST BCAA™ is an amino acid supplement that utilizes Oligopeptide-Enzymatic Technology. This is a bonded chain of 3 key amino acids: leucine, isoleucine, and valine which may act as a better transport vehicle for faster absorption. For you, this means a faster & more efficient recovery. BEST BCAA™ supports the decrease of protein catabolism, or breakdown of protein, for preserving lean muscle mass and reducing soreness after a workout.*
WHY IS IT BETTER?
The branched chain amino acids found in BEST BCAA™ (leucine, isoleucine, and valine) cannot be produced naturally in the body – therefore we have to supplement with them in order to enhance protein synthesis and increase muscle growth over time. The Oligopeptide-Enzymatic Technology takes the 3 amino acids, concentrates them, and bonds them together to maximize muscle recovery, lean muscle building, and enhanced onset time (which means it kicks in faster!).*
REBUILD & REPAIR,
THE RIGHT WAY*
FASTER ABSORPTION AND A BETTER RECOVERY POST WORKOUT
What's In
Best BCAA?
OLIGOPEPTIDE-ENZYMATIC TECHNOLOGY
A bond of the 3 amino acids leucine, isoleucine, and valine, which may act as a better transport vehicle for a more efficient metabolism, enhanced muscle recovery, and muscle building.*
CLA MATRIX BLEND
Aids in supporting lean muscle building, preserving lean muscle mass, and reducing body fat.*
My Commitment
To You
My name is James Grage and I am no stranger to adversity. After surviving a car accident that ejected me 95 feet from my demolished car, I was told by doctors that my body would never be the same again. Taking that challenge head on, I made it my mission to get back in the gym, build myself back up, and improve the quality of my life. I started with eating the right foods and taking the right nutritional supplements. With all the hard work, sweat, and tears that I was putting in, I needed to know, without a shadow of a doubt, that the supplements I was taking were working as hard as I was. That the ingredients I was putting into my body were clean, pure and effective. Unfortunately I always doubted that I was getting the quality that I desired.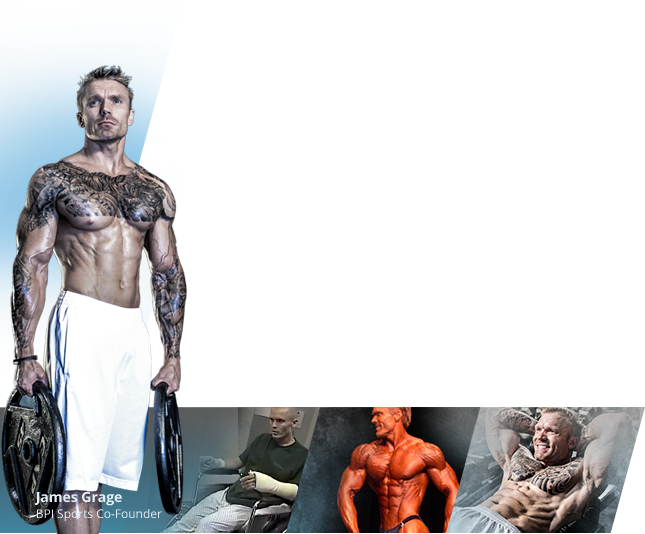 That's why I co-founded BPI Sports. We aren't just about sports nutrition over here. We're a health and fitness company committed to excellence. We believe that the BEST Ingredients make the BEST Products. We are committed to helping you achieve your fitness goals with those high standards at heart. That's what drives us beyond all limitations and expectations. This is what drives me, and drives the values of BPI Sports. We are committed to making sure that we deliver the absolute best nutritional products to you.
Yours in Health,
James Grage
BPI Sports Co-Founder
Ratings & Reviews
By clicking the button above, you agree to entering the Bodybuilding.com Reviews section. Products in the Store are not intended to diagnose, treat, cure, or prevent any disease.