1.M.R Vortex
Aggressive Pre-Workout Powder for Long Lasting Energy*
Formulated to Enhance and Intensify the Quality of Your Workout*
Supported Goal:
Improve Workout
Main Ingredient:
Glycerol
25,000,000+
Orders Shipped

Fastest
Shipping

Lowest
Prices

24/7/365
Live Support
Largest
Selection
Product Overview
The
Game Changing

Pre-Workout
May Experience:
INCREASED STRENGTH*
UNSTOPPABLE ENERGY*
ENHANCED PERFORMANCE*
ENERGY*
FOCUS*
STRENGTH*
TASTES AWESOME
WHAT IS 1MR VORTEX?
1MR VORTEX™ is the newest evolution of pre-workouts. Compounded and engineered with three unique new ingredients that have been carefully formulated to enhance and intensify the quality of your workouts.* Leave your old pre-workout behind - No more unproductive time in the gym - Hold on tight and prepare to enter the Vortex!*
WHY IS IT BETTER?
This is our strongest floor-to-ceiling, all eyes forward, training powder. There is nothing else out there that will ever make you feel this way - Faster, Stronger, Harder than anything else you've ever tried. Flip the switch and train with 1MR VORTEX™*
Remember the days when the energy from your pre-workout hit you so hard that you couldn't wait to get to the gym - and once you got there you didn't want to leave?
1MR VORTEX™ is bringing you back!
Reviewers were compensated
"I'm able to do more weight and more reps. Vortex is not only strong but it tastes awesome!"
Ray R.
"I've never felt anything like this before. I can't wait to get to the gym after I take VORTEX."
Brendy S.
"This is the strongest preworkout I've ever used...and I've tried them all!"
Whitney R.
1MR VORTEX
Anyone looking for MORE! No matter what type of athlete you are, or aspire to be, 1MR VORTEX™ is the pre-workout powder that offers something for everyone. Regardless of your fitness goals, whether it's strength, muscle, energy or endurance that you're looking for...1MR VORTEX™ is the product to help you outperform the competition. 1MR VORTEX™ is the extreme pre-workout supplement that gets the sweat pouring and your adrenalin pumping!*
THE BEST PRE-WORKOUT OF YOUR LIFE!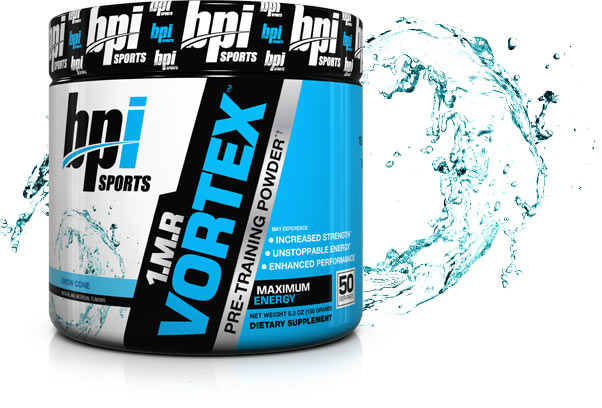 EXPERIENCE IT!
"1MR VORTEX just pushed me through the best workout ever! Focus, power, long lasting energy…the perfect pre-workout supplement"
-Dave T.
Ratings & Reviews
By clicking the button above, you agree to entering the Bodybuilding.com Reviews section. Products in the Store are not intended to diagnose, treat, cure, or prevent any disease.