1.M.R Vortex
Aggressive Pre-Workout Powder for Long Lasting Energy*
Formulated to Enhance and Intensify the Quality of Your Workout*
Supported Goal:
Improve Workout
Main Ingredient:
Glycerol
32,000,000+
Orders Shipped
Fastest
Shipping
Lowest
Prices
24/7/365
Live Support
Largest
Selection
Product Overview
ultra concentrated
intense energy!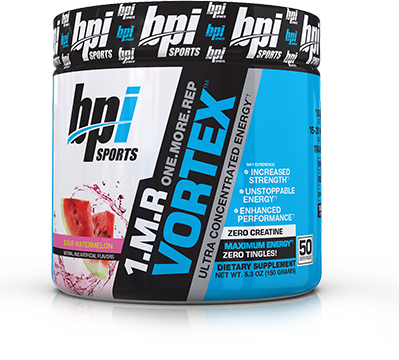 The Game Changing
Pre-Workout*
May Experience:
Increased Strength*
Unstoppable Energy*
Enhanced Performance*
Maximum
Energy*
Increased
Strength*
What Is 1.M.R VORTEX?
1.M.R VORTEX is an extreme pre-workout supplement designed to enhance your endurance, focus, and overall performance in the gym. The 1.M.R VORTEX formula has been compounded and engineered with unique ingredients formulated to intensify the quality of your workouts, increase your strength, and boost mental and motor activation.*
Why Is 1.M.R VORTEX Better?
With 1.M.R VORTEX, you're getting sustained hydration and mental clarity allowing you to go harder in the gym by increasing the length of time until the onset of fatigue. This extreme pre-workout supplement is designed to enhance overall performance in your workouts through enhanced strength, focus, and energy.*
More Explosive

Workouts*
All the power, energy, and focus
you need in 1 single scoop!
Make Your Training A
Little Sweeter!
This is what I take!
the #1
lean muscle pre-workout stack!
Ultra Concentrated Powerful Energy*
Lean Muscle Building & Recovery*
Increased Mental Focus*
Enhanced Athletic Performance*
Ever feel sluggish during a workout? Unmotivated? Sore from yesterday's workout?
THE #1 LEAN MUSCLE PRE-WORKOUT STACK is your fix. 1.M.R VORTEX will provide you with an ultra concentrated dose of intense energy to train hard and improve performance in the gym. This powerful formula also provides enhanced mental focus, promotes strength and power and can even help with weight-loss. You need more than just energy to build the lean, shredded
physique you've been working towards though, so make sure to pair The Best Selling BEST BCAA with it! Featuring the special Oligopeptide-Enzymatic Technology BCAAs for faster absorption into your muscles, you kick start the muscle building process and prevent muscle breakdown during your workout. Pairing these BEST BCAAs with the added CLA Matrix, will allow your body to burn stored body fat for fuel, increase endurance, and promote recovery. This is crucial to building lean muscle and promoting increased strength.*
If you want to support intense energy, extreme focus, improved performance, increased lean muscle mass and to prevent muscle breakdown...
the only combo to turn to is 1.M.R VORTEX AND BEST BCAA!*
Ratings & Reviews
By clicking the button above, you agree to entering the Bodybuilding.com Reviews section. Products in the Store are not intended to diagnose, treat, cure, or prevent any disease.
In fact it is good - I used two packs of this product .. really wonderful .. the first hour after using it I feel the strength of the carry - gives me a strong push - then my body starts to relax - I recommend it - I loved it
I really like BPI - their BCAA's are a great product but this one is a miss. It doesn't mix well, and I didn't feel like it gave me the boost I was expecting. Kinda a bummer.

Mild energy. The cherry lime flavor does not taste good.
Very disappointed with this product. I LOVE their BCAA's! however this pre-workout is a total let down. I do get a little energy, but nothing crazy; definitely no "pump". The taste is horrible and the worse part is that you can't drink the whole thing because it doesn't dissolve properly. It is very gritty and it feels like you are drinking sand. No wonder it was on SALE, now I'm stuck with two containers of this unpleasant pre-workout. There's no doubt that JYM is by far the best pre-workout I have taken.
Mix-ability-2 Flavor-5 Pump-4 Very gritty. So gritty you can't drink the entire thing without gagging and it doesn't stay down well. Didn't get much of a pump with this product. Focus was pretty good but overall this product is a bust. BPI is a great company and I love some of their other products (Best Pre-workout and Best BCAA), unfortunately 1.M.R Vortex isn't a good one at least for me.
This is one of my favorite pre workouts, primarily because of the taste (snow cone). When it comes to pre workouts, I actually like a variety of options so I'll actually buy the smallest size available and cycle through a bunch of samples. I always find myself coming back to this one though!
Terrible. Makes my mouth water excessively for the remainder of the day as well as gives me nausea. During my workout I overheat and get weak and shake uncontrollably. Wouldn't recommend to anyone.
Loved it, kept me going for a long time. Good value for money
A great and tasty preworkout! Highly recommend. I can't wait to try the Snow Cone flavor!

So far the only pre workout out of 3 that i have tried to wake me up and give me a boost. This combo with beta alanine is amazing. Fruit punch is a bit too strong but it's not bad at all.