25,000,000+
Orders Shipped
Fastest
Shipping
Lowest
Prices
24/7/365
Live Support
Largest
Selection
Product Overview
---
Status™
Testosterone Made Easy.™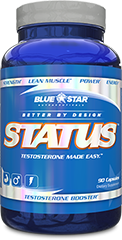 Support Muscle Building*
Support Performance*
Support Strength*
Same workout.
With testosterone support.*
Higher levels of testosterone result in more muscle, less belly fat, higher energy levels, normal sexual health support.*
Unfortunately, the older you get, the lower your testosterone levels drop. If you're not a healthy, highly active male with perfect genetics, it's only worse. There are a few things you can do to help. But nothing supports healthy testosterone like Status™.*
How Status™ Works
What makes Status™ truly unique is its revolutionary five-pronged approach to testosterone-boosting. No other testosterone supplement in existence does so much, so quickly.*
1. Micronutrient Support*
Status™ contains Zinc, Magnesium, and Vitamin B6 at the clinically researched doses shown to support natural testosterone levels.* Specifically, 30mg of Zinc when combined with 450mg of Magnesium, supports natural testosterone production through the release of luteinizing hormone (LH) at the pituitary gland.* The addition of Vitamin B6 increases the bioavailability of Zinc and Magnesium to help support free testosterone levels.*
2. Weightlifters, Rejoice
Status™ contains ample amounts of KSM-66®, a natural herb extract that supports the body's normal stress response, allowing for higher testosterone production.*
3. Stop The Loss*
Naturally produced testosterone has only a short period of effectiveness before it rapidly loses its ability to build muscle and burn fat. That's exactly why Status™ contains Testosurge®, a trademarked ingredient that supports prolonging this otherwise short, but extremely valuable period during which your body reaps these valuable benefits.*
4. Support a Healthy Estrogen Balance*
Leafy, dark green vegetables contain a potent compound called 3,3'-Diindolylmethane (DIM). DIM works in the body to support a healthy balance of estrogen so it does not negatively impact natural testosterone production.*
5. Tapping Unblocked Support*
98% of your testosterone is biologically inactive and unable to provide any real benefit.* However, there is a silver lining to this dark cloud. While only 2% of your testosterone is biologically active at any moment, naturally supporting your testosterone can help promote all it's masculine benefits at normal levels.* And that's exactly what Status™ does.*
Sexual Health Support.*
Fortified with Longjack extract (100:1), Status™ which helps supports normal sexual health.*
Women Love a Man With Muscles.
If you're not boosting testosterone for yourself, do it for her - she'll love the results.*
The product of exceptional research.
Groundbreaking science, cutting-edge technology, and a team of recognized experts in muscle physiology, nutrition, and metabolism make Blue Star Nutraceuticals the pacesetter of the sports nutrition industry. That's why our award-winning formula Status™ is currently on its way to supporting the testosterone levels of 1,000,000 men around the world.*
Experience it for yourself today!
Better By Design™
Real products from real people.
"In males, testosterone is critically important for muscle building, fat loss, and performance.* I firmly believe Status™ helps to naturally optimize testosterone levels and enrich men to live a lifestyle truly worthy of today's modern man."*
David Gundermann
Chief Scientific Officer, Blue Star Nutraceuticals
Ph.D., Nutrition & Metabolism, University of Texas Medical Branch
M.Sc. Human Performance, University of Florida
---
Blue Star Nutraceuticals - Better By Design™
Ratings & Reviews
By clicking the button above, you agree to entering the Bodybuilding.com Reviews section. Products in the Store are not intended to diagnose, treat, cure, or prevent any disease.



This product after taking it a week made me tried and just feeling not myself. I continued to take it for another 2 weeks thinking it would take time to work and nothing. I didn't feel any different nor did I see any changes in my body. I am just now starting to get my energy back.
So they tout this product as increasing your Testosterone levels by 187%, it doesn't had my test levels, while on Status, and I was still on the low side. I also didn't see ANY results from using Status, I do not recommend buying it! Don't waste your money!

haven't found this product very useful and haven't gained any size or strength from it!!

With Blue Star I have gained more strength and less fatigue on a daily. I wake up the next day feeling great and energized ready for the day.
I have used this product several times. seems to work just like it says. i feel stronger and more focused when taking it.
I've been using this products for around 2 weeks now. While I can't comment in terms of my T levels (I've never been tested), I found that the Vit B6, Magnesium and Zinc combo to be beneficial to my sleep quality! According to my sleep tracker app, I've increased my deep sleep duration by around 20-30 mins which is great for me since I need everything I can get! Will continue to monitor my progress physically to see what this can do for me!