Click here to enlarge
Pure Amino
Amino Acid Powder for Muscle Recovery*
Helps Boost Endurance and Delays Fatigue*
Supported Goal:
Build Muscle
Main Ingredient:
BCAAs
25,000,000+
Orders Shipped
Fastest
Shipping
Lowest
Prices

24/7/365
Live Support

Largest
Selection
Product Overview
PURE-AMINO
BCAA ENDURANCE & RECOVERY DRINK MIX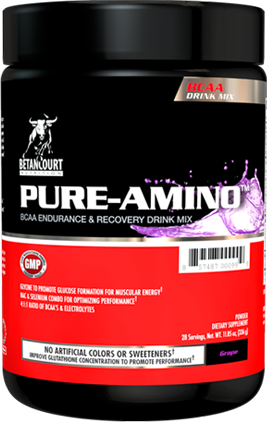 4:1:1
RATIO
BCAA'S
Pure-Amino™ is the most advanced All-Natural BCAA Endurance & Recovery Drink Mix available. It improves upon the typical 2:1:1 ratio of BCAA's by providing a 4:1:1 ratio (Leucine 4g, Isoleucine 1g, Valine 1g) based on the fact that L-Leucine is the most important Amino acid when it comes to anabolic signaling for muscle growth and tissue repair (recovery). Pure-Amino™ also features the muscle anti-oxidant NAC: N-Acetylcysteine which has been shown in research to aid the protection of muscle cells during exertion by promoting Glutathione. This is also what is believed to be responsible for NAC's ability to boost aerobic endurance in some athletes. To further promote Glutathione, Selenium is used as well; these two muscle protecting ingredients (NAC and Selenium) have been shown to boost endurance and possibly hormone levels as well.*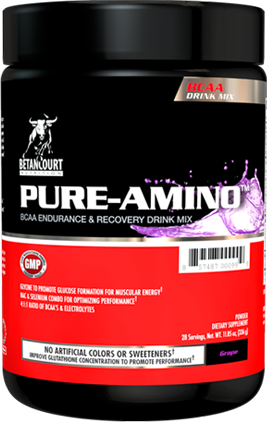 PRODUCT HIGHLIGHTS:
NAC & Selenium

Backed by Research to Boost Aerobic Endurance.

4:1:1 Ratio

of Water Soluble BCAA's that mix CLEAR

No Artificial

Sweeteners, Colors or Filler.*
WHEN CAN I TAKE PURE-AMINOTM?
Pre-exercise:

for a non-stimulant boost in exercise performance and a delay in fatigue.*

Intra-workout:

can be taken during training to promote muscle repair or a delay in fatigue.*

Post-exercise:

the 4:1:1 BCAA blend featuring L-Leucine will promote recovery from intense exercise.*
Also supplement with Pure-Amino™ at any time during the day in between meals to promote an anabolic state.*
Ratings & Reviews
By clicking the button above, you agree to entering the Bodybuilding.com Reviews section. Products in the Store are not intended to diagnose, treat, cure, or prevent any disease.