24/7 Customer Service 1-877-991-3411
Beast Sports Nutrition Beast Mode Product Guide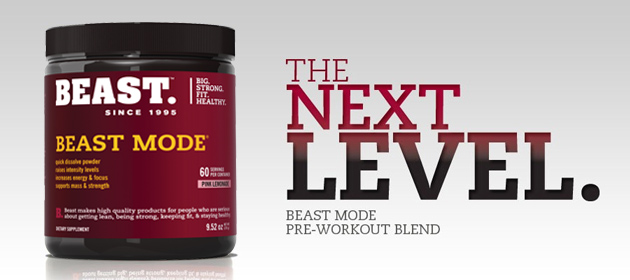 BEAST MODE
a professional strength pre-workout
blend that energizes the body to
compete on a higher level.*
A professional strength pre-workout formula that takes your performance to the next level.* Beast Mode® has been specially designed to encourage new muscle, maximize focus and intensity, and give you the energy to power through your workout from beginning to the end.*
Beast Mode® helps the body to increase mass and strength by utilizing the ideal blend of Creapure®, CarnoSyn® Beta-Alanine, and NO2 boosters.* Creapure® is the purest form of Creatine to give you the best results possible.* Beta-Alanine and NO2 boosters maximize muscle performance, help you push harder, and dominate your training or competition.*
Beast Mode® helps you to focus, concentrate, and keeps your mind sharp.* It is a great source of Gingko Biloba and B Vitamins like Thiamine (B1), Niacin (B3), Pyridoxine (B6), and Methylcobalamin (B12); which benefit mood, release stress, and aids memory retention.*
Beast Mode® gives you energy to help the mind and body perform at its best and power you through your workout*. It provides a level of energy that is constant and balanced to increase stamina without jitters or anxiety.*
Benefits
The powder is quick dissolving and fast acting for immediate results.*
Beast Mode® Does not contain 1,3-Dimethylamylamine (Geranamine, Methylhexaneamine).
Beast Sports Nutrition Beast Mode Purchase Information
Order today using our 100% secure server and get it at the lowest prices in the world with our fast, inexpensive 2-3 day shipping! NOBODY beats our overall price!
Recommended For You
More Info
SmartShake Presents:
The World's Smartest Shaker With 2-3 Storage Compartments!

More Info
Optimum Presents:
Natural Overall Health Support for a Healthy Heart and Joints!*
Do You Use This Product?
Beast Sports Nutrition:
Beast Mode
Manufacturer information:
This works well with:
What's in Beast Sports Nutrition Beast Mode?
270 Grams

Fruit Punch

Supplement Facts

Serving Size:

1

Scoops

(4.5

g)

Servings Per Container:

60

Amount/Serving

% Daily Value*

Calories

5

Total Carbohydrates

1

g

<1%

Sugars

0

g

†

Thiamine

(as Thiamine Hydrochloride)

40

mg

2667%

Niacin

(as Nicotinic Acid)

10

mg

50%

Vitamin B 6

(as Pyridoxine)

3.5

mg

175%

Vitamin B 12

(as Methylcobalamin)

500

mcg

8333%

Calcium

(from Silicate)

48

mg

5%

Sodium

3

mg

<1%

Potassium

10

mg

<1%

Mass & Density Blend W/ Muscle Endurance Blend

2709

mg

*

Creapure® Creatine Monohydrate, CarnoSyn® Beta-Alanine, Citrulline Malate, Di-Arginine Malate, Vanadium Citrate.

Energy & Intensity Blend W/ High Potency B-Complex

204

mg

*

Caffeine Anhydrous, Thiamine HCL (Vitamin B1), Niacin (As Nicotinic Acid), Vitamin B6 (As Pyridoxine HCL), Vitamin B12 (As Methylcobalamin).

Neurostimulating Co-Factors For Focus & Intensity

131

mg

*

DMAE, Gingko Biloba (Leaf), Mucuna Pruriens (Seeds), Bacopa Monniera (Leaf)

* Daily value not established.

† Daily value not established.
Other Ingredients

Maltodextrin

, Natural & Artificial Flavors

, Calcium Silicate

, Citric Acid

, Sucralose

, Acesulfame Potassium

, FD&C Red #40.

Allergen Warning

This Product Was Produced In A Facility That May Also Process Ingredients Containing Milk, Eggs, Soybeans, Shellfish, Fish, Tree Nuts, And Peanuts.
Directions For Beast Mode:
373 Grams: As a dietary supplement, use 2 level scoops with 8 - 10 oz (236-295 mL) of water 30 min. prior to workout or any physical activity where increased energy and performance are desired.
270 Grams: As a dietary supplement use 1 level scoop with 6-8 oz. (177-236 mL) of water 30 min prior to workout or any physical activity where increased energy performance are desired. For more intense workout take 2 scoops with 12-16 oz (354-473 mL) of water. The amount of water may vary based on your desired flavor and sweetness.
Warnings: Check with qualified healthcare professional before using this product, or any dietary supplement, if you are under the age of 18 or if you have any known or suspected medical condition(s). discontinue use and consult your health care professional if you experience any adverse reaction to this product. Contains caffeine. Too much caffeine may cause irritability, sleeplessness and occasional rapid heartbeat. To avoid sleeplessness, do not consume within 4 hours of bedtime. Always try to consume at least 64 oz (1892 mL) of water daily while using this product. Do not exceed recommended dosage. Keep out of reach of children. Do not use if seal is broken or missing.
* These statements have not been evaluated by the Food and Drug Administration. This product is not intended to diagnose, treat, cure, or prevent any disease.