atp
ATP Guide
Introduction To ATP
Watch this quick video to get the scoop on ATP!
Harness ATP Energy To Supercharge Your Workout*
ATP SUPPORTS WORKOUT PERFORMANCE*
ATP, also referred to as adenosine-triphosphate, was first discovered in 1929 by Karl Lohmann. ATP is a high energy molecule in the body that essentially fuels every single muscle contraction.
This is why people involved in heavy workout sessions regularly supplement with creatine phosphate. In doing so, they help support their bodies' energy production and the ATP it takes to crush every set.*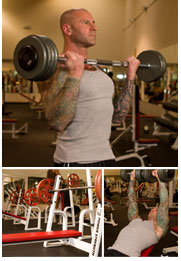 1-5 of

5

Results
---
Sort By:
---
Show:
* These statements have not been evaluated by the Food and Drug Administration. This product is not intended to diagnose, treat, cure, or prevent any disease.
1-5 of

5

Results
---
Sort By:
---
Show: