24/7 Customer Service 1-866-236-8417
AllMax Nutrition:

MUSCLEPRIME
Pre-Workout Powder For Increased Intensity*
Creatine And Sodium Free To Build Muscle, Shred Fat, And Boost Endurance*
Supported Goal: Improve Workout
Main Ingredient: BCAAs
AllMax Nutrition MUSCLEPRIME Product Guide
PROMOTION
PROMOTION

Buy 1 Get Free Bonus Item

For a limited time, buy 1 AllMax Nutrition MUSCLEPRIME, 950 Grams in the flavor of your choice & get 1 AllMax Nutrition Micronized Creatine Monohydrate, 100 Grams, Unflavored FREE! Hurry while supplies last!

Add both items above to your cart and the discount will automatically be applied.
See discounted Subtotal.
Limit 1 Per Order.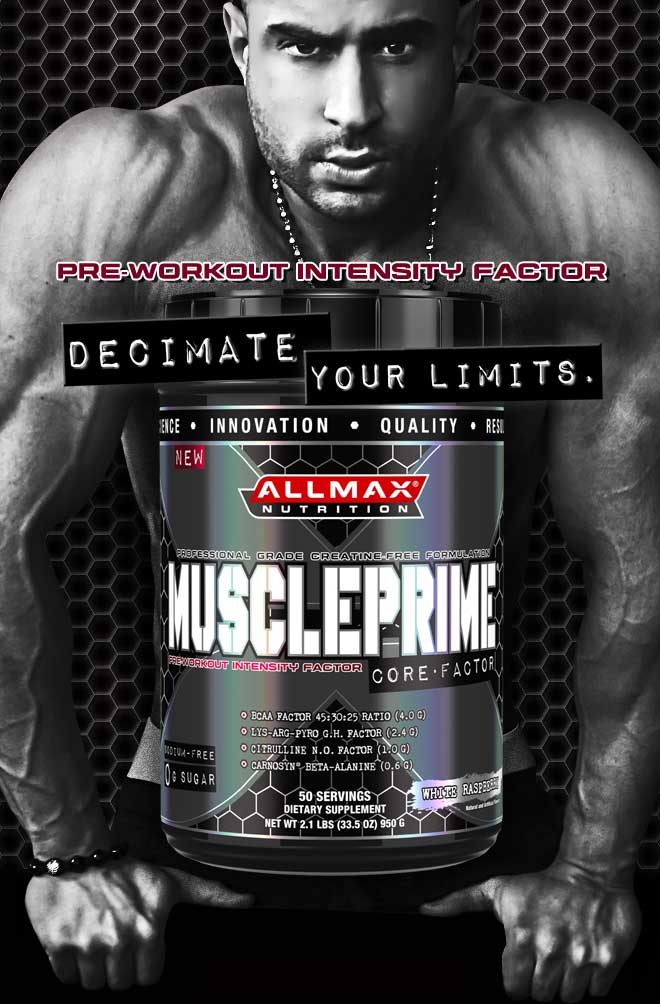 100% Creatine and Sodium Free
The MUSCLEPRIME® formula is radically different than every other pre-workout formula on the market. To start with, there is No Creatine. This lets you cycle Creatine when you want to, or head into pre-contest without it altogether. MUSCLEPRIME® is 100% Sodium Free making it an ideal pre-competition supplement. No bloating, no water retention; just clean, exceptionally delicious, pre-training firepower.*
Build Muscle and Shred Fat*
MUSCLEPRIME® Core⋅Factor has been formulated to meet and exceed your needs. A precise inclusion of 1.2 g Lysine and 1.2 g Arginine Pyroglutamate/HCl/AKG 2:1 per serving precisely matches research suggesting these ingredients support natural growth hormone following intense exercise to a degree much greater than placebo.*
Stacked with 4G of BCAAs
4 g (4,000 mg) of BCAAs is in every serving with a research-backed 45:30:25 ratio. BCAAs have been suggested to promote muscle protein synthesis, act as an energy source for muscles and help prevent muscle breakdown.* In terms of pre-workout supplementation, 4,000 mg BCAAs will stimulate post training protein synthesis and limit muscle breakdown (catabolism).*
A Full Gram of Nitric Oxide Producting Citrulline
1 g (1,000 mg) of pure Citrulline Malate helps promote a pump like you have never experienced.* Citrulline Malate is a key factor in raising blood Arginine levels within the body and is an important factor in the production of Nitric Oxide.* Citrulline Malate has been suggested in research to support energy and blood flow.*
Effective Workout Stimulation
The unique SYN⋅OCT™ stimulant blend in MUSCLEPRIME® is designed to bring focus and energy to your workout, activate fat burning and increase your intensity in the gym.* It is NOT designed to "tweak" you out and leave you feeling like you had one too many shots of Espresso. Our exclusive SYN⋅OCT™ blend of Caffeine, Synephrine and Octopamine is an effective stimulant to power your workout without putting your adrenal glands into overdrive.*
Serious Pump Support
While not the primary drivers in this formula, Ginseng, Gingko, Coryceps, Hawthorne, Niacin and Pyridoxine HCl have been included as blood volume support ingredients to act as co-factors in the generation of blood vessel dilation.*
Muscular Endurance Support
CarnoSyn® 100% Pure Beta-Alanine in MUSCLEPRIME® promotes greater concentrations of muscle Carnosine resulting in support for strength, power and muscle mass.* Beta-Alanine has been reported to promote anaerobic endurance, aerobic endurance and delays the onset of fatigue letting you train with greater intensity and duration.*

AllMax Nutrition MUSCLEPRIME Purchase Information
Order today using our 100% secure server and get it at the lowest prices in the world with our fast, inexpensive 2-3 day shipping! NOBODY beats our overall price!
266 Grams

$24.99

$14.99

White Raspberry

In Stock
950 Grams

$64.99

$39.99

Flavor
Taste
Availability

Fruit Berry Punch

8.4
In Stock

White Raspberry

8.2
On Backorder

Wild Grape

9.2
In Stock
Recommended For You
More Info
Optimum Nutrition Presents:
Over 75 Active Ingredients and Essential Daily Nutrients in One Convenient Tablet*
More Info
MuscleTech Presents:
Fuel Muscles, Reduce Protein Breakdown, and Enhance Muscular Endurance*
Do You Use This Product?
AllMax Nutrition:
MUSCLEPRIME
266 Grams

$24.99

$14.99

White Raspberry

In Stock
950 Grams

$64.99

$39.99

Flavor
Taste
Availability

Fruit Berry Punch

8.4
In Stock

White Raspberry

8.2
On Backorder

Wild Grape

9.2
In Stock
Manufacturer information:
This works well with:
What's in AllMax Nutrition MUSCLEPRIME?
950 Grams

White Raspberry

Supplement Facts

Serving Size:

(1

Scoop)

19

g

Servings Per Container:

50

Amount Per Serving

% DV‡

Calories

13

Calories From Fat

0

Total Fat

0

0%

Cholesterol

0

mg

0%

Sodium

0

mg

0%

Potassium

220

mg

6%

Total Carbohydrate

4

g

3%

Dietary Fiber

0

g

0%

Sugars

0

g

†

Protein

0

g

0%

Vitamin A

0

mg

0%

Vitamin C

60

mg

100%

Vitamin E

7.5

IU

25%

Calcium

200

mg

20%

Iron

0

mg

0%

Niacin

20

mg

100%

Vitamin B6

0.8

mg

40%

Vitamin B12

6

mcg

100%

Magnesium

200

mg

50%

Selenium

60

mcg

86%

45:30:25 BCAA Beta-A Myo-Syn Factor

4,600

mg

†

BCAA Blend [L-Leucine (1,800 Mg); L-Valine (1,200 Mg); L-Isoleucine (1,000 Mg)], Beta-Alanine (As CarnoSyn®) (600 Mg)

Syn-Oct™ Stim-Factor

3,118

mg

†

N-L-Tyrosine (1,500 Mg); Taurine (1,257 Mg); SYN-OCT™ Factor (190 Mg) [Caffeine Anhydrous (160 Mg), Synephrine (20 Mg), Octopamine (10 Mg)]; N-Acetyl L-Tyrosine (158 Mg), Phosphatidylserine (12.5 Mg); Vitamin B12 (As Methylcobalamin) (6mg)

G.H. Factor

2,400

mg

†

LYS-ARG-PYRO G.H. Blend [Lysine HCL (1,200 Mg), ARG-PYRO Blend (Arginine Pyroglutamate, Arginine AKG (2:1), Arginine HCl, L-Arginine Base) (1,200 Mg)]

N.O. Factor

1,368

mg

†

Citrulline Malate (1,000 Mg), Arginine AKG (2:1) (300 Mg), Niacin (20 Mg), American Ginseng (7% Ginsenosides) Extract (12 Mg), Co-Enzyme Q10 (12.5 Mg), Cordycepts (10 Mg), Hawthorne Berry (8 Mg), Ginko Biloba (24% Ginkgosides) Extract (5 Mg), Vitamin B6 (As Pyridoxine HCl) (0.8 Mg)

Pos-Ion Factor (K/Ca/Mg)

620

mg

†

Potassium (As Dipotassium Phosphate) (220 Mg), Calcium (As Calcium Citrate, Dicalcium &calcium Carbonate) (200 Mg); Magnesium (As Magnesium Citrate & Oxide) (200 Mg)

Anti-Ox Factor

138

mg

†

Vitamin C (As Calcium Ascorbate) (60 Mg), N-Acetyl L-Cysteine (50 Mg), Lipoic Acid (20 Mg), Vitamin E (As Dl-Tocopheryl Acetate) (7.5 IU) (8 Mg), Selenium (As Selenomethionine) (60 Mg)

† Daily Value not established

* Daily Value not established

Not a significant source of Vitamin A and Iron.
Other Ingredients:

Maltodextrin

, Natural And Artificial Flavors

, Citric Acid

, Sucralose

, FD&C Red And Blue.

ALLERGY ALERT:

Manufactured In A Facility That Also Processes The Following Allergens; Milk, Soy, Wheat, Eggs And Peanuts.
Directions For MUSCLEPRIME:
Mix 1 scoop with 4-6 oz of water and drink before workouts. To avoid sleeplessness, do not take within four hours of sleeping.
Warnings:
For adult use only. Use only as directed. Maybe cause mild and temporary skin level flushing and/or itching in some people. Do not consume with any other stimulant containing products. Each scoop contains the equivalent of about 1 cup of coffee. Consult with a physician prior to use if you are currently taking any prescription medications. Do not take if you have any pre-existing medical conditions including but not limited to: high or low blood pressure, hypertension, cardiac arrhythmia, history of heart related ailments, stroke, heart, liver or thyroid disease, anxiety, depression, seizure disorder, psychiatric disease, diabetes, pernicious anemia, prostate enlargement or if you are taking an MAO inhibitor or any other medication. Do not use if you are pregnant, nursing. Discontinue use if you experience any adverse reactions (nervousness, chest pain, tremors, sleeplessness, loss of appetite or nausea, heart palpitations or other similar symptoms. If you are chronically ill or under medical supervision, consult your physician before taking product. KEEP OUT OF REACH OF CHILDREN AND PETS.
* These statements have not been evaluated by the Food and Drug Administration. This product is not intended to diagnose, treat, cure, or prevent any disease.