Fitness 360: Jaquelyn Kastelic, Powered By Paleo
Spokesmodels tend to have entrepreneurial aims because they possess the motivation required. Jaquelyn found something she loved and made a career of it.
Power finds its base in ability. If you are able to do something, and actually practice it, your body will progress to ability with power.
It comes from many sources, starting with food and water. The basics of survival provide the body with fuel and fluids that empower cells to work their membranes off.
Jaquelyn Kastelic uses two progressive sources to power her body and her life. It starts with the paleo diet, a simple program that avoids processed foods almost completely. The diet fuels her workouts, almost exclusively driven by CrossFit, a smorgasbord of exercises performed in sequence and measured by time.
Of course, there is more to Jaquelyn than just her regimens. That's why we investigated every degree of her life circle. See how one of our spokesmodels tries to empower the fit through cross training and nutrition.
Jaquelyn Kastelic fitness 360

Watch The Video - 11:59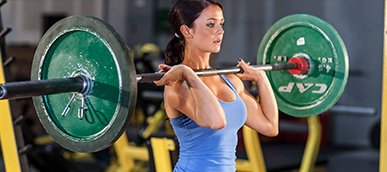 Jaquelyn liked CrossFit so much that she opened her own box (gym) to share the gift of fitness with a growing fan base of CrossFit fanatics.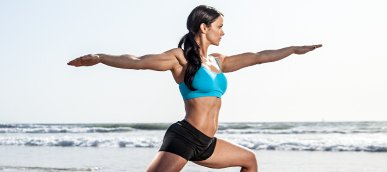 Nutrition is complicated by ingredients. The cleaner your food, the better your body can digest it. Is paleo your path?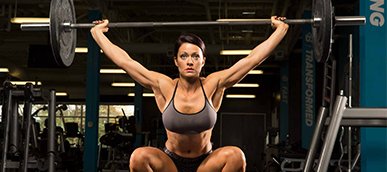 Of course, cavemen couldn't log in the Bodybuilding.com store, but even the most strict paleo pros need their daily vitamins!
Fitness Cross-Over
Jaquelyn began her career as a personal trainer at Bally Total Fitness in 2006. At the time, she already had a few competitions under her belt and possessed a growing passion for health, fitness, and helping others.
Her contest history began in the realm of women's tri-fitness, an competition that contains a physique round and fitness skills: bench press, box jumps, shuttle run, an obstacle course and an optional fitness routine round. Her tri-fitness career spanned competitions from 2005-09. She won the Grace and Physique title in 2008 and 2009.
Her CrossFit journey began in 2009 with a sudden burst. Some things take time to grow on us, but some experiences are so life-changing that the effect is instantaneous. When CrossFit entered her life, Jaquelyn was never the same.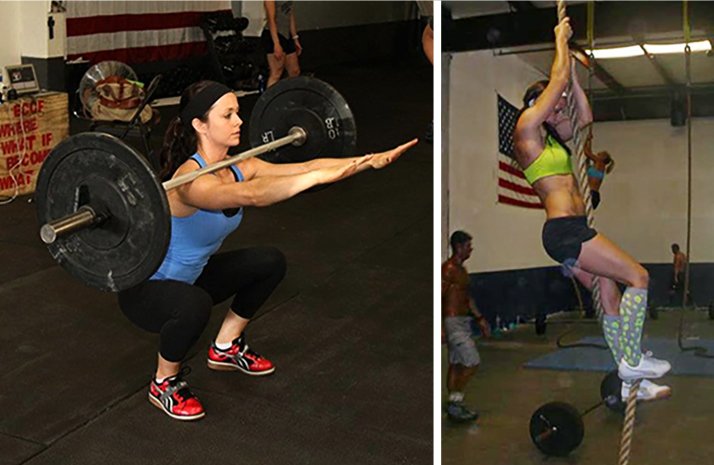 "I tried one workout and was instantly hooked by the intensity and new challenge," Kastelic says. "In 2011 I opened my own affiliate, CrossFit Unrivaled. I had been a personal trainer and coach since 2006, so this had always been a dream of mine. Since opening up the gym I haven't stepped on stage; it's kept me busier than I would even imagine. Now that I feel a bit more settled, I'm ready for the stage again!"
Jaquelyn started in fitness at a young age, inspired by watching her father work out when she was only a 3-year-old. He had his own little garage gym and she would sit there and watch him lift weights. As she and her siblings grew up, he always reminded them: "You guys need to get into fitness."
"I didn't know what that meant until high school, when I took a weight training class for P.E. and my gym coach noticed that I was strong for a girl. That motivated me; I like to be strong!"
The fit bug dug in deep under Jaquelyn's skin when she was in college. She picked up the weights to start making sure she stayed motivated. She started hitting the gym hard. The university gym also introduced her to people who competed in bodybuilding and figure and helped her get a start in the world of pro fitness.
She had a traditional training regimen: 5-6 days per week, split up: legs, upper body, back, etc. She started with the basic bodybuilder routine, but she switched over from the traditional routine in 2009, to train for a women's tri-fitness event.
"One of my friends mentioned to me that tri-fit sounds like CrossFit. I asked: 'What's CrossFit?' I had never heard of it before. She told me about the gym she went to and invited me to check it out. I was hooked instantly on the first day because it reminded me of being an athlete again, of running track and cross country. I am very competitive, so I fell in love that first day."
CrossFit gave Kastelic everything she wanted in one vibrant package. She could run, jump and still push and pull iron. The balance keeps her both fit and strong, an emerging feminine ideal.
"A lot of people think that if you lift heavy, you're going to all of a sudden become this big bulky person," Kastelic says. "I am a small, petite person, so I like to show people that I can lift heavy and do bikini shows. It worked well for me because I don't have to spend three hours in the gym doing weight training and cardio. I get all of that in one session. I'm there less than an hour. It works well for me with my schedule."
Crossfit Unrivaled
Location: 806 Professional Place Ste. D, Chesapeake, VA 23320
Hours: Vary depending on classes
Monthly Prices: $115-155
Number of members: 130
Number of trainers: 7
Equipment Available: Barbells, kettlebells, bumper plates, dumbbells, medicine balls, pull up rig, gymnastic rings, sleds, GHD machines, reverse hyper, rowers, jump ropes, benches, boxes
Date opened: June 4, 2011
CrossFit incorporates activities you would do if you were an athlete in a sport. Boxes like CrossFit Unrivaled work at high intensities and mix in interval training for a cardio push. For her and her body, CrossFit works better. She can burn fat quick, stay lean all year round, and still have much more fun than two hours of cardio can provide.
"CrossFit Unrivaled started with 20 members," Kastelic says. "Most of them were women. Now we are at about 130 members and probably half are male, half are female. It's been amazing! I'm very busy, but I wouldn't want any other job in the entire world, because I get messages daily from my clients. They will send me before and after photos. They can't believe the changes they make in 3-4 months of work. They are always thanking me. It feels good to be able to help people."
Bodybuilding, for better and worse, is a sport built around selfish exploits. You do a lot of things for yourself. It is not a team sport. But human health shouldn't be divided by judges or weight groups. We all need it. CrossFit aims to access everyone. The trainers and the boxes they run seek to give us what we need, a push and a place to be pushed.
"You need to take charge of your health and fitness," Kastelic says. "Do something about it. Because I own a gym, I like to preach doing CrossFit. You save time doing CrossFit. A lot of people have jobs, lives, kids, and they have a hard time. Everyone's main excuse not to work out is, 'Oh, I don't have time.' I tell them to try it out. CrossFit is fast. You're going to be there and done within an hour. There's no excuse, because it's not that much time out of your life."
Ask yourself: Are you willing to give your time? If you said "yes" then maybe you'll give a day to CrossFit, to paleo, to personal athletics, to bodybuilding, health, nutrition and maybe then you'll understand that giving an hour today may provide you years down the line. Maybe then you'll never say "maybe" again.
Wonders of the Day!
Q
We cherish all activities that increase fitness, but some people are still hesitant to consider CrossFit. How would you convince them?
I've never been in better shape! I stay lean year round with less time spent in the gym and never have to do "boring" cardio. Workouts always change, so there is no room for boredom in the gym and there is always something to improve on so you consistently set new goals.
Do CrossFitters need to go to a traditional gym too? What if they can't afford two gym memberships?
No, definitely not. You get all you need at a CrossFit box! But you can also do CrossFit style workouts at a traditional gym if you cannot afford a membership at a box. The only catch is that you don't have someone helping you and correcting your form. This is where the price is worth paying out; it's like having a personal trainer but at a fraction of the cost. Personal trainers are $75 or more an hour and one CrossFit class is comparable to $4-5 per class with all the benefits of a personal trainer.
How do you, as a CrossFit Box owner, handle beginners who fatigue more quickly? Can they keep up? Is injury a concern?
Workouts are scalable for all. Our beginners go through a three-week course to learn form and slowly get used to intensity. Beginners, and even non-beginners, will scale the loads (weights) to their ability. They will scale things such as pull-ups, handstand push-ups, etc. to a modification that they can do. We have something for everyone!
Injury is a concern the second you get off your butt. But when someone walks into my gym, we do all we can to help them prevent any injuries by taking the workouts and putting them at different levels for people who need it. We teach correct form and give our members mobility exercises to help improve form. We make sure they are warmed up well, and make sure they are safe during workouts by correcting their form.
Is CrossFit a sport? A training discipline? Both?
First a training discipline, now a sport. But CrossFit as a training method and CrossFit as a sport are two totally different things—two different ways of life. Just because someone does CrossFit doesn't mean they do it because they have the intentions of winning the CrossFit Games.
It's a great way to stay in shape, train hard, and enjoy the time spent in the gym.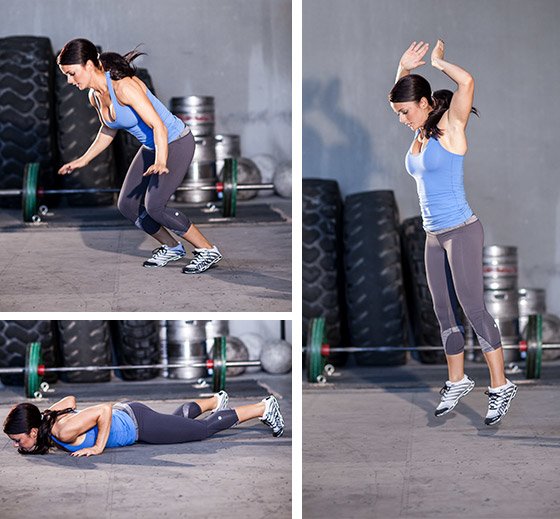 Looking into the future, it's easy see CrossFit not as a "temporary craze" but as a consistent presence in fitness. How do you picture the next 10 years?
People think that CrossFit is something new, but it's actually been around for a while. However, with the new airing on ESPN and its recent partnership with Reebok, CrossFit has become more known in the world, thus increasing its popularity.
I believe the first gym opened in 2002. Since it's more than 10 years old and growing, I definitely don't think it's temporary; it's just evolving. It's changed so much from when I started in 2009. None of my friends knew what it was, but now all my friends are doing it and many own affiliates as well. People are finding out how fun and effective it is and they are challenging themselves in ways they never thought possible. They tell their friends, who tells their friends. It's a never-ending addiction.
For more on Jaquelyn's nutrition, training, and supplementation, check out the links to each page. If you have any questions, go ahead and find her on BodySpace. For more content and videos just like this, keep coming back to Bodybuilding.com.
Shop Optimum Nutrition in our store