Fitness 360: Gal Ferreira Yates - Brazilian Beauty, Bodybuilding Beast
Gal Ferreira Yates is making the switch from the Figure to the Physique division. Find out how she eats, trains, and supps for this new challenge.
Gal Ferreira Yates might be married to a six-time Mr. Olympia, but she's worked hard to make her own fame and her own success. This Brazilian beauty has the genetics, drive, and personality of a star.
Gal's story starts with dance, and continues to high achievements on the bodybuilding stage. Her rapid ascent to stardom came with only a few short months worth of work. Her unique look has made her not only a successful competitor in Brazil, but also a rising star in the United States.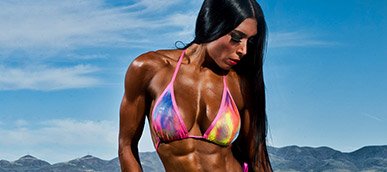 Gal's nutrition plan doesn't have any complicated tricks or bodybuilding secrets. It's clean food in small amounts. The key word in her plan is "balance," and she definitely makes it work!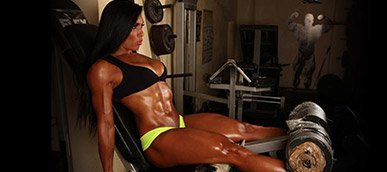 Much like Dorian, Gal does what she can to leave her "blood and guts" on the floor of the gym. Her heavy, intense workload is meant for one thing: building muscle.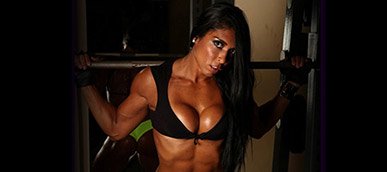 Gal has all the support she needs to be a star. She also has her husband's awesome supplement line to help her succeed in the Physique category!
Gal has unique genetics and has developed her body through a lifetime of sports. In her childhood, she did ballet, dance, gymnastics, and aerobic competition. Because of this constant athletic work, her body has become something worth noticing. When she finally took up weight training to compete in a figure competition, she created a physique that seems to appeal to both men and women.
Although she's found a place in the fitness world, it hasn't always been easy. In 2006, Gal found out that she has hypothyroidism, whereby her thyroid gland doesn't make enough thyroid hormone.
This slows her metabolism and makes weight gain too easy. Her condition was never a setback, only a challenge. Gal likes to face challenges head-on. "Bottom line: When I put my mind to something, I usually accomplish it."
A Story of Success
Contest History
2012 Olympia, 16th place
2012 Nordic Pro, 1st Place
2007 Figure World Championship, 1st place
2007 South American Championship, 1 place
2007 Figure Brazilian, 1st place
Gal got into Figure by chance on a holiday in the south of Brazil. She was on the beach when a famous Brazilian fitness/bodybuilding coach saw her. He came over and asked if she competed. When she told him, "No," he acted surprised, saying she had great shape for someone who had never been on stage. He complimented her physique and genetics. "If you're interested in competing," he said, "you could become a world champion in one year. You are unique."
After that conversation, Gal started training for a competition. Five months later, she found herself in first place at the Brazilian Championship in Sao Paulo. Two weeks after that, she won the Overall South American Championship in Quito, Ecuador. After her second win, Gal competed in the World Championships in Spain. She won that too. "My original inspiration was right," she said. "I became a world champion quickly."
What Comes Next?
For 2013, Gal is switching from Figure to Physique. She believes this new division is perfect for Brazilian athletes. Brazilian women are naturally more muscular, bigger and hard, and have larger legs and glutes. Gal is no exception. "I'm excited about competing in this new division and I'm confident I've made the right decision."
Although there are 11 IFBB women's physique competitions in 2013, Gal plans on competing in July and August before the Olympia. In order to qualify, she's going to need a lot of confidence. She has it! "I know what it takes to go all the way."