Big On A Budget: The Staples Of Size With Dorian "Heavy D" Hamilton
The secret to monster size? A short and sweet grocery list. Learn what Dorian Hamilton ate to earn his nickname "Heavy D" and what he's eating to earn the coveted IFBB pro card!
Building massive size doesn't have to mean a regimen of crazy new exercises, midnight shakes—though these can't hurt—or a limitless budget. In fact, it doesn't have to be expensive at all. Just ask Dorian "Heavy D" Hamilton. Known for the insanely heavy weight he throws around in the gym and his massive frame, you'd expect him to prioritize his budget solely around food. This isn't the case.
When it comes to fueling growth, this Canadian monster likes to keep things simple. If you're expecting all the colors of the produce rainbow in his shopping cart, you're only fooling yourself. Heavy D may have a big frame, but he has a small grocery list. Why? Because it's the basics that get the job done. Find out how this former hockey-playing hulk gets big on a budget!
"Big On A Budget" #5
with Dorian "Heavy D" Hamilton
Watch the video - 14:28
Protein: Stay Grounded
Without hesitation, Heavy D heads straight for the meat section. "Protein is going to be the most important thing," he says, making it a priority to get his hands on a few deals from the get-go. Rather than grabbing high-end cuts such as filets, tenderloins, or trimmed chicken breast, Heavy D prefers to stay grounded and seek out ground beef or turkey.
Looking for the best bang for his buck, he scours the price tags on multiple cuts of beef, seeking out the cheapest option possible. He grabs 80 percent lean ground beef, aiming for a goal of 6 ounces (cooked) of ground beef twice daily. At less than $1.50 per meal, this fattier option is too economical to pass up.
To keep a semblance of variety in his plan, Heavy D grabs ground turkey, too. At $3.00 per pound, beefing up on this bird is a cost-effective way to provide another meal each day.
Make the protein section your first stop at the store. Keep your eyes open for sales and bulk pricing.
To make sure he reaches his mighty protein goals, Heavy D checks out the egg sales. Being thrifty and patient, he sets down his initial, more expensive carton and exchanges it for a pair of 18-packs at $3.49 apiece. Three dozen eggs will provide him with five eggs per breakfast across the week, plus one extra meal whenever he needs one.
At this point, $37, or 74 percent, of his $50 budget has been spent on protein. If you had any question about where protein fits into his priorities, consider it answered. Fortunately, this isn't Heavy D's first rodeo, and he makes sure he hits every necessary growth nutrient.
Carbs Come Easy
Continuing with the trend of "simple staples," Dorian heads into the core of the store and makes a beeline for the bags of rice. White rice will fill his plate for three of his six daily meals, a full cup per meal. Good thing they make those handy 5-pound bags for just over $3. Bam—one bag, 21 meals.
Looking to round out his carb choices, Heavy D scours the oats section like an eagle hunting its prey. Sure, the name brands, such as Quaker, may jump out, but Heavy D is keen on saving and isn't swayed by labels. "When you're on a budget, start your shopping by walking around to see what's on sale," he suggests.
Instead of the $3.29 canister of Quaker, he opts to go with the 99-cent store brand. Three canisters later, and he's saved $6.90. Talk about savvy!
Rounding Out His Day
Most of Heavy D's fats come from his ground meats. But to boost his twice-daily shakes with some flavor and healthy unsaturated fats, he likes to include 2 tablespoons of peanut butter. For a mere $2.99, he grabs a bargain deal on all-natural peanut butter.
Making sure he puts the entire $50 to good use, Dorian ends his day by making sure he gets at least one fruit and one vegetable per day. Though not the most nutrient-dense foods in the produce aisle, Dorian grabs price-friendly bananas at $0.69 per pound and 3/4 pound of onions for a measly $0.90 to complete his shopping. The total: just over $48. This was too easy.
The Heavy Way to Cook
Heavy D's simple approach to nutrition doesn't stop in the store. A rice cooker, two pans, and a little kitchen time are all he needs to prepare all his meals for the days ahead.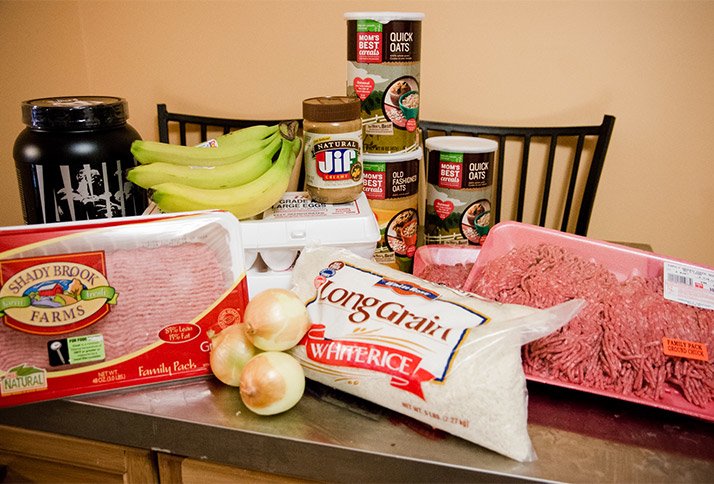 Make the protein section your first stop at the store. Keep your eyes open for sales and bulk pricing.
"I like to cook one bulk amount and just scoop it out each day, rather than cooking for one meal at a time," he explains. His protein gets a bit more attention. During the offseason, Dorian measures his protein cooked; however, during contest prep, he likes to be as precise as possible. He measures out an 8-ounce portion raw and cooks each one individually. As the beef and turkey start sizzling, he throws his morning oats in the microwave, then begins fixing up his twice-daily protein shakes of whey, peanut butter, and oats. Within two minutes, two meals are done.
In the amount of time it would take to watch a sitcom, Heavy D has over 3,500 calories prepared for the day ahead. You may need to eat big to get big, but you certainly don't have to spend big to get the job done.
Daily Meals and Macros
Meal 1
---
---
---
---
Nutrition Facts

Amount per serving
Calories 771
Meal 2
---
Lean ground beef
8 oz. (measured raw)
---
Nutrition Facts

Amount per serving
Calories 665
Meal 3
---
Lean ground turkey
8 oz. (raw)
---
Nutrition Facts

Amount per serving
Calories 459
Meal 4
---
---
Natural peanut butter
1 tbsp
---
Nutrition Facts

Amount per serving
Calories 487
Meal 5
---
Lean ground beef
8 oz. (measured raw)
---
Nutrition Facts

Amount per serving
Calories 665
Meal 6
---
---
Natural peanut butter
1 tbsp
---
Nutrition Facts

Amount per serving
Calories 487
Daily Total

Amount per serving
Calories 3,534