Ashley Conrad's 21-Day Clutch Cut, Day 1
You have 21 days to change your body and your life. It's crunch time and you can only rely on yourself. It's time to win. It's time to be clutch.
In the Clutch Cut program, there are no easy days. Each day is an examination of your will and your body's ability to adapt. Today, you will be tested. Today, you will rise to the occasion.
Warm-Up and Stretch Series: Begin by spending five minutes jogging, walking, or biking. Then, you'll stretch. Each stretch should be done for two sets of 30 seconds before moving on to the next one. It is not enough for you to sit in a stretching position and pretend to exert yourself. You have to actually reach, pull, and move with purpose. Prepare your muscles for the work they're about to perform.
Sprint Circuit: After you've gone through the all of the stretches, move to your choice of cardio. Cardio can be done on the treadmill, stairmill, bike, or even outside. It's up to you. But, no matter which machine you choose for cardio, it's your job to do the work. You'll do 10 sets of the circuit. The circuit consists of 30 seconds of walking, 30 seconds of jogging, and 30 seconds of sprinting. It's difficult, yes, but it is so for a reason. Make each sprint count.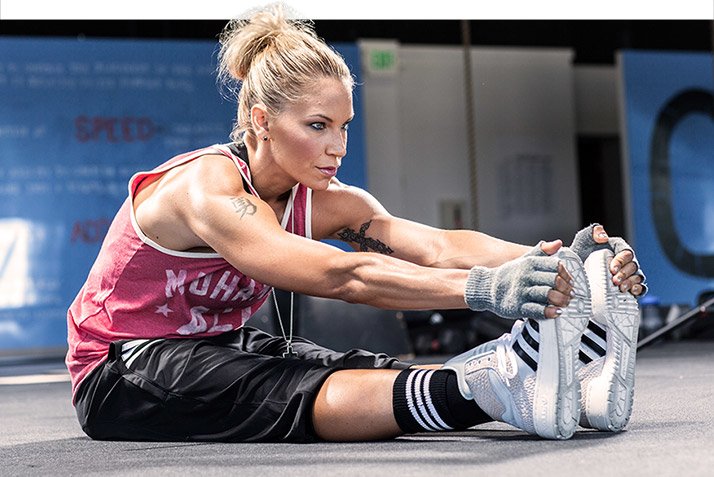 Strength Circuit: When you're through with the cardio portion, it's time for weightlifting. Depending on your fitness level, you'll go through the circuit 3-6 times. The point is to challenge yourself—it should be difficult—but don't make it so challenging that you collapse after every exercise. You get 30 seconds of rest after each exercise, so use it wisely.
Core Circuit: After you've completed the weightlifting circuits, and would like to hit your core, add the ab circuit. You'll do each movement until failure. Depending on your fitness, go through each exercise 3-6 times. You wanted change, right? This is how it's done.
Cool-Down: Your final task for the day is to cool down and stretch. When you put your body through a huge amount of stress, you need to help it recover. Jog, bike, or walk for five minutes and then repeat the warm-up stretching series.
Week 1, Day 1: Lifting Day
WARM-UP
1
---
STRETCH SERIES
2
---
SPRINT CIRCUIT: REPEAT CIRCUIT 4X
3
---
STRENGTH CIRCUIT: REPEAT THE CIRCUIT 3-6X, DEPENDING ON FITNESS LEVEL.
REST 30 SECONDS AFTER EACH CIRCUIT.
4
---
COOL-DOWN
5
---
STRETCH SERIES
6