Main | Preview | Highlights | Results
Back in 1977, the inaugural World's Strongest Man took place at Universal Studios in California. The contestants ran the gamut, from bodybuilders like Lou Ferrigno and Franco Columbu to powerlifters, martial artists, Olympic weightlifters, and even a single pro football player. Today, the sport is far more specialized, consisting only of the top super-heavyweight competitive strongmen in the world. But for the first time in seven years, it will again be contested in the Golden State, from June 15-20.
Last year's event was postponed several months by COVID-19, and ultimately took place without audiences in Bradenton, Florida in November. Crowds will be back at this year's event, as will plenty of familiar names in the world of strongman. We talked with 10-time World's Strongest Man competitor Nick Best about what to expect at the 2021 World's Strongest Man.
2021 World's Strongest Man Roster and Events
The event will feature 25 athletes, split into 5 heats. The first three days of competition will focus on classic events like Atlas stone loading, max deadlift, and an overhead press medley, as well as some more unique events, such as a train pull or the highland games-inspired log-raising event "Fingal's Fingers."
After a day off, 10 athletes will advance to the finals, which last two days. It includes more classic events like the log lift and keg toss, as well as the only new event: Titan's Turntable, where competitors will have to rotate an antique locomotive 180 degrees while it's set on a turntable.
This year's athletes include: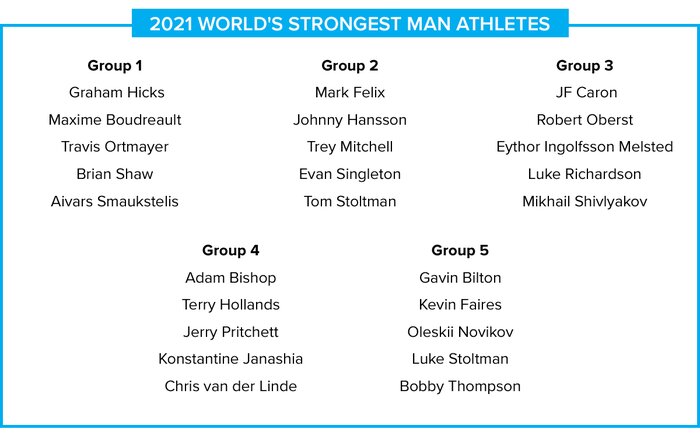 The returning competitors have only had 7 months to prepare rather than the normal full year, but Best says he doesn't see that making a big difference. What could make a bigger difference is the addition of an extra qualifying event on the third day.
"The guys who make the finals are going to have to do like 11-12 events in less than five days," he says. "That's brutal."
Nick's Pick: Brian Shaw
All three top competitors from 2020 are returning: 25-year-old champion Oleksii Novikov, runner-up Tom Stoltman, and Canadian legend JF Caron. But Best says he's eyeing the man who came in fifth, 39-year-old four-time champ Brian Shaw, to rise to the challenge this year and take his fifth title.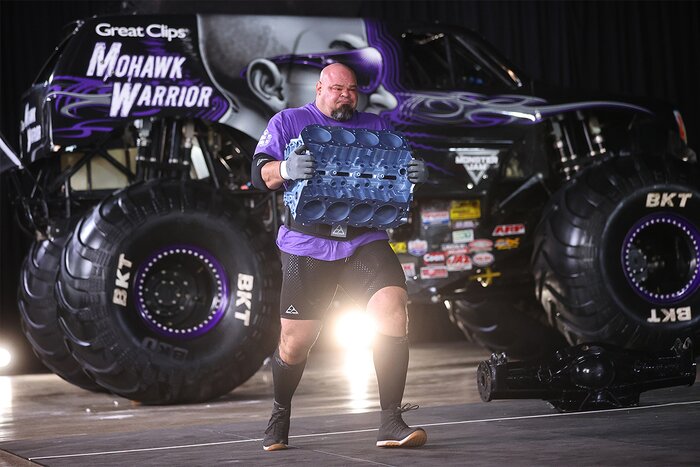 At 6 foot 8 and over 400 pounds, Shaw has a distinct size advantage over everyone in the field. That much is nothing new! But Shaw has dramatically boosted his conditioning and cardio work at high altitudes in his home state of Colorado. Best says he anticipates it paying off in a fifth title.
"I've never seen Brian Shaw in this shape," Best says. "He's got abs right now. And the events in the finals are geared toward what he does."
Other Top Contenders
Oleksii Novikov: "Novikov is one of the freakiest guys you'll ever see," Best says of the 25-year-old Ukrainian phenom and defending champ. "He's always got a chance." Novikov, one of the lightest competitors in the field, put himself on the road to a win dramatic fashion in 2020 by pulling 1,185 lbs. on the 18-inch deadlift.
Jerry Pritchett: "The location plays to Jerry Pritchett's advantage," Best says. "He's from Arizona, which has a dry heat. Sacramento will also have a dry heat." Pritchett, 40, is returning for his sixth WSM, after a career-best fourth place in 2020.
Robert Oberst: "If Robert makes the finals, he could be very tough," Best says. "The first day of finals ends with the keg toss, which I've seen him beat Brian Shaw in—and tease him relentlessly." The second day of finals starts with the log lift, a specialty for Oberst.
Travis Ortmayer: Best says to keep an eye on 39-year-old Travis "The Texas Stoneman" Ortmayer (who also happens to be the star of a hilarious recent viral strongman-themed Instagram post). Ortmayer appeared in four consecutive WSM from 2008-2011 and is making his triumphant return after a decade lost to injury and addiction.
"He's a guy who has been through hell and has come through the other side, and is back doing what he loves," Best says. "He's also the one guy who will push himself to the point of breaking and past. He could surprise a whole lot of people."
Getting serious about strongman-style training? Do it the right way with our expert guides.