Main | World's Strongest Man 2021 Preview | Daily Highlights | World's Strongest Man 2021 Results 
The 2021 World's Strongest Man competition was the 44th edition of a classic strength spectacle that has been inspiring people for generations. Every year, the contest seems to get bigger and better, but this one may have been the most dramatic in recent years. Here are a few reasons why this year's World's Strongest Man will be one to remember. 
Catching up on the action? You can see Bodybuilding.com's daily recaps and highlight videos here.  
Tom Stoltman Wins in the Final Event 
This year's winner is Scotland's Tom Stoltman, following up on a strong showing in 2020 where he won three of six events in the finals and took second overall.  
The Stoltman family had two opportunities to take the title this year. Older brother Luke, 36, has been a regular at the event for five years. But it is younger brother Tom, 27, who has blossomed into this year's king of competitive strongman. Both men made the finals, and that is the second time in history that two brothers have been among the ten strongest men on the planet. And yes, they had the opportunity to compete against one another in an event—a breathless run through the Giants Medley. 
Tom winning was historic for a couple different reasons. Aside from being the first man from Scotland to hold the title, he is also the first who had been diagnosed with autism. He was confirmed to be on the spectrum at a young age, and he has said he considered it an advantage of sorts.  
For all these reasons and more, there's no mistaking the triumph of the moment when Stoltman hoisted his final atlas stone on Sunday afternoon. He outpaced former champ Brian Shaw by 11 seconds, cruising to victory.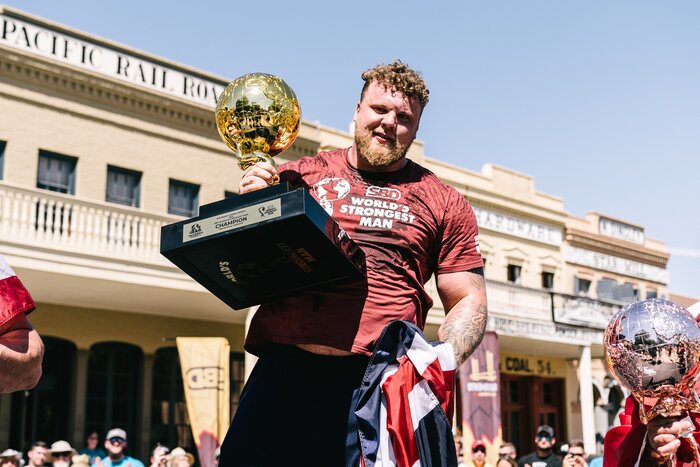 The Champ Speaks! 
Before heading back to Scotland to celebrate his victory, Tom Stoltman took a few minutes to do a quick exclusive interview. 
BBcom: Congratulations, Tom! We know you were motivated by the following you have from fans in the autistic community. Is there anything you want to share with us, and them, now that you've won the contest? 
Stoltman: Yes! Don't let anyone tell you that you can't do something. Always be positive. Have big goals and smash them! 
BBcom: Talk about your training for a moment. Is there anything specific that you feel helped you clear that last hurdle from second place to first? 
Stoltman: We have really focused on weaknesses in the gym and made them the priority of our training. Also, I looked at the mental aspect of training this year by working with a sports psychologist. It has been a great help. 
BBcom: Obviously the moment is still fresh in your mind, but do you have plans on what your next competition will be? 
Stoltman: I'm just going to enjoy this moment right now, but we do have Giants Live in four weeks. So I'll enjoy this now, and then I'm going to get ready for that. 
Brian Shaw is Still Elite at 39 Years Old 
American Brian Shaw has held this title four different occasions, with his last victory coming in 2016. However, many fans had written him off because he hadn't made the podium in the last couple of years.  
Those doubters should be rethinking their stance after his performance this year. At the age of 39, the towering strongman from Colorado broke his own world record in the keg toss for height, slinging a 33-pound keg over 25 feet in the air. 
He was also within one point of Stoltman going into the final event, the atlas stones. Shaw still finished third in that event. Had he won, he would've been the oldest champion in history. 
Maxime Boudreault: Breakout Star 
The biggest surprise of the contest may have been the third-place finisher, Maxime Boudreault of Canada. The bearded beast was in contention throughout the five-day contest, but very few predicted he would make the podium. He could very well be Canada's first title holder if he is able to further improve upon the strength and stamina he brought to this contest. His countryman JF Caron, who finished in third place last year, slid to fifth this year.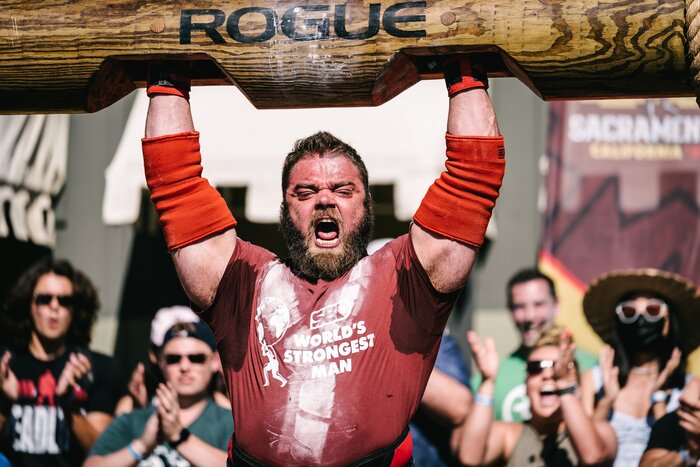 A Strength Spectacle Like No Other 
The sport of strongman is always a spectacle. This year, the event organizers were able to revive some of the uniqueness and geography-specific historical appeal of past events. The deadlift event featured large metal boxes on a bar instead of weight plates. Finalists were even tasked with pushing a historic locomotive engine from a Sacramento rail museum around a turntable.  
The event is scheduled to return to Sacramento next year and possibly continue there afterward, giving the organizers more opportunities to concoct the types of unique challenges you'll see in no other sport.
Final Standings and Score 
Tom Stoltman, Great Britain, 45.5 points 
Brian Shaw, USA, 42.5 points 
Maxime Boudreault, Canada, 36.5 points 
Trey Mitchell, USA, 35 points 
JF Caron, Canada, 34 points 
Konstantine Janashia, Georgia, 32.5 points 
Luke Stoltman, Great Britain, 32 points 
Adam Biship, Great Britain, 27 points 
Bobby Thompson, USA, 23.5 points (withdrew) 
Eythór Ingólfsson Melsted, Iceland, 20.5 points 
All images courtesy of World's Strongest Man.