Valentine's Day is coming, and nothing says romance like a home-cooked Italian meal for your honey. As regimented bodybuilders, though, we may not want a full-blown cheat meal. This week, let's make a macro matched lasagna that will melt hearts and not pack on the fat. It's tailor-made for two, or you can make one for each of you!
To start adjusting macros for your meal, group together similar macronutrients by whether they contribute mainly fat, protein, or carbohydrate grams. This can help you start narrowing down what you need to limit or increase in your recipe. You can use my recipe as a starting point and adjust up or down on different ingredients to hit your macros.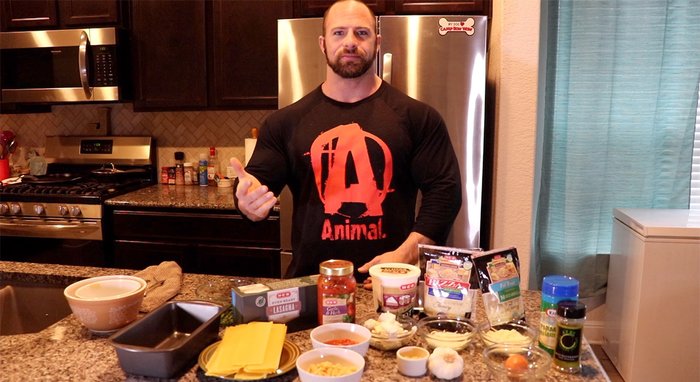 Don't be consumed by the numbers, though. If you are in an off-season setting, there's some room for flexibility. You can steal some macros from another meal. So, if you are having trouble with adding or subtracting 5-10 grams of a macro, just leave it in that meal. Make the macro adjustment in your previous and following meals. Look at the big picture—what matters is that you hit the correct total macro count for the day.
Tip: An easy way to weigh out lasagna portions is to weigh your empty cooking pan first, and then weigh it with the cooked lasagna in it. When you subtract the pan weight, you are left with the cooked lasagna weight. Then, you can divide your macros by your portion size. Another easy way to do this is by using individual-sized lasagna pans. Just add your macros to your own pan and eat it all—or share it with that special someone.
Universal Nutrition Animal Whey
Loaded with Whey Protein Isolate to Supplement the Extreme Protein Requirements of Hardcore Lifters.
John's Lasagna for One (or Two)
To make an individual lasagna like the recipe below, you'll need a 9x5-inch lasagna pan or other pan that will give the same result, two mixing bowls, a spoon for spreading, and aluminum foil.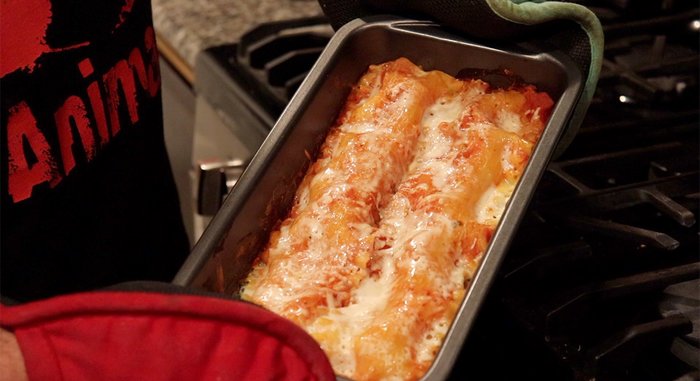 More Macro and Ingredient Tips
If you're avoiding gluten, you can use a ready-to-bake gluten-free noodle typically made with corn and rice flour.
If you need more fat in your meal, use more part-skim or whole-milk cheeses. You can also use ground beef instead of chicken to increase the fat content.
If you need to reduce fat, stick with fat-free cheese. You can also use egg white to bind instead of a whole egg.
If the protein content is too high, reduce your cheese by making fewer lasagna layers. You can also skip the meat and make a veggie lasagna.
If you need more protein content, add more chicken, turkey, or beef to the recipe.
If you need fewer carbs, make fewer layers but include all the cheese and protein.
To bump up the carbs, add an extra layer of noodles.
If you need more bulk but are unable to use a lot of ricotta, you can also add onion, mushroom, or zucchini.