You may not believe me until you make them for yourself, but these protein cupcakes taste just like cake batter. They're ridiculously moist, smothered in creamy frosting, and topped with sweet gummy bears. Each 110-calorie cupcake contains only three grams of sugar and is packed with 11 grams of muscle-building protein. How can this be?
You can thank the delicious flavor of Jamie Eason Lean Body for Her Whey Isolate in Natural Vanilla, and these fiber-filled (virtually sugar-free!) gummy bears from Smart Sweets. If you've made my recipes before, you already know how much I love Jamie's all-natural protein powders, but these gummies are new to my kitchen. They're made from tapioca fiber, stevia, coconut oil, and real fruit flavors, and they're delicious.
If you don't have coconut flour on hand, you can use 6 tablespoons oat flour, all-purpose flour, cake flour, or gluten-free baking blend. You can also substitute the Stevia blend with 6 tablespoons granulated sugar, and 4 tablespoons Stevia or sugar can be used in place of the erythritol.
Next time you need something sweet, do yourself a favor and make these incredible cupcakes—and try your best to save one for a friend!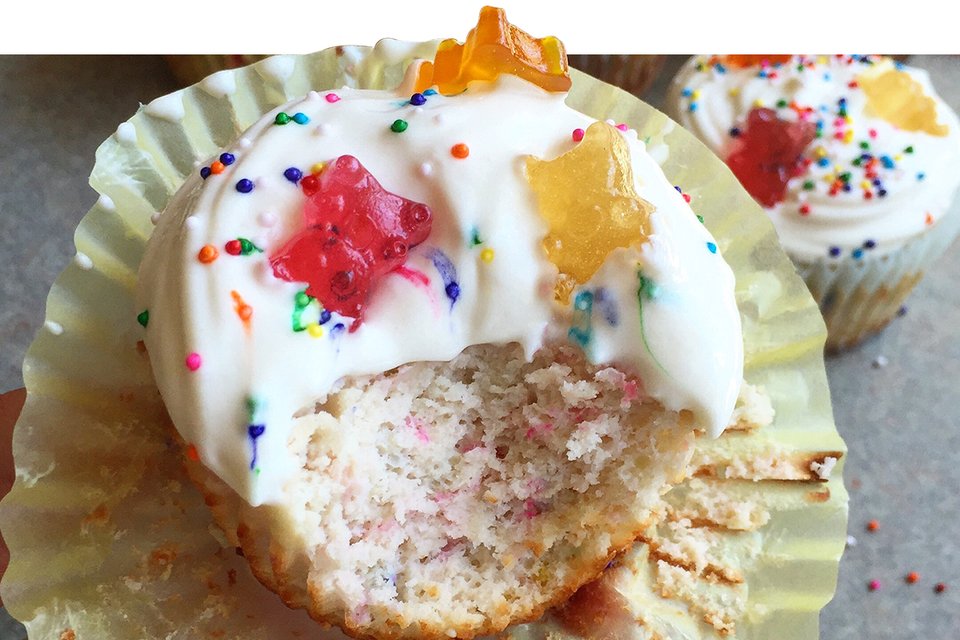 Ingredients
Vanilla protein powder: 40 g 
Coconut flour: 3 tbsp
Pyure organic Stevia blend: 3 tbsp
Baking powder: 1/4 tsp
Salt: 1/8 tsp
Egg whites: 1/4 cup (2 large)
Nonfat plain Greek yogurt (or dairy-free yogurt): 1/4 cup
Unsweetened applesauce: 2 tbsp
Coconut oil: 1 tbsp
Vanilla extract: 1/2 tsp
White vinegar (optional): 1/4 tsp
Butter extract (optional): 1/4 tsp
Almond extract (optional): 1/8 tsp
Sprinkles (optional): 1 tsp
Frosting
Fat-free cream cheese or Neufchatel: 3 oz.
Nonfat plain Greek yogurt (or dairy-free yogurt): 3 oz.
Swerve confectioner's erythritol: 4 tbsp. (or 2 tbsp. stevia blend, or 4 tbsp. stevia or sugar)
Toppings (optional)
Directions
Preheat oven to 325 degrees F.
Whisk together the dry ingredients in a mixing bowl.
In a separate mixing bowl, beat together the wet ingredients.
Mix dry and wet until smooth, then gently stir in sprinkles.
Line the cups of a muffin pan with paper, silicone, or foil liners, and lightly spray the insides with cooking spray. Or, skip the liners, and lightly coat the inside of each cup with cooking spray.
Divide the batter between six cups, filling them about 2/3 of the way to the top.
Bake for 20-25 minutes, until a toothpick or knife inserted at the center comes out clean.
While the cupcakes cool, combine the frosting ingredients until they're smooth. Place the frosting in the fridge while the cupcakes continue cooling.
Frost the cupcakes using a piping bag or a sealable baggie (like a Ziploc) with one corner cut off.
Decorate with gummy bears and more sprinkles!
Enjoy immediately or freeze for later (no preservatives).
Nutrition Facts
Serving size: 1 cupcake (including frosting and toppings)
Recipe yields: 6 servings
Calories: 110
Fat: 3.6 g
Carbs: 9 g
Protein: 11 g