Who doesn't love a Dairy Queen Blizzard? If you want to enjoy an equally delicious soft serve that won't compromise your waistline, then you have to make my version! This recipe has half the calories, one third of the fat, twice the protein, and significantly less sugar than a regular Blizzard.
In addition, this recipe harnesses the delightful powers of everyone's favorite fall gourd: the mighty pumpkin! It's a seasonal delight that's simple to make and perfect as an occasional treat. With sweet recipes like this, you can skip the guilt and cheat your cheat!
Try my protein-packed, creamy concoction and I'm sure your sweet tooth, growing muscles, and thankful waistline will give you various high fives. Get ready to say, "Oh my gourd, this is good!"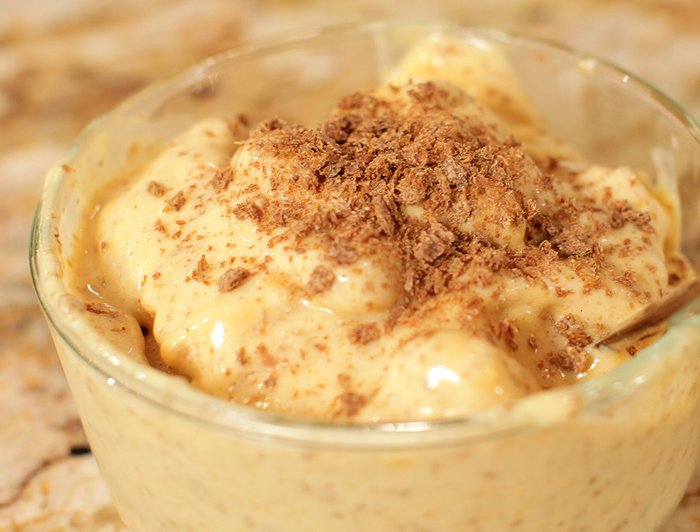 Ingredients
Puree, 4 tbsp
Scandinavian crisp bread, crumbled, 2 tbsp
Nutmeg, sprinkle
Pumpkin pie spice, sprinkle
Unsweetened almond milk, 1 1/4 cup
Directions
Add all ingredients to Magic Bullet.
Blend until well mixed.
Pour mixture into ice cream maker.
Allow mixture to churn for at least 10 minutes.
Scoop ice cream into bowl.
Nutrition Facts
Recipe yields: 1 serving
Calories: 230
Total Fat: 5.8 g
Saturated Fat: 1 g
Total Carbs: 20.2 g
Net Carbs: 12.4 g
Protein: 26.7 g
Cholesterol: 470 mg
Sugars: 5 g
Fiber: 7.8 g