Allison Hagendorf once fronted the rock band, "Near Nothing." "Thank God, that band is done," she says. As it turned out, her calling was indeed behind the mic—but covering other rock musicians as an onscreen interviewer. She's been a host on MTV, VH1, the CW, and the Times Square New Year's Eve Celebration. She also serves as "Head of Global Rock" for Spotify, where she whips up killer workout playlists and other music for the masses.
The rock 'n' roll lifestyle is usually associated more with debauchery than discipline, but Hagendorf has bucked the trend there in a big way. She is an accredited health coach, behavior change specialist, CrossFit Level 1 trainer, and fitness model who has also dived into marathons, snowboarding, and fitness pole dancing.
I spoke with her by phone on the eve of the launch of her new fitness app, "Time to Tone."
Before we discuss fitness, what does being "Global Head of Rock" for Spotify entail? That's one of the more impressive job titles I've read.
Go to Spotify and click on "browse," and it will list genres. Click on "rock." I program, create, and curate a lot of those playlists in that category.
Your knowledge of rock music must be encyclopedic.
Yeah, it's pretty intense. My background is in the music business. I did A&R for eight years for Sony in New York, scouting bands and making records. I transitioned from working with bands in the studio to interviewing them on camera as host of a show called "Fuse." Then, I moved to Los Angeles to host a music-competition show on the CW television network called "The Next."
I also began hosting a lot of music festivals like Jazz Fest [aka The New Orleans Jazz and Heritage Festival] and The Stagecoach Festival, and now I have this awesome new position at Spotify. I fell even more in love with fitness and wellness upon my move to Los Angeles.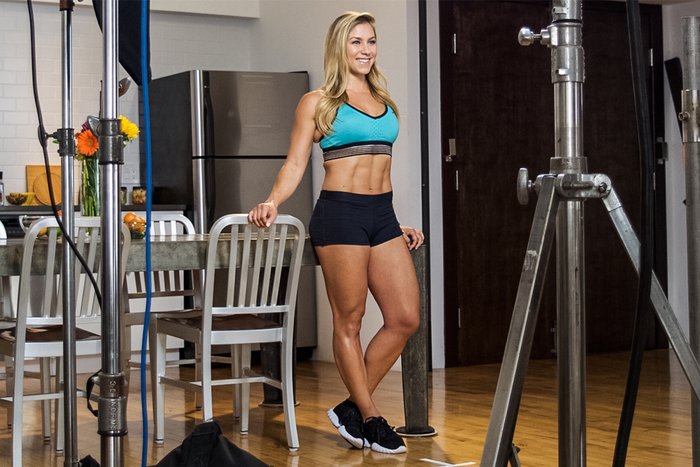 I also read that you have the New Year's Eve gig, the TV show where the ball drops at midnight. How did you land that assignment?
My mother loved "American Bandstand," and she showed me [legendary host] Dick Clark one day. I thought that was the coolest job. Dick Clark also hosted "Times Square New Year's Eve," and I used to point to him and say, "I want to be Dick Clark."
He always has been my hero, and I'm very, very grateful that this will be my fifth year as the official host of "Times Square New Year's Eve." I host the live event—the million or so people present who come from all around the world—as well as six hours of the live global broadcast.
When did your passion for fitness begin?
I joke that I was born with a "fitness gene." I love being active, and I love using my body. It's how I feel alive. I'm from New York, and I grew up dancing and playing East Coast sports like field hockey and lacrosse. As a young adult, I ran the New York City marathon twice and picked up snowboarding. I even took up pole dancing for fitness and installed a pole in my apartment.
When I moved to Los Angeles, I learned about CrossFit and got really, really obsessed, the way people often do.
Basically, I do something active every day of my life. I like to constantly challenge myself physically and mentally.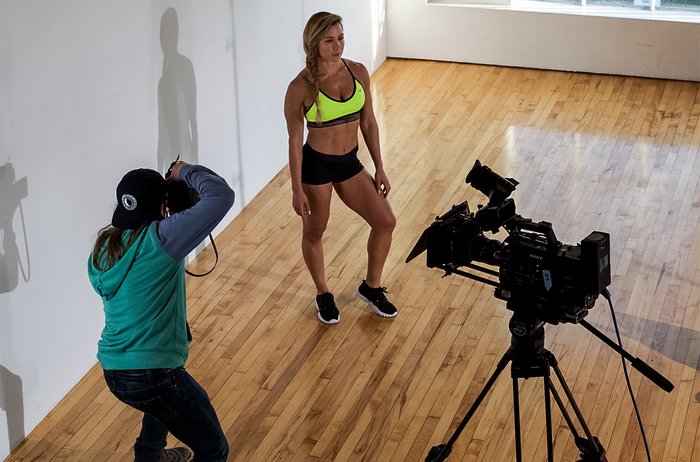 You've actually hosted the CrossFit Games. Was that your introduction to CrossFit?
I have been in CrossFit now for over two years, and I hosted the live show this year for the first time. When I started CrossFit, as an athlete, I saw it as a life-changing sport. But I was also struck by the culture and celebratory lifestyle surrounding it. I was just so invigorated by it. I had been networking and meeting people within the community, and fortunately, they created a position for me this year. It was just an unbelievable experience.
I'm curious how you stay disciplined. What sorts of tricks have you come up with to stay the course when you're traveling all over the place?
My lifestyle is very rock 'n' roll. I'm at shows many nights, with huge dinners before and drinks with the band after.
The trick is to find balance. I don't believe in cheat meals or cheat days or good food or bad food or bad behaviors. I don't believe in giving food that sort of power, where it is "good" or "bad." It's just choices.
I've gotten good at picking and choosing to really make food count. If you find that balance, then it's all good, and you can do this as a way of life, as opposed to being super restricted. I'm never really "off" or "on" my workouts and diet. I call it my "fit to feast" lifestyle: finding the balance that works for you so you can be fit and eat up life.
You've taken everything you know about training, nutrition, and motivation and created an app. Tell me about it.
Wellness requires a 360-degree approach, which integrates nutrition, fitness, motivation, and your overall mindset. They all play equal parts in an overall healthy lifestyle. So that's what I'm doing in this app, Time to Tone. I've included workouts, nutrition tips, and recipe suggestions. Because I do health coaching as well, including behavior-change modification, I also offer motivation tips to keep you on track.