Male 20-39 Muscle Building Training Video Recap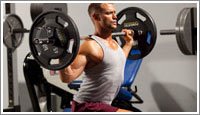 Training for muscle growth requires focus - it's all about consistency, form and intensity. Getting the right training program is the first step to gaining more muscle. We'll set you up with the best routine for maximum lean mass, and provide you with vital information for getting great results.
When you're in the gym, you should be working toward a very specific outcome: gaining more muscle mass. To do so, your training regimen will need to consist primarily of compound lifts that can sculpt massive amounts of muscle. If you're ready to get bigger, let's get started!
Male 20-39 Muscle Building Training Routine
Keys To Your Training Success
Geared For Success
Before you start training, it's important to be prepared. When starting any exercise program, safety is of the utmost importance. Lifting straps, gloves, and lifting belts are some very useful pieces of equipment to have when you are seriously training. Equipment is great for supporting correct form and preventing injury. Put your guard up, and lift smart.
Having the right apparel is also good for working out. You don't want any uncomfortable chaffing from not having fitness-friendly clothing. The body should only be concerned with exercising, not worrying about an uncomfortable pair of shorts. Wear clothing that you can move in and sweat in comfortably.
Having a gym bag, lock and water bottle is also useful - keep your gear secure, and have something to drink so you can stay hydrated! It's very easy for personal items to "get up and walk away" at gyms, so it's nice to always have a gym lock and bag to prevent any sticky fingers from nabbing your stuff.
You can check out tons of training gear, apparel, and accessories right here at Bodybuilding.com, so make sure to be equipped for success.
( Expand All )
Final Word On Male 20-39 Muscle Building Training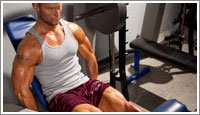 You never know how far you've come until you stop and look back at where you started. Charting your journey is not only a great motivator, it's a perfect determinant of when and what adjustments should be made. Continued progression is the goal, and keeping track of each workout is key.
Log your sets, reps, and personal bests each and every day using the Workout Tracker on BodySpace. Keeping a record of each workout is a sure fire way for accountability and to determine the progress you're making week by week. This way you can keep track of each workout and log your personal bests and share them with the community and friends. You'll be amazed at what you can accomplish, now let's get to it!