Fitness 360: Rodney Razor, Razor Sharp
Rodney Razor took some amazing steps to win the 2014 BodySpace Spokesmodel Contest. Follow his full fitness plan and take your body to the next level!
Vital Stats
Name: Rodney Razor
From: South Bend, Indiana
Age: 30
Occupation: 2014 BodySpace Spokesmodel Contest winner, gym manager at Stay Fit 24, personal trainer
Education: ACE-certified personal trainer, bachelor's degree in business from Bethel College
Website: rodneyrazor.com
Sports teach kinesis, or how a body moves in response to a stimulus. Some bodies simply respond better than others. That's why there is only one LeBron James.
But athletes use practice and the weight room to improve that response. They lift weights, run to the goal, and race barefoot in the street to see which of the neighborhood kids has the best wheels.
Through years of sports, Rodney Razor became a really good athlete. He participated in basketball, football, and ran track.
He could really move, but he didn't have the size he wanted until years later, when the track and field gave way to the stage and the platform.
Sports got Rodney in great shape, but bodybuilding made his body razor sharp.
Rodney Razor Fit 360

Watch the video: 10:04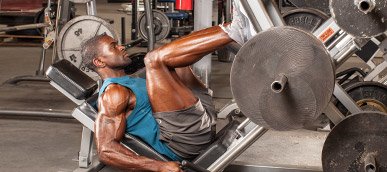 Keep changing, power up the intensity, and push your physique to the razor's edge. Train like Rodney Razor!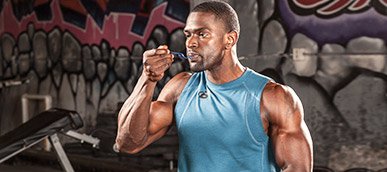 Rodney was an athlete who couldn't gain weight, and then he was a powerlifter who couldn't keep it off. See how nutrition brought balance to this spokesmodel's life.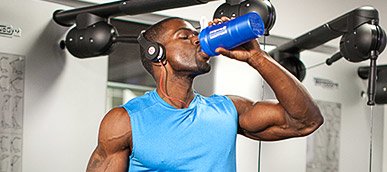 Rodney Razor covers all his bases with a full team of supplements, food, and exercise, but he doesn't go crazy and doesn't buy into hype. See his stack!
Razor Sharp
As a boy, Rodney Razor sure could run. Be it for basketball, football, or track, the South Bend, Indiana kid had a need for speed. Despite his great talent for running, he lacked the overall muscular development that comes from summers under iron and winters in the weight room.
"I was really slim and skinny," Razor says. "I was a lightweight, blowing-in-the-wind type of guy. For a while I thought I couldn't put on pounds. I was working out, eating and not gaining anything. I was the one complaining in the gym, like, 'Man, I can't put on no pounds'!"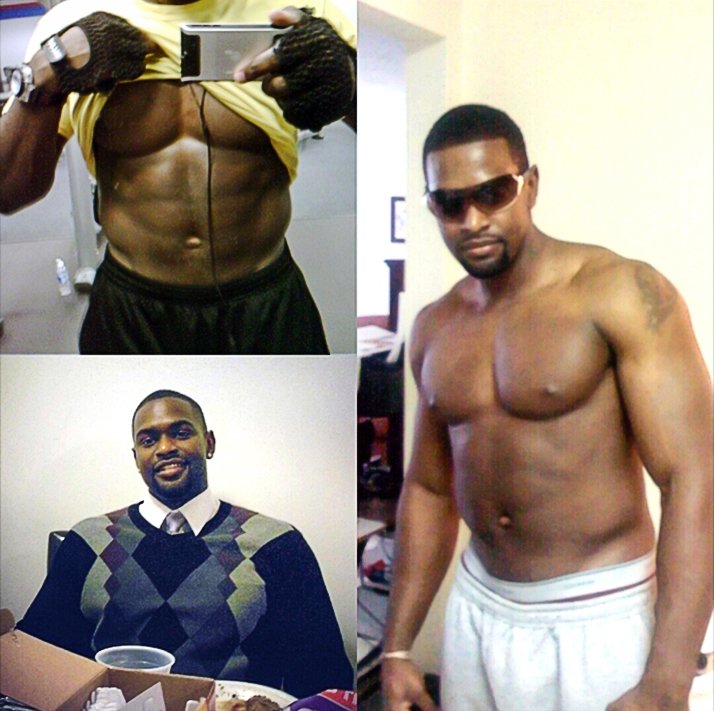 I gained weight, but it was bad weight," Razor says. "I was lifting with a bunch of powerlifting guys, so we always lifted heavy, but cardio was never in our repertoire.
When he was in his 20s, the pounds came, but they didn't always come as solid muscle. Though he worked out regularly and ran on occasion, Rodney couldn't maintain a steady weight because his nutrition was a disaster. At one point his scale tipped over 200 pounds. "I gained weight, but it was bad weight," Razor says. "I was lifting with a bunch of powerlifting guys, so we always lifted heavy, but cardio was never in our repertoire."
The group would finish a lifting session with pizza or burgers at local joints. They lifted hard, heavy, avoided cardio, and got big.
Rodney was lifting one day, in the same old way, when a friend suggested he take up personal training. "I liked working out sometimes, but I obviously didn't live the lifestyle," Rodney says. He told his friend, "I leave here and I eat burgers man. How can I be a trainer?"
Golden Opportunities
One day, Rodney woke up, something clicked, and he wanted a new job. That desire first led him from Verizon Wireless to Family Video, where he applied to be an assistant manager. He learned during his interview that the company had a gym division.
So, Rodney began his path to certification. He spent three months in a manager-training program for Family Video and took college courses at Southwest Michigan to prep for the ACE course. Because of all his hard work, little miracles started to happen. He was approached to manage a Family Video gym in Anderson, Indiana. "I had the chance to run my own gym and be my own trainer. It was a no brainer. I got a chance to do what I enjoy."
He took his wife Shannon and his young family with him to Anderson. For three years he cut his teeth in the gym industry, leading a staff and training on his own. Things were going well, but Rodney and Shannon missed their home in South Bend.
A managerial spot opened at a South Bend gym and Rodney leapt at the chance. He wanted to get his bachelor's degree and Shannon wanted to finish respiratory therapy school. She applied all over the state and was accepted to IV Tech in South Bend. They moved home and strove to finish, together.
In the meantime, the IFBB/NPC added the men's physique category to its bodybuilding contests. Rodney finally found a competitive outlet for his physical goals. He was never going to be a mass monster, but he could compete—and win—in the new division.
The Best Is Yet To Come
The last six months have been pretty exciting for Rodney. He earned his pro card by winning the 2013 NPC Team Universe competition, he won the 2014 BodySpace Spokesmodel Contest, and just a few weeks ago, he walked the line at Bethel College with a bachelor's degree in business.
"I feel so much better, and I look great," Rodney says. "When you look great and feel great, it shines. People see that. It's contagious. It's the difference between cockiness and being confident. I feel like you naturally show confidence and positivity when you feel good about yourself."
Now when he comes to Bodybuilding.com, Rodney sees his image at the top of articles. He never thought he'd have a chance to win an open contest like the Spokesmodel Search, never thought he'd share header space with Steve Cook, or be on the cover of "Iron Man" magazine, but this is his new reality.
"Everything has been going fast-paced," he says. "It's kind of surreal. I look back and I can't even imagine how I got this far. A year ago I thought it was unrealistic. People look at you like you're almost a celebrity. Dude, I'm no one. I'm not that special. I'm just like you."