John Stefanowicz has been living and breathing wrestling for as long as he can remember. But don't call him a "natural." While his brother Jake excelled at the sport, John left high school with no scholarship and no accolades—but he kept wrestling. Wherever and whenever he could. He soon joined the Marines, was stationed overseas, and kept wrestling.  
After winning a local intramural match in Japan in 2011, Stefanowicz found himself on the radar of the prestigious Marine Wrestling Team. This began a ten-year training journey that culminates in his returning to Japan as a member of the Olympic Greco-Roman wrestling team in 2021.  
Think Stefanowicz is some pampered athlete who doesn't have a day job? Far from it. Shortly before he left for Tokyo, he told us that his intense Marine Corps duties are an essential part of how he has been able to earn his spot at the top.  
BBCOM: You were a competitive wrestler for many years before this, but not at the highest levels. What can the rest of us take away from your ascent to the top?
John Stefanowicz: Well, I think it's a mixture between "stay ready" and something that I got tattooed on my arm years ago and started living by: "Never sacrifice the thrills of living for the security of existence."  
For me, I literally didn't even make a state tournament in high school. I never made it. I made a district one time in four years. When I left high school, I was 5 feet, 3 inches tall and only weighed 125. If I take everything against me, I can say, sure, "If I can do it, anyone can do it," because I sucked!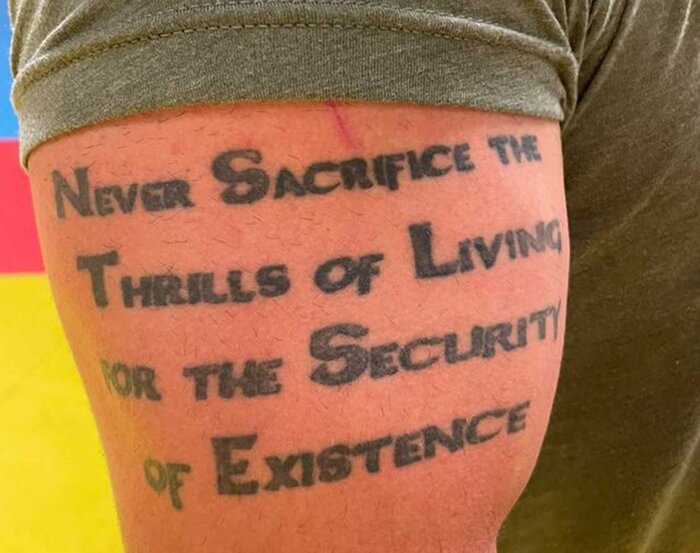 It's one of those things where you have to keep believing in something, and doing something, if you want to succeed. No, that doesn't mean that if you keep doing something like running, you'll end up running in the Olympics. But it means that you're going to succeed in what you put your efforts into. For me, it happened to be wrestling. It doesn't make me smarter just because I was able to succeed at it, but it does tell me that everyone gets the opportunity to write their own story.  
How has the long journey of mastering Greco-Roman wrestling paid off in the rest of your life?
Wrestling has helped me out because, sure, Marine boot camp was hard. Going to intel school was hard. Everything I've done is hard. But nothing has been as hard as wrestling is. My master has been the sport the entire time. And for some reason I'm just a glutton for punishment and I keep on trying to go back into it.
Having wrestled at so many levels, what makes the difference in an elite match like the Olympics?
It's interesting, because whoever shows up that day at the Tokyo Games with the right mindset can win. Everyone there is physically superior already, to the point where anybody can win—that aspect doesn't matter. They're all Olympians, it's not like one of them sucks. There's not a "I hope I get that guy" guy.  
You just have to figure out how you are going to be the best version of you on that one particular day.  
What has your mental training been like to prepare for this ultimate challenge?
Mental training is huge. I've got an athletic trainer who does a ton of breathing techniques and different exercises with me. I've got a team of mentors with USA Wrestling, and I've got literally half a dozen people I can call day or night and ask them questions. Or just tell them, "Hey, I think I'm going crazy over here," and they can help me bring it back to center.
The thing about being an Olympian is that it's easy to think it means you should just be unbeatable—you should be the best at everything. But the truth is that you're still gonna fail, and you're gonna fail often. Remembering where your roots are and staying humble the entire time, it definitely helped keep me grounded. I'm going to make mistakes, but I try to figure out how I can learn from them as quickly as possible.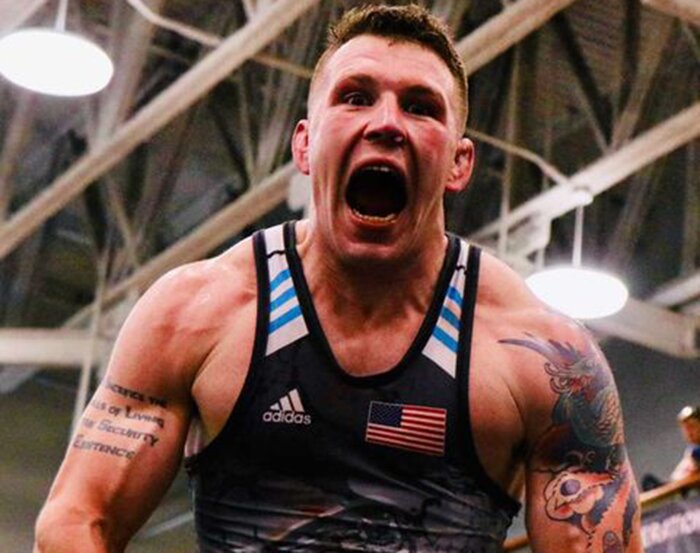 What's your secret physical power that has enabled you to go to this next level?  
My grip strength and my back strength are where I've made my money. Especially in par terre [starting a from a defensive position], where I'm squeezing and trying to break someone's ribs with my forearms together. That's actually pretty tough to do, especially on another guy who's also pretty good at this stuff.  
Without grip, you also can't hand fight, and you can't make or take the shots to the body. There's a lot more hitting that goes on in Greco-Roman than there is any other wrestling, because the bodies are so close. In 9 out of 10 wrestling matches, there's a punch or a hit or something coming in. My back and my grip strength help me handle all of that.  
How have the rigors of being a Marine helped you thrive as an Olympian wrestler?  
My coach and I have focused on what's called the "whole marine" concept. It means there is no on-duty and off-duty. When I was first on the team, we were just trying to be wrestlers and put that on the backburner a little bit. Now we've brought it to the forefront, and that's the thing that's set the Marine Corps wrestling team apart.  
Marine Corps athletes are unique in that they have to be active-duty Marines. That means I have a job, I have Marines to look out for, I have a responsibility here, I have to get into the office. I can't commit my whole day just to wrestling and let everything else go.  
We've found that the more responsibility you give, it's actually helpful. It helps make sure that the time that you do have to train is committed to full-heartedly. When you're doing it, you give it everything you have.
One thing all athletes and soldiers have in common? They need more protein than inactive people. Whey is the way the elite recover to stay ready for anything!