Elizabeth Galvan knows no limits. The bodybuilder from Fargo, North Dakota, has been a high achiever all her life. Not despite the challenges she's faced from the start, but because of them. Where others saw limitations, she has seen invitations to rise to greatness.
Where to start with the obstacles she has faced? When she was 3 years old, an accident involving an old wringer washer led to the loss of her right arm below the elbow. At the same age, Galvan lost her hearing after an illness. At 16, Galvan was diagnosed with Usher syndrome, a condition causing her vision to slowly diminish. Then as an adult, she endured a series of health issues capped by back surgery, leaving her with four steel rods inserted in her back.
Oh, and did we mention that Elizabeth Galvan is a competitive bodybuilder with a several NPC shows under her belt and several trophies to her credit? Now you're starting to understand just how unique she truly is, and why we simply needed to find out what makes her tick.
When was the first time you can remember being told you couldn't do something?
Wow, that's a good question. I can remember the many times I was told I couldn't do things and I have proved them wrong, such as playing sports. Where I didn't need assistance because I can do it myself. Where I went ahead with my stubbornness and determination. 
That stubbornness you have, that strength. Where does it come from?
From obstacles, challenges, and being told I cannot where I felt it's not fair. The stubbornness runs in my family. My dad has told me that many times.
You played sports from an early age. What are some of the challenges you faced in sports?
Being different, the bullyings, the mockings of me being an amputee with a metal hook... it was difficult to feel like I fit in. Then, throughout my teens, with things like wanting to be a lifeguard and being faced with doubts, I had to push harder to show that I was no different than anyone and that I could do everything like the others at school, activities, and my job.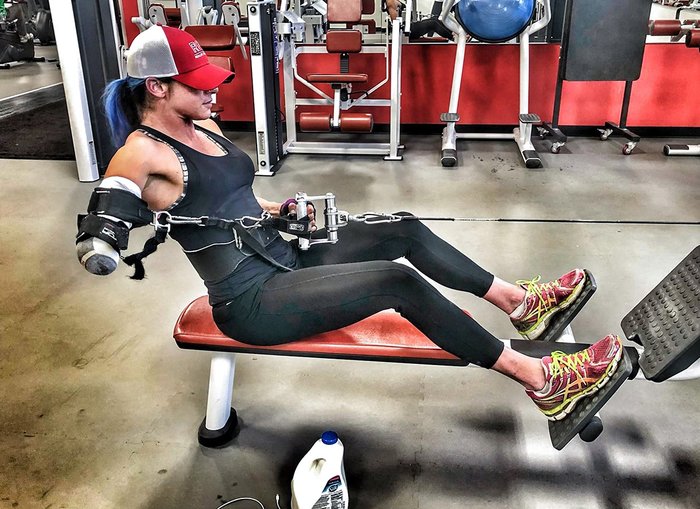 What was the best moment of your sports career?
Being MVP and breaking the school record for the shotput.
You also did pageants—where does that come into your story?
My stepmom, who I considered to be my own mom, believed I could make a difference and inspire others with my beauty and positive spirit. I started doing pageants because she believed in me and encouraged me.
I had an amazing experience in teen and adult pageants. As a teen I won Best Photogenic, Teen Spirit, and Best Talent trophies. As an adult, I was crowned Miss North Dakota and won a few awards for runway model, best fashion, best eyes and smile, and a few others. I went to the Nationals in St. Louis and won first runner-up. Pageants gave me the perspective that I do inspire others in ways I don't always see in my daily life.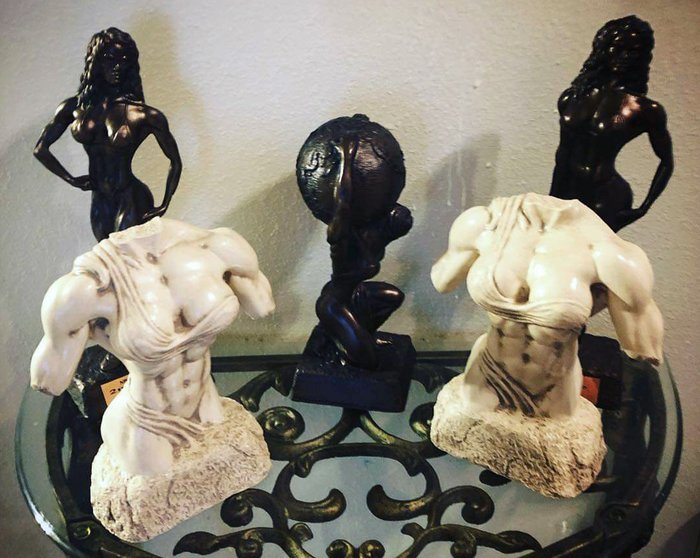 After your back surgery, what made you decide to start training?
A doctor warned me that I "wouldn't be the same" after a surgery due that resuted in four rods being put on my spinal cord. That hit me really hard. After a year and a half of recovery and some weight gain, I did some research and learned that bodybuilding would improve my strength and health.
That doctor's comment was stuck in my mind, and I looked back at who I was. "Gotta get up, get moving, roll my sleeves up to prove everyone wrong," I said. That led to my passion for bodybuilding, and then figure competitions became one of my interests, and a new way to inspire people.
You had never trained with weights before?
Nope! I was only into cardio and being active. I fell in love with lifting because it made me younger, more active mentally and physically. Within a year, I found myself wanting to compete.
Why figure? Why not bikini or women's physique?
Bikini wasn't my thing, especially as I had a skinny back when I was young. I had never been muscular, but muscular women attracted me because they look as strong as warriors. That fits my personality of a strong woman.
So I went with figure; however, it's my plan to move up to physique in a few years. It takes years to build muscles. I am only two years in to bodybuilding, and everyone is impressed with my muscle building and determination. So physique is definitely in my book for the future. Plus, that way I wouldn't need to wear heels!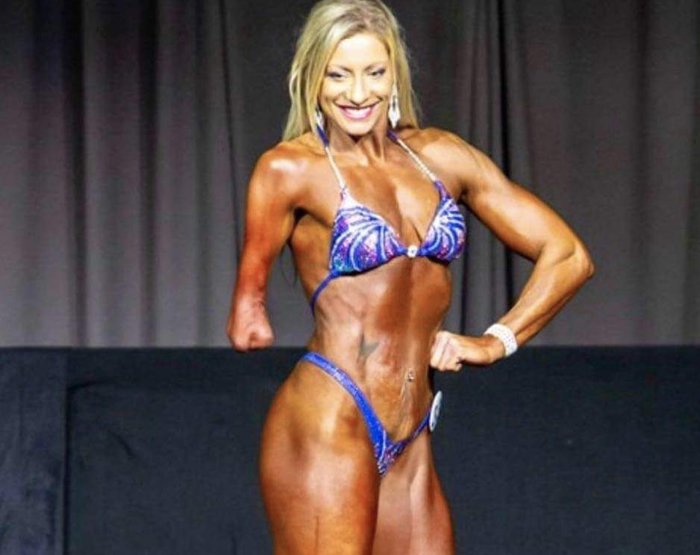 Where did you compete, and how did you do?
I competed at NPC Upper Midwest in March 2018 and brought home three trophies—second place, third place (in the masters category), and the most inspirational award. In June 2018 I competed at the State of Minnesota Sports Expo in Minneapolis, and I came home with third- and fourth-place trophies.
How did your daughter react to your becoming a figure competitor? Was she cheering you on?
She was in tears, screaming and crying with excitement. She even posted the pictures and heartfelt message of how proud she was. So sweet! It hit me so hard.
At this stage of your development, what does a training week look like for you?
When I'm trying to add weight, I normally go to the gym five or six days per week. I train upper body three times a week and lower body two times a week, plus six days of cardio. I continue building muscle in the off season because of my goal to move up to physique in a couple of years.
The gym has got me hooked! I don't know what I would do if it wasn't for the training or my passion for bodybuilding.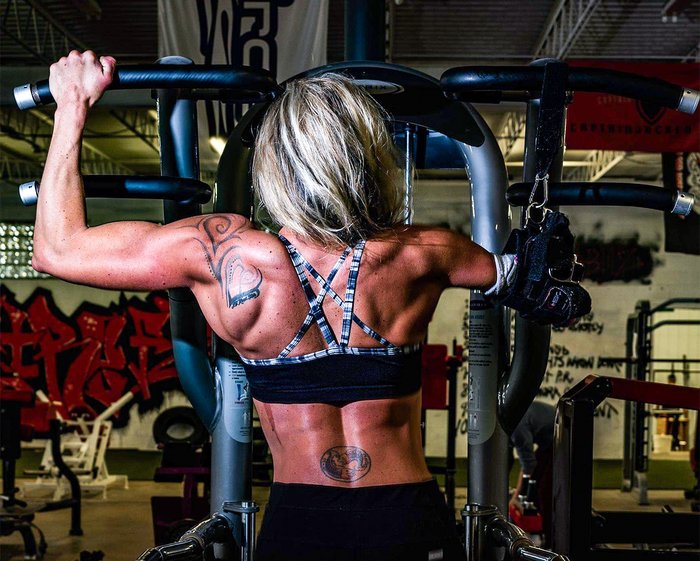 High reps, low reps? How hard do you push the weights?
I go in turns between high reps and low reps. On the heaviest sets, I challenge myself to push harder. Two years ago, I was only able to do 10 pounds on my amputee arm. Now, I do 60 pounds. That is a big gain. For deadlifts I am able to do 185 pounds.
What's your preferred form of cardio?
In "bulking season," where I am currently, I do kickboxing classes once a week for 45 minutes. I also do five days of 20 minutes on cardio machines. In prep season, I increase the cardio to lean out. The StairMaster and bike machines are my favorites.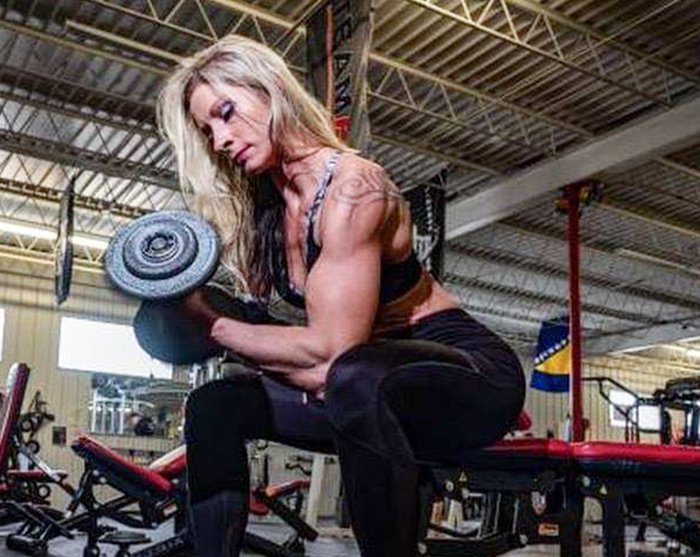 How did weight training and becoming a competitor change the way you eat?
My coach, Kathy Kemper, helps me with my nutrition. It was a huge change in my meals. I had never eaten six meals in a day, but it made sense that it's important to keep powering my training and feeding the muscles.
What about your supplements?
My supplements are all natural and standard. I take vitamins, MCT oils, BCAAs or EAAs, and a pre-workout supplement. Active athletes need those nutritional supplements, but foods are the key.
What do you want to conquer next?
My specific goals at the moment are to continue building and training to return to the stage for my fourth NPC figure competition in 2022. I'm always aiming to build myself up to be better and bigger than before. My biggest goal is to be able to make it to Jr. Nationals one day!

What keeps you going—and growing—at this point in your career?
What keeps me driven is the same thing that always has: my goals, determination, and the "impossibilities" that I face. For example, after my recent third competition, I had to work through having fractured toes and injured feet.
Obstacles like this are what can give us the patience to get through and get back at it, no matter how long it takes. There is always possibility with determination!
Ready to conquer your own challenges? Your Transformation Starts Here is the program that took one man from out of shape to winning fitness contests. See where it will take you!