Semi Ojeleye's page on Basketball-Reference.com lists the many nicknames of the Boston Celtics wing: Muscles Jesus, The Ox, Thor, The Ojeleye Factory, The Man Made of Granite. Clearly, Ojeleye's 6-foot-7, 240-pound physique has made quite an impression in the NBA, from the moment he broke in with a 2017 scouting report on DraftExpress that referred to his "thick, jacked frame."
If you ask Ojeleye, he's always been like that and he always will be.
"I looked strong when I was young, but I think with or without lifting, I'd still be fit, because that's how my dad is and he has never lifted a day in his life," he says.
Paul Fabritz, Ojeleye's Los Angeles-based offseason strength and conditioning coach, agrees, but he also thinks Ojeleye is selling himself a little short.
"Semi's genetics are the best of anyone I've ever worked with, and I work with a lot of NBA players," Fabritz says. "But he also works very, very hard. He'd have a decent NBA body if he never stepped in the weight room, but because he does, he has one of the best bodies in the NBA."
Body of Work
This season with the Celtics, Ojeleye has been putting that body to work. Though he doesn't always register double-digit minutes, the defensive specialist steps up when it counts. Eleven times this season, Ojeleye has played more than 20 minutes, and he has logged more than 15 minutes six times. Ojeleye's minutes typically rise against teams like the Philadelphia 76ers, Milwaukee Bucks, Los Angeles Lakers, and Orlando Magic, which have big men who handle the ball and crash the rim. Celtics coach Brad Stevens called on Ojeleye to handle them. 
"I prepare like I'm going to play 48 minutes every game," Ojeleye told WEEI.com. "I try to be in shape. I try to keep my body right. In my mind, going into every game, I'm playing every minute. So, if I'm called upon, it's not a surprise."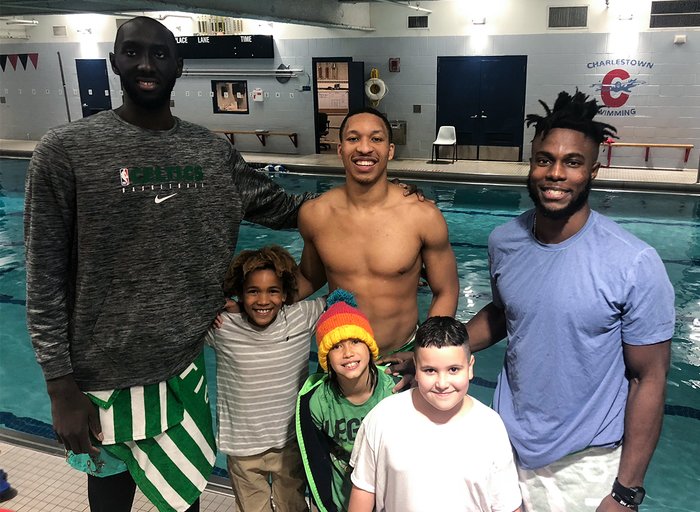 Ojeleye has been working out since he was in the sixth grade, when his parents put him in a conditioning program to get fit for AAU basketball. In high school, he copied the lifting program his older brother Victor was given at Kansas State, but Ojeleye's serious lifting started when he entered Duke University in 2013 and began training with sports performance coach Will Stephens.
"At Duke, we took it to the max," Ojeleye says. "We went big with the Olympic lifts, leg presses, and squats, and I got really strong—but almost too strong for basketball. I didn't feel like I could move on the court."
After two seasons at Duke, Ojeleye transferred to Southern Methodist University, where he met strength coach Carlos Daniel and his focus shifted from lifting big to mobility, flexibility, and being functionally strong on the court. During the 2018 offseason with Fabritz, the focus was again on mobility. Ojeleye had trouble getting into his hips and moving well in low positions, and balance was an issue, all of which limited his ability to make moves on the basketball court.
"There were a lot of things I couldn't do, but Paul is a magician," Ojeleye says. "My mobility didn't match my strength. He gave me a base so I can be more explosive and also stabilize my movements."
With mobility no longer a glaring weakness, Ojeleye and Fabritz had a new objective for the 2019 offseason.
Going Harder for Longer
"The goal this summer was to go harder, longer," Ojeleye says. "The guys who succeed in the NBA are the guys who can go the hardest, the longest. So, we did more sets, increased reps, did sets to failure, and there was always a cardio component, either the bike or running on the treadmill, at the track, or in the sand."
Fabritz and Ojeleye worked out together five afternoons a week, in between Ojeleye's morning and evening on-court basketball training sessions. Mondays, Wednesdays, and Fridays were for lower-body and agility workouts, while Tuesdays and Thursdays were for upper-body, core, and endurance work.
"Our workouts are always general, designed to improve a certain trait, be it mobility, flexibility, or strength," Fabritz says. "About 20 percent of the exercises are basketball-specific, but all of them will help Semi in-game."
For basketball-specific moves, they use a medicine ball in place of a basketball.
"It's the perfect size and shape, and you can use it to mimic single-leg landings and lateral movements," Ojeleye says.
Alternatively, Ojeleye will work on cuts, drop-steps, decelerations—moving one way aggressively, then stopping on a dime—and other on-court footwork as Fabritz resists him with a power band around his waist.
Traditional gym activities rarely involve a barbell because Ojeleye packs on muscle too easily and has to slow down. Last offseason, his deadlift quickly and easily topped 450 pounds. Fabritz realized that one heavy exercise a week was enough to maintain Ojeleye's strength.
"Instead of a barbell bench press, we'll use dumbbells, and it'll be with a hip lift mixed in so it is a core exercise as well," Ojeleye says. "It's funny, kids always ask me, 'How much do you bench? How much do you squat? What are your numbers?' And I'm like, 'I have no idea.'"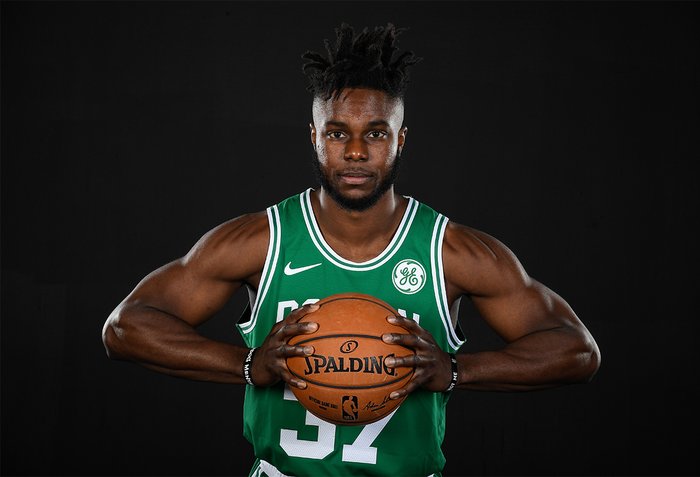 Ojeleye does hip and ankle mobility exercises every day. He loves pull-ups. He hates single-leg squats, is still working on perfecting the kettlebell Turkish get-up, and has a love-hate relationship with the sand dunes in Manhattan Beach. As Fabritz says, there are very few holes in his fitness.
"Semi can move weight, he can move weight fast, he has explosive power and can express force very, very quickly," Fabritz says. "A lot of big guys can't do that. Semi has good lateral speed and quickness, and he's one of the fastest athletes on the track. He'll outrun anyone in a 40-yard dash. And he recovers better and more quickly than any athlete I've ever seen. He's really the full package."
3-and-D
Ojeleye, 25, is now in his third season with the Celtics and is showing his potential to be a highly productive 3-and-D player—someone who specializes in defense and shooting 3-pointers. Ojeleye has proven he has the strength to defend big men and the quickness to defend on the wings, but what makes him invaluable off the Celtics bench is his ability to check athletic freaks, such as LeBron James and Giannis Antetokounmpo, who are simultaneously big, fast, and highly skilled.
His improved mobility and conditioning allow him to be more offensively aggressive, as well. His 3-point shooting percentage has improved dramatically, from 31.5 percent last season to around 37 percent this season.
"Last year I made my mark playing defense," Ojeleye says, "but I think I have a lot to offer on the other end, too."
Interested in finding a workout plan to help improve your athleticism for basketball and other sports? There are plenty to choose from in BodyFit by Bodybuilding.com