Any dietitian will tell you that eating a wide variety of fresh fruits and vegetables is one of the best things you can do for your health. But there's a limit to how much kale and broccoli a person can chow down, and unless you're a grocery store regular, keeping your fridge stocked with produce can be tough.
Greens powders to the rescue! Add one of these powdered drink mixes to your daily supplement routine to increase your intake of nutrients from fruits and vegetables.
Of course, no veggie supplement is a substitute for the real thing, but while fresh is better, more is always best. Eat as many of the fresh guys as you can handle, but take a greens supplement every day, too. Here are some of our favorites to get you started:
1. Alpha Lion Superhuman Greens

"It" brand Alpha Lion, makers of Superhuman pre-workout, added a greens supplement to its roster that proves getting your vegetables can actually be delicious and kind of fun. In two juicy flavors, Manchild Mango and Anabolic Apple, the formula includes a hefty serving of reds (beets, berries, tomato) in addition to greens.
Alpha Lion Superhuman Greens
Greens powder for immune, digestive and detox support
2. Pharmafreak Greens Freak

We love Greens Freak because, while other greens powders tend to have fruity flavors, this one comes in Vanilla Chai, which is perfect for mixing into a creamy vanilla or chocolate whey protein shake. Greens Freak features an "immune boosters complex" with echinacea, astragalus, and royal jelly, and is naturally flavored and sweetened. Let your freak flag fly!

PharmaFreak Greens Freak
Helps support body function with complete immune support and detoxifying ingredients
3. REDCON1 GI Juice

While greens products are meant to improve digestion, sometimes those with a long ingredient list can be difficult to handle for sensitive stomachs. GI Juice has a simpler formula and affordable price point, making it a great starter greens powder. It also has a fully disclosed lineup of digestive enzymes to further support digestion and nutrient absorption.*
REDCON1 GI Juice
Support General Health and Digestion Without the Extra Calories
4. Amazing Grass Detox & Digest

With a label that reads like a juice bar menu (wheat grass, coconut water, turmeric, kiwi), this certified organic and raw greens supplement is the most natural option on our list. It has no added flavors or sweeteners, so it has a mild, earthy taste that blends easily with other ingredients like banana, almond butter, and just about any protein powder.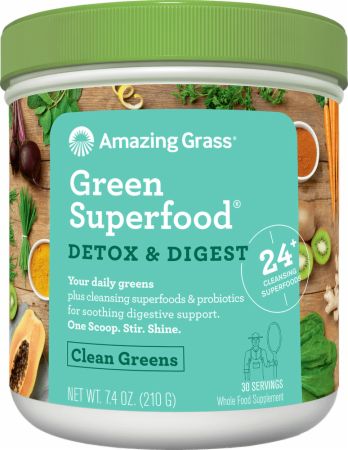 Amazing Grass Detox & Digest
Contains Over 24 Cleansing Ingredients To Support Normal Daily Detoxification
*These statements have not been evaluated by the Food and Drug Administration. This product is not intended to diagnose, treat, cure, or prevent any disease.