Protein Coconut Macaroons!
Satisfy your sweet tooth with these flavor-packed, protein-stacked, macro-friendly macaroons!
Vital Stats
Name: Anna Sward
Occupation: Author & Founder of Protein Pow
Website: Proteinpow.com
Book: 'Protein Pow(d)er: The Cookbook'
Imagine crossing fresh coconut with a soft vanilla cookie and meringue. Got the sweet goodness in your head? Good! That's exactly what these coconut macaroons—not to be confused with French macarons—are like.
In case you've never had macaroons, they're a smooth explosion of coconut-flavored, cakey greatness. In short, they're a dessert-lover's dream. And now, because I've found a way to make them healthy, they can be yours, too!
With just a bit of crunch and a touch of chocolate, these protein macaroons are absolutely sublime. Enjoy them alongside a tall Americano for a delightful midafternoon or after-dinner snack.
Another plus is that these are easily customizable. Some people actually coat the bottom of their macaroons in chocolate.
While you can do that—after all, who doesn't love chocolate?—I personally prefer a more delicate approach: I like to add a mere hint of chocolate on top of my cakelike base. Try both options and see what you like best!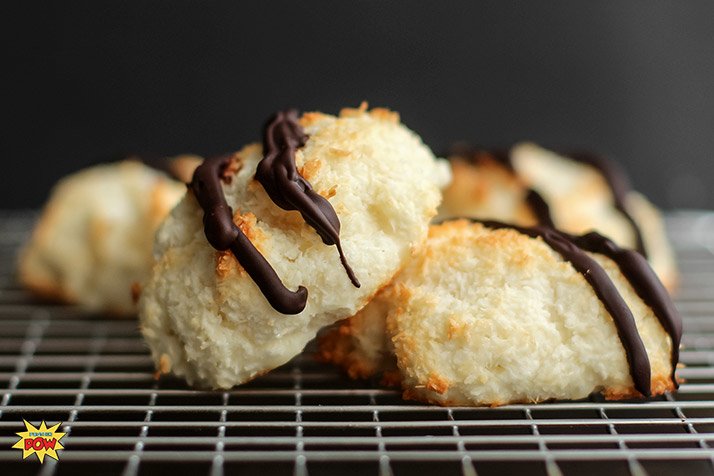 Ingredients
Liquid egg whites:
1/4 cup
---
---
Granulated erythritol (or granulated low-calorie sweetener of choice):
1/4 cup
---
---
Directions
Using an electric whisker or standing blender, beat your egg whites to soft peaks (as if you were making meringue).
Once your egg whites are fluffy, add in the rest of the ingredients. Use a spatula to fold them in gently until everything is well combined.
Divide the mix into four "blobs" and place on a nonstick cookie tray. Bake at 320 F (160 C) for no more than 12-15 minutes. I suggest you check on your macaroons after 10 minutes and remove them as soon as they start to brown on top. If they overbake, they end up very dry.
If you want to add an additional layer of decadence to your macaroon, melt a couple of squares—roughly 20 grams—of dark chocolate. Once it's melted, drizzle it on top of the macaroons. Prefer your chocolate on the bottom? Dunk your macaroons in the melted mixture to give them a "chocolate skirt."
Place the macaroons in the fridge to cool for a couple of hours before eating.
Nutrition Facts
Serving size: 1 macaroon
Recipe yields: 4 servings
Amount per serving
Calories 140
* Ratings as of article's date of publication