Gregg Allman, one of the founding members of The Allman Brothers, remembered the day he and his bandmates bought their first airplane. "The first time we walked onto the plane, 'Welcome Allman Brothers' was spelled out in cocaine on the bar," he recalled in his memoir.
Such stories surprise no one who lived through the 70s, a decade that saw the apotheosis and nadir of rockers swamped in drug addiction, hotel-room vandalism, drunken brawls, and early deaths. Neil Young ended the decade singing, "Rock and roll will never die," but rock and rollers themselves weren't looking as durable.
Gregg Allman is no longer with us, and with him, the clichés of rock-star excess are rapidly becoming the stuff of recollection rather than reality. Green rooms that were once stuffed with quarts of Jack Daniels and bowls of M&Ms (no brown ones!) are now just as likely to be stocked with trail mix, wheat-grass smoothies, and protein bars. These days, those doing the shredding are now shredded themselves.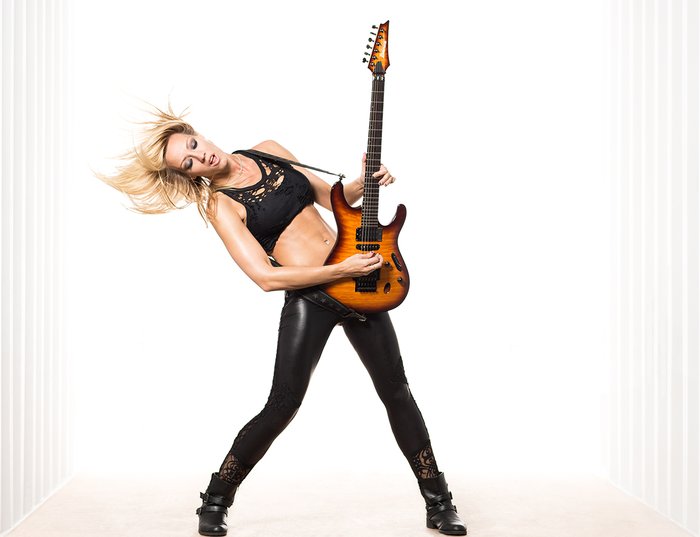 "I want to be a positive influence for change in the world for women in music, especially in heavy metal," says Nita Strauss.
Nobody represents this commitment to craft and fitness better than Nita Strauss. The 31-year-old Los Angeles resident has emerged as one of the premier metal-rock guitarists in the world, and currently wields her ax at the service of Alice Cooper, the original shock rocker.
But even that prestigious gig is just the start of what Strauss has cooking. In the last year, she oversaw the release of her very own Signature Series Ibanez guitar—the first woman to do so—and was on the cover of Guitar Player magazine. She also released her first solo effort, the undeniably epic instrumental album Controlled Chaos (available on most streaming services), and even performed at both Wrestlemania 33 and 34, playing out Shinsuke Nakamura to the ring. 
As her growing list of solo achievements makes clear, Strauss is no eye-candy add-on to Cooper's band. Strauss, blonde and athletic, commands the stage with feline tenacity, her toned arms ripping through some of the most celebrated song catalogs in rock history.
This ain't your father's lead guitarist.
A Metal Star Is Born
Growing up in Los Angeles, Strauss heard mostly classical music in her household. But at age 13, metal found her. By chance, she heard the song "Trust" by Megadeth, and instantly felt changed.
"As soon as the solo kicked in, I thought, "Whoa, how come nobody told me you could get these sounds out of the guitar? How come nobody told me there's this amazing music out there that really speaks to me?" she remembers. "From that moment forward, I was hooked."
By the time she was 15, Strauss was establishing herself as a metal prodigy. She moved up quickly from gig to gig before becoming a member of Iron Maidens, an all-female Iron Maiden tribute band.
But it was while touring on a "Monsters of Rock" cruise when she caught her biggest break. Kip Winger, the leader of his own eponymous hard-rock band, was also a veteran of Alice Cooper's touring group. He told Strauss that Cooper was looking for a new guitarist, and Winger's recommendation led to a tryout.
Once known for horrifying the weak-stomached with his "Welcome to My Nightmare" tour and gory stage props (e.g., snakes, decapitated heads, buckets of blood), Cooper is now cherished for his string of memorable rock anthems and mild-mannered pursuits, surviving the decade of self-destructive rock excess with an addiction to golf. In his autobiography, "Alice Cooper: Golf Monster," the singer credited the game with saving his life.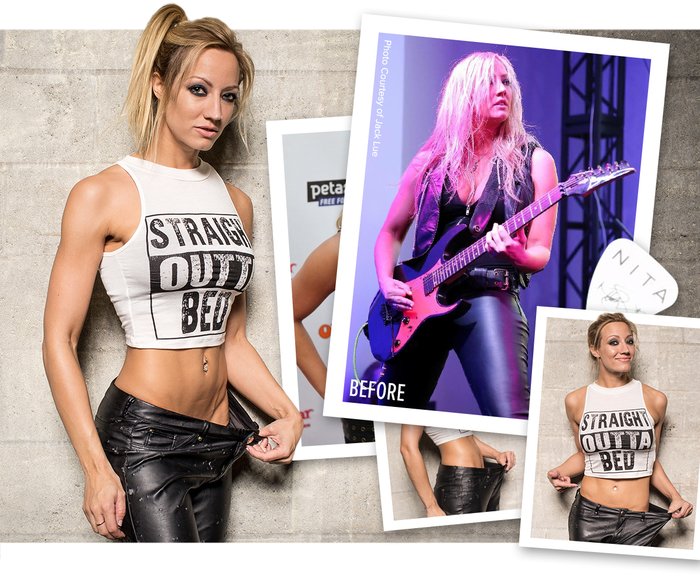 While passion for the greens is not shared by his lead guitarist, Strauss says that a fit lifestyle is more common among her peers than in Cooper's heyday. "I think it's more and more common to eat healthy, to stay in shape, and to be in hotel gyms on the road," she says. "I talk to other musicians now, and we talk about juice recipes and who's lifting what. No one's talking about beer and chicks."
She remembers being on a tour with a band supporting Mötley Crüe and shooting the breeze about good, clean living with Nikki Sixx. "Nikki would come visit with us every day before the show. Not trading booze and pills and stuff; we would trade cool wellness secrets. We had this drink called Rockin' Wellness, which is just sort of a healthy green drink."
Better Living Through Resistance Bands
So many musicians have given themselves over to the path of excess over the decades. Why mess with a good thing? Strauss says for her, it's not just about looking good as you power through "School's Out." Working out and eating right is also a performance booster.
"It's about endurance and stamina onstage. You can be playing the coolest guitar parts in the coolest songs in the whole world, but if you're just standing still looking at your shoes, it's not going to be an interesting show."
Despite her commitment to her current regimen, Strauss wasn't always the fitness enthusiast she is now. While she grew up training in gymnastics and ballet—her mother is a dance teacher—she gravitated to a party mindset as her career took off.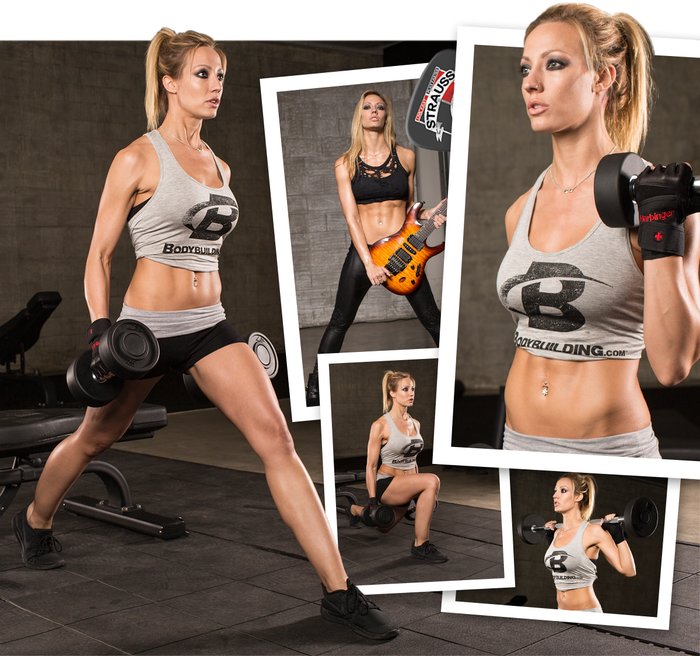 "It wasn't until about a year ago that I got really into fitness again," she says. "I think I'm down over 50 pounds total just from clean eating. I've been eating meals from a company called Trifecta Nutrition and not drinking alcohol. It's been such a positive change in my life. I've certainly gotten more serious about fitness as I've learned more about it."
Strauss now works with a trainer when she's home in L.A., but the real challenge is maintaining her routine on the road. "Hotel gyms haven't come as far as you would think," she says. "You do what you can with bodyweight exercise and resistance bands. You can always do step-ups on park benches, and lunges, and stuff like that. It's a pretty safe bet that you'll find me running around somewhere in the city that day if I have a show. You just have to make it work."
And, no, she doesn't suffer from FOMO. Quite the opposite. "It's funny. Now that I have this whole healthy lifestyle, instead of going out drinking and partying at night after shows, I'll be laying in my tour-bus bunk looking at Pinterest for resistance-band workouts that I can do on the bus in the next day," she says. "It's a totally different experience. There are always going to be people out partying, but those people aren't always happy. I can't say I never miss going out and drinking, but I definitely wouldn't trade it for what I do now."
Stepping Up To The Mic
So committed is she to her fitness lifestyle that Strauss has even considered her own workout video.
"I've thought about that a lot, actually," she admits. "It's definitely something that I'm hoping to do in the future. Now that I have this new outlook on life, I feel so great and focused, I really want to promote it. And I love the aspect of pushing myself to be better, to go past my limits."

One reason she wants to be vocal about her current fitness lifestyle is the responsibility she feels for young girls and especially musicians who look up to her.
"A big part of my whole direction lately is to be a positive influence for change in the world for women in music, especially in heavy metal," she says. "There's this expectation that you have to go crazy with partying, keep up with the guys, drink harder than everybody, which is how I used to be. I want to show people that you can go out on the road, play in a big rock band, and be healthy and fit."
To learn more about Nita Strauss, visit nitastrauss.com, and follow her on instagram and Twitter.